There is absolutely nothing more horrifying than shutting down your computer, then realizing that you forgot to hit save on the Canva project you were working on. Hours of work down the drain, and your project is due tomorrow! Well, fortunately, there's no need to worry with Canva's ability to both auto and manually save.
So let's take a look at the different ways to save your designs, along with exporting them once they're complete. Plus, I'll explain all of the different file types you can save your designs as later in this tutorial.
Let's get started!
How To Save A Project In Canva
When it comes to saving your designs to Canva's built-in cloud system, there are two ways to do so. Automatic saving and Manual saving. Both options will save your design to your Canva profile and not your personal computer.
– Automatic Saving 
As you work on your design in Canva, every time you add an element, text block, or image to your project, Canva will automatically save your changes.
You will know if your project was successfully saved if you see a cloud icon with a check mark inside of it.

You may also briefly see "All Changes Saved" flash next to this icon. You will also see "Saving Changes" if the saving process takes longer than expected.
– Manual Saving 
If you need to ensure that your project has been saved, you can always save your project manually.
You will find the File menu in the top left corner of the taskbar above your work area. Click File, and in the drop-down menu, choose Save.
You should then see All Changes Saved right next to Save.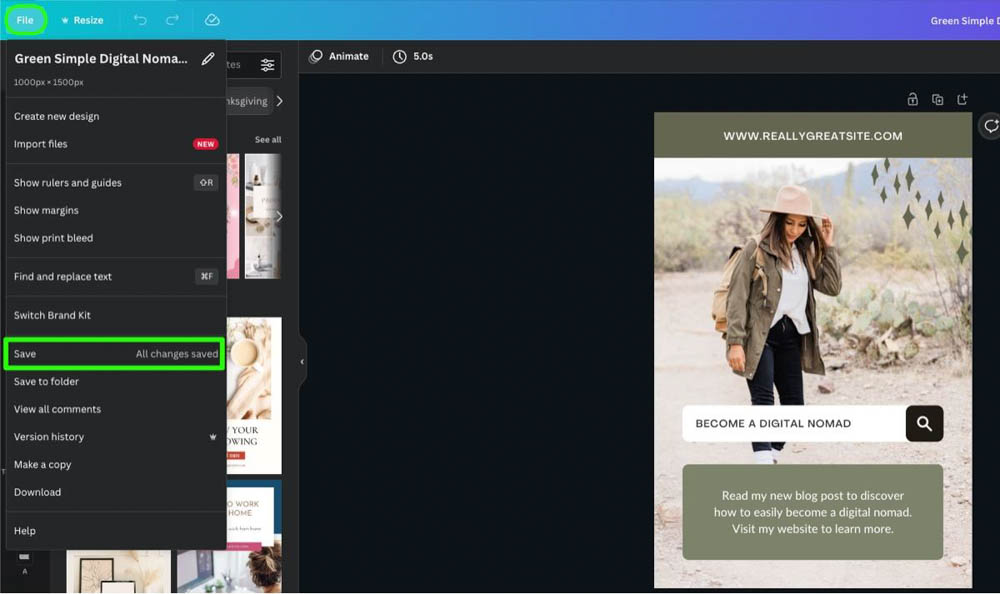 You can return to the main page and click on your project to ensure that your design was properly saved.
There's also a second way you can save your design.
Click on File, then choose Save To Folder. This will prompt you to choose a folder from your Canva account to store your project.
You can also add a new folder by clicking the Create New button.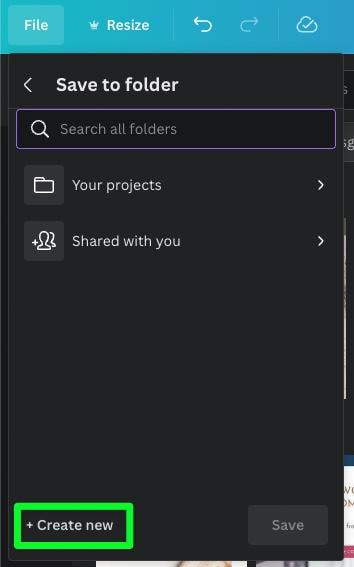 How To Save A Design To Your Computer In Canva
Canva may not be able to save your design to your computer automatically, but saving it to your computer is a simple process.
Step 1: Click The Share Button
Most of the export options available for your design are accessible through the Share Menu. This includes downloading your design to your computer.
To access the Share Menu, click Share in the top right corner of the screen.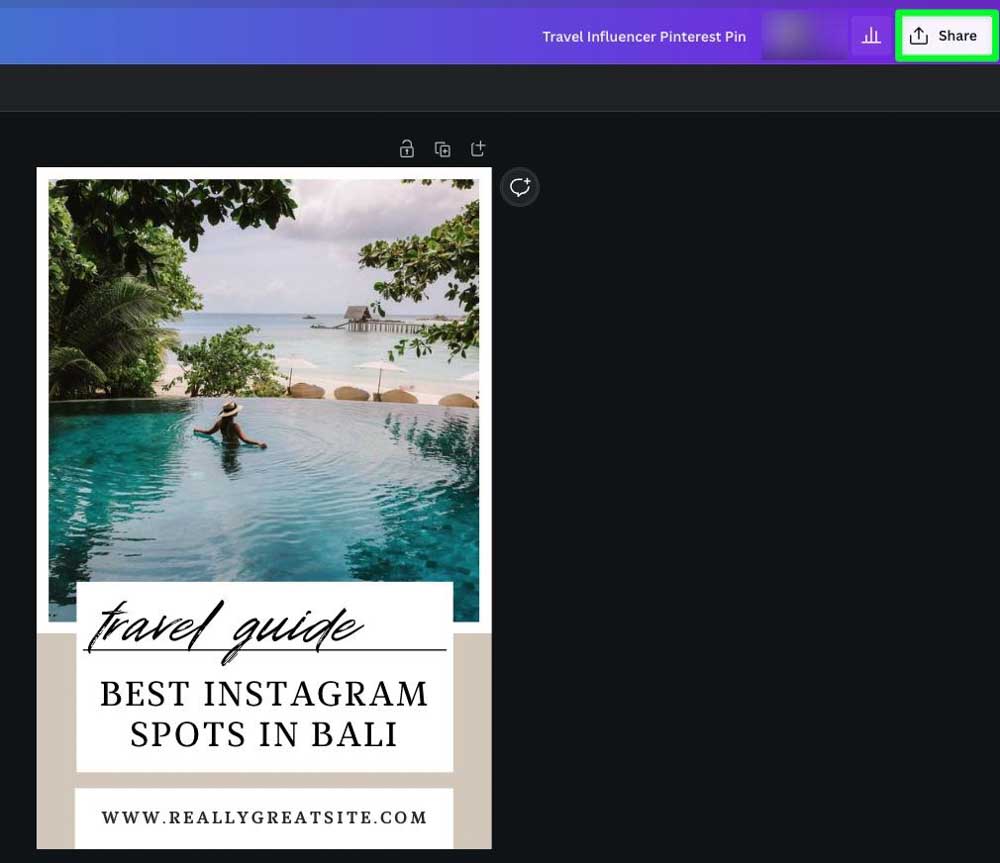 Step 2: Click Download
Downloading your design to your computer takes one extra step, and that's clicking the Download button.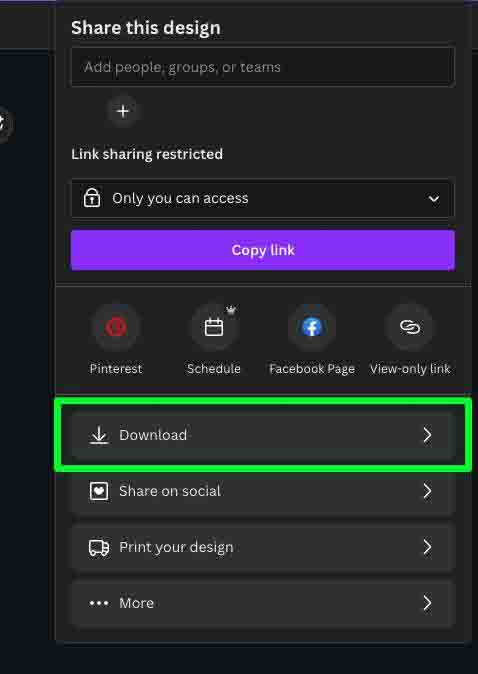 Step 3: Set Your File Type And Click Download
I will explain all the different file types later on. For now, choose JPG or leave the File Type as PNG. These are the most common file types to choose from for your design.
I'll explain the rest of the options later as well. For now, you can leave them blank.
Once you're ready, click on Download.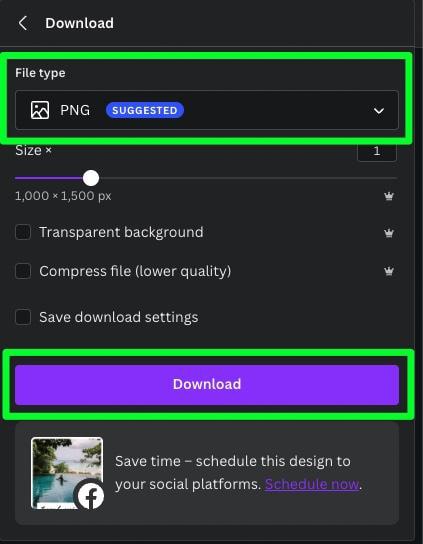 Step 4: Choose Your Save Destination
One last thing you need to do before you download your design is to pick where you want your design to be saved.
The box that pops up will allow you to name your file and pick the folder on your hard drive as your destination.
Click on Save to finalize your choices. This will save your design to your computer.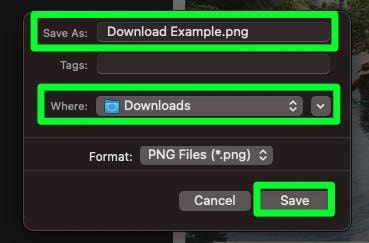 Step 5: Double Check Your Exported Design
Once your design is saved to your computer, navigate to the folder where you saved your design.
You should find your design with the name you chose, its size, file type, and the date you added the file to your hard drive.
How To Save A Design To Your Camera Roll In Canva Mobile
Saving a design to your Camera Roll is very similar to saving a design to your computer, with a few notable differences.
Step 1: Click The Share & Download Buttons
You can find the Share button in the top right corner of your screen.
Tap the Share button, then tap the Download button.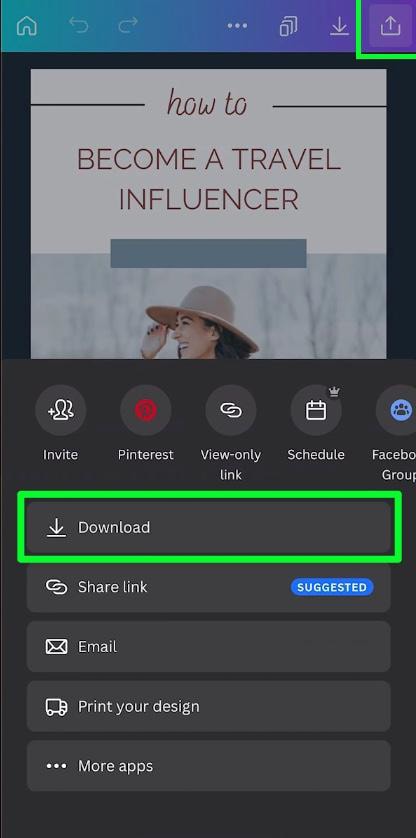 Step 2: Select Your File Type & Tap Download
Much like the Canva Desktop, you will be presented with choosing your File Type and a few more options. For File Type, choose either JPEG or PNG, as these are the most well-rounded options for static images. Leave the rest of the options blank.
When you're finished, tap Download.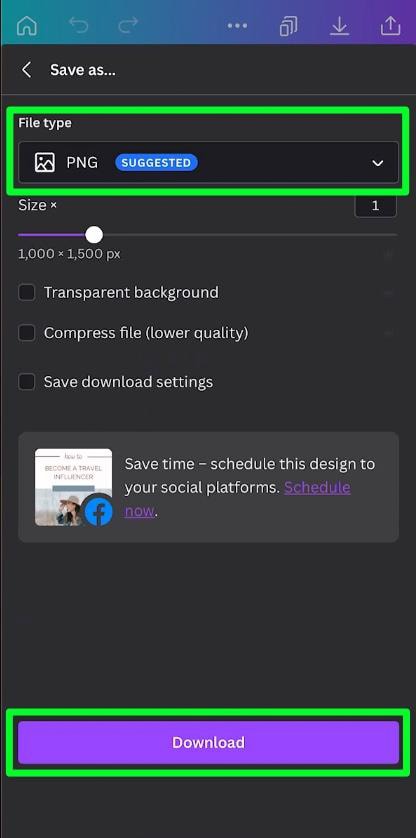 Step 3: Wait For Confirmation
The second you tap Download, you will see an animation of your design being downloaded onto your camera roll.
You will be informed that your design is being prepared at the bottom of the screen. You will also have the opportunity to stop downloading by tapping on Cancel.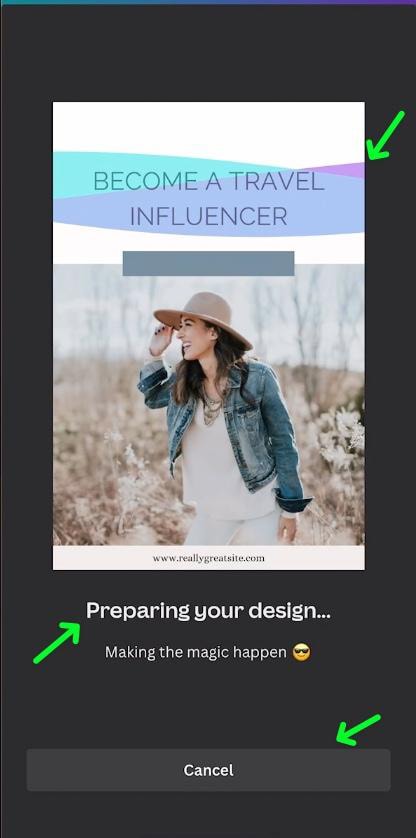 When your design is finished downloading, an alert will pop up, letting you know.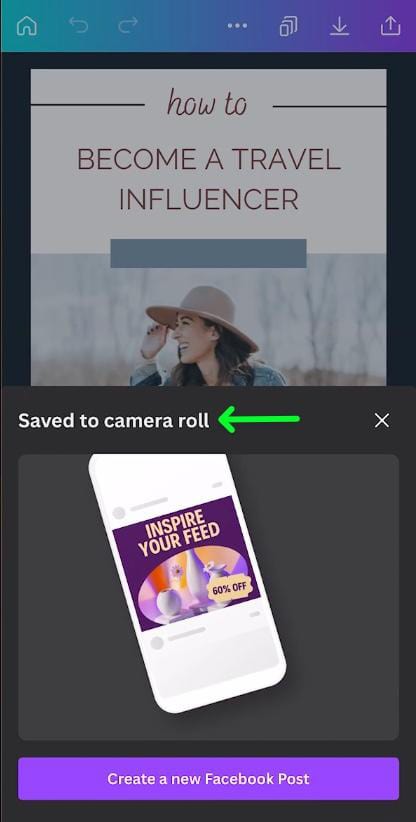 Step 4: Double Check In Your Photo Gallery
To ensure that your design has been downloaded to your device, open your camera roll to double-check.
Your design should be the most recent design that is showcased.
One more quick thing to mention regarding saving with Canva Mobile. If you're saving a design to your phone so that you can post it to Twitter, Instagram, or some other social media site, you can save a step by posting your design directly to your chosen site.
First, tap on the Share button.
Then, above the Download button, you will find a scrollable bar with various icons on it. You can swipe from the right of your screen to find pretty much every social media site there is.
Tap on your chosen site, and set up your account so that you can quickly and easily send your designs from Canva straight to your social media site of choice.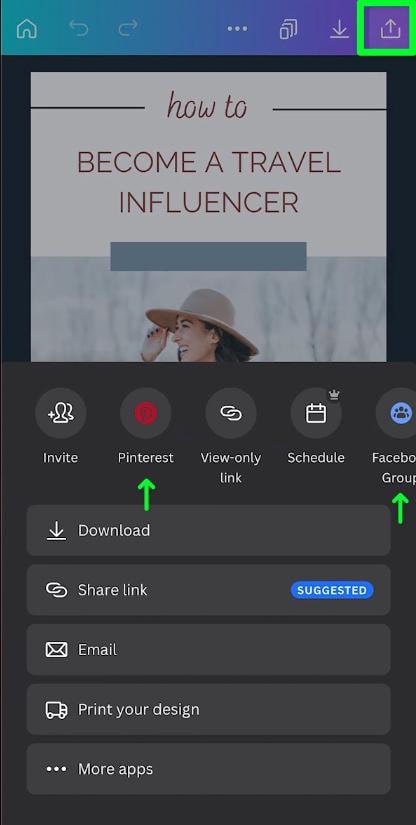 How To Save Images With Transparent Backgrounds In Canva
Saving an image with a transparent background is very similar to saving a regular image, except that you need to pay attention to the options you choose.
To start, click on the Share button in the top-right corner, then click on the Download button.
Now is the time to pay closer attention to your options.
For File Type, make sure PNG is selected. The other file types available will flatten your picture, destroying the transparency effect that you need.
Check the Transparent Background box. If you fail to do this, your design will be exported with a white background and not a transparent one.
Also, keep in mind that this option is only available for Canva Pro members. You can tell which options are only available for Canva Pro by looking for the crown icon. 
You can check on Compress File (Lower Quality) if you wish, but it's not recommended. This option will bring down the quality of your image. Only do this if you need a much smaller file size.
If you want to save these settings for the next time you download an image, tap on Save Download Settings.
When you're finished making your choices, click on Download.
Once you hit Download, you can then pick the destination you wish to save your design.
If you open up your design, you'll notice that there is no checkerboard background (like with Photoshop), just a black background. This is normal. If you place this element in a future design, there will be no black background.
Types Of Export File Types Explained
There are, surprisingly, a wide variety of file types available to export to with Canva. You can find these file types in the drop-down menu right before exporting your design.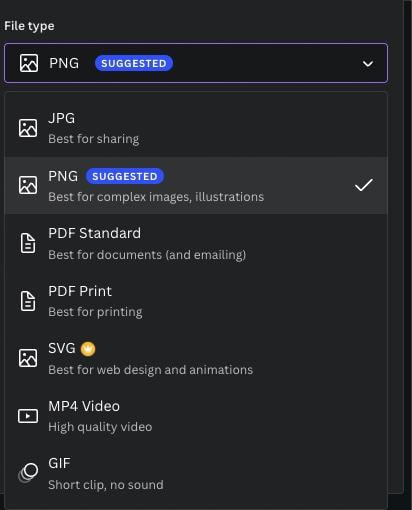 Here are all the different file types you can export to in Canva and a little bit about how they work.
JPEG
JPEG is a type of image file that uses lossy compression. This means that the image is compressed in a way that some non-essential data is lost, resulting in a smaller file size. JPEGs are commonly used on the internet because they can be displayed quickly and take up less storage space than other image formats.
PNG
A PNG is a type of image file that is used on the internet. It stands for Portable Network Graphics and is often used for images that have transparency, such as those you have removed the background from.
PDF Standard
PDF Standard is the obvious choice for any digital use. If you plan to use the PDF online, on a tablet or computer, then PDF Standard is what you need.
PDF Standard is perfect for anyone looking to save space on their hard drive as it has a comparatively lower resolution of 96 dpi than PDF Print.
PDF Print
When you want to print a design in the best quality, always choose PDF Print. The 300 dpi (printer dots per inch) resolution is three times higher than most resolutions, which makes for a big difference in detail and clarity.
Not only does the PDF Print format allow you to add bleed and crop marks, but it is also essential if you are looking to print your designs.
SVG
SVG stands for Scalable Vector Graphics. It is a type of image that can be scaled to any size without losing quality. SVG can be used to create interactive, data-driven visualizations for the web. It is also used to create static images such as logos and illustrations.
Advantages of using SVG include smaller file sizes than raster images, more efficient rendering, greater flexibility when scaling objects, resolution independence, and better support for accessibility standards.
MP4
An MP4 is a type of video that can be watched on many devices, like phones and computers. The format is also popular for its versatility, as it can contain both video and audio in one package.
It is supported by a number of different operating systems, making it ideal for sharing between devices. MP4s are easily created from other video files and can be encoded with various levels of compression to reduce file size.
GIF
GIF stands for Graphics Interchange Format. GIFs are stored in a compressed format and can contain up to 256 colors. They are commonly used on websites, social media, and messaging apps.
Unlike videos, which require more data or bandwidth to stream or download, GIFs are small in size and can be quickly shared. Additionally, they are supported by almost all modern browsers on both desktops and mobile devices.
So now, with all these file types in mind and the easy exporting options you learned above, you'll be able to save any project from Canva like a pro!