Every season offers new opportunities for photoshoots, and the wintertime provides a unique canvas of frosty landscapes, holiday charm, and cozy moments. Here are over 45 of my favorite winter photoshoot ideas you should try, aiming to ignite your imagination and provide a wealth of inspiration for capturing the allure of the winter season through the lens.
Must-Try Winter Photoshoot Ideas
1. Plaid, Plaid, And More Plaid
Every season tends to have a pattern associated with it – and that is undoubtedly plaid for winter! This pattern can be dressed up in various ways, from blue jeans and boots to throwing a sweater on top! This is a great way to keep families and couples looking cohesive and "themed" with one another while allowing everyone to keep their unique style.
Plaid as a pattern has an additional benefit for your photo sessions. The pattern ensures that your subjects stand out from their surroundings, so there are no issues of blending in.
2. Winter Window Scene
The winter season brings with it many overcast and soft days. As photographers, overcast quickly becomes a desired lighting situation, as the clouds diffuse the sun and keep highlights from being too bright and shadows from being too dark.
The light coming through the window is wonderful – evoking a familiar emotion for anyone who has watched the soft falling snow from the cozy indoors.
This isn't just exclusive to people – pets often participate as well!
To set the scene, aim to shoot around the early afternoon hours when the light is bright. Try to set your metering mode to Spot and expose for the window – you can adjust the brightness of your subject in post-processing programs later on.
3. Making Snow Angels
Creating snow angels is a timeless tradition that offers a great photo opportunity. Best captured from above, use a stable stool to stand on and shoot from a higher vantage point.
Remember that snow reflects the light, so it's easy to make your shots too bright. To retain the details of the snow, adjust your exposure settings to be one to two stops darker than what your light meter suggests.
4. Lights At Night With Warm Clothes
As winter approaches, the sun sets earlier, and the streets are decorated with string lights, window displays, and holiday adornments on lamp posts. This is an excellent opportunity to practice low-light photography and capture portraits with these lights! Be sure to dress your subjects warmly to bring about the season's feelings.
Because the only available light is ambient from the decoration, use a lens with a wide aperture. An F/stop of 2.8 is minimum, but F/1.2, F/1.4, and F/1.8 are typically best. This aperture will let on much of the light and blur the lights out into a very aesthetic bokeh.
5. Hike In The Woods
The snow brings a wonderland, so taking the family (and pup) on a hike can offer many photoshoot opportunities. From casual shots taking a walk on the path to stopping for tight portraits, a whole story can be told in a series of photos.
6. Cabin In The Woods
Winter getaways tend to feature a cabin in the woods – so why not use this as a photoshoot concept? The contrast between powdery snow and the rich warmth of the wood color creates eye-catching images.
Make sure to keep the oranges and reds in the cabin saturated when color-grading these shots, as the warmth contrasts the cold of the snow very well.
7. Family Portraits By The Fireplace
Speaking of warmth, fireplaces make for a great photoshoot location! Set up a cozy couple's scene by running the fireplace and setting the white balance to warm. Keep your subject off to the side of the fire so that the orange glow also hits them.
8. Perspectives
Perspective is a fun technique to play with, as demonstrated in this photo! The vastness of a winter landscape offers a blank canvas to let your imagination soar. Although this example photo was taken in the salt flats, it's a great option to also try in the snow!
It can also be an excellent opportunity to pull out the wide-angle lens and play with the optic distortion. Subjects closer to the lens appear more prominent than those further away.
9. Footprints Tell A Story
There is a powerful storytelling element in footprints; films use this concept to express transition, growth, and a path forward. You can take these same emotions and apply them to photographs in the wintertime, using the footprints as a compositional element.
Creative Winter Photoshoot Ideas To Try
10. Cold Breath
The sudden drop in temperature can be a good element to use in a photograph. When the body's heat is in great contrast to the outside cold, breath becomes visible. Raise your shutter speed, and you can freeze all the "smoke"!
Like in the photo above, you can shoot in the evening and use car headlights to provide the backlight. The coldest times in the winter are early morning and nighttime. Use that to your advantage.
11. Winter Royalty
There is something very magical, mystical, and royal about the winter. Because the world is painted in a very neutral palette with the white snow, elaborate costuming and clothing items stand out significantly.
Play with head crowns, gowns, and stand-out attire to create a fantasy image of winter royalty.
12. Christmas Tree Maternity Session
The forest green makes for a gorgeous color for winter maternity sessions! Christmas trees are easy to find, so you don't need to live in the woods to achieve this look. Position the mother-to-be close to the Christmas tree and use that as your background and framing.
13. Shoot Through Crystals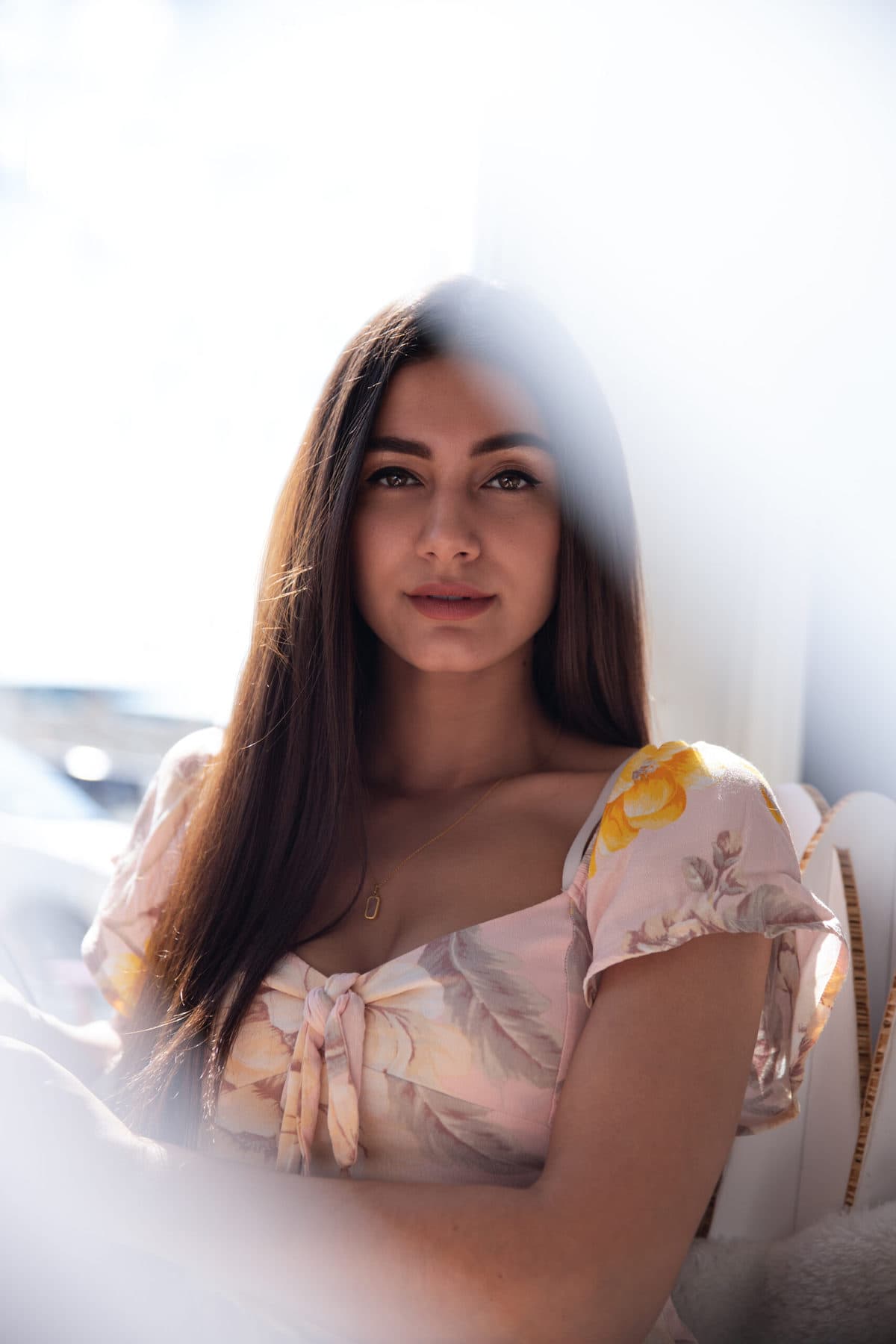 Using attachable filters, crystals, and other glass objects can create unique distortions in your photographs. Pair this with holiday decor and lighting, and you have a recipe for creative and artistic winter photoshoots!
When using an object in front of the lens (whether attached or held to shoot through), try to keep your light source off to the side of the lens – the way the light hits the edge of your lens glass can help enhance the effect.
14. Teddy Bear Best Friend
So much of the winter revolves around childhood, and many of us had a favorite teddy bear! You can use the teddy bear as a creative concept, helping children feel more comfortable during holiday family sessions. The teddy is a part of the family, after all!
Teddys are also great for winter pet sessions, as our beloved kitties and puppies often have their favorite stuffy.
Oversized teddy bears can be great for portraits and solo sessions with your clients, replacing a second person.
Plus, the teddies themselves can make for a great subject!
15. Couples In The Road 
Applicable for all seasons, dramatic photographs of a couple on the road are a beloved creative concept. The road creates leading lines, helping the composition direct the viewer to the two most important elements in the shot! A fun idea can be creating a compilation photograph using the same road in all four seasons.
16. Moody Portraits In The Fog
The significant drop in temperature causes fog in the early morning hours. Fog is a fascinating shooting condition in which a natural haze takes over the entire background of a photo. Moody and unique portraits can easily be captured in this condition, and it is often unseen at other seasons in the year.
It is easy to overexpose fog because a white film covers your shooting area essentially. Shoot darker than your light meter suggests. If you have artificial light, bring that to light up your subject as you don't want it to be too dark as you underexpose the frame.
As fog tends to happen in the morning, a sunrise in the fog is worth waking up for. The fog will spread the light rays in unique ways.
17. Use A Winter Wreath
A winter wreath is more than a beloved holiday decoration. It can be a fantastic photoshoot prop! You can coax your dog or cat to put their head through the wreath for a framed winter shot (with careful supervision).
A small wreath can also be used as a "flower crown" for a child, creating a more elegant photo.
18. Use A Scarf For Interesting Compositions
On the topic of accessories, scarves are my favorite to use for photoshoots! Scarves allow your model to express their unique style (especially if the scarf is bold in color or pattern) and give them something to do with their hands.
Scarves express warmth and coziness. Something sought after for winter photoshoots. A scarf can change an entire outfit in seconds because it can be wrapped around the neck, head, face, and shoulders. There is a lot of variety to be had with this simple piece of fabric!
19. Beanies And Puff Coats Galore!
Alongside scarves, beanies and warm coats are staples of the chilly climate. Winter fashion is a staple in photoshoots during this time, so make the beanies and coats as prominent as the subject as the models themselves!
Focus on posing your subject to interact with the winter hats and coats.
20. Visit An Animal Facility
An unusual idea, many nonprofit exotic animal sanctuaries, and facilities open their doors for the winter to offer photoshoots to raise funding. Visiting one that has traditionally wintertime species, such as reindeer and owls, can be a great way to support a good cause and have a unique photoshoot experience.
Just ensure the facility holds the proper USDA license, or you (as the photographer) can get into a lot of trouble, too. The facility needs to have a USDA Exhibitor Permit for photoshoots with animals.
Snow Winter Photoshoot Ideas
21. Snowball Fight
Snowball fights can be both hilarious and intense, and as a photographer, you can find a slew of opportunities within a battle! Keep your shutter speed high (well over 1,000) to freeze the snowballs and flying snow in mid-air.
Because the snow reflects so much light, it can be very easy to keep your shutter fast because the daytime is already so bright. Don't be afraid to even push your shutter speed to the camera's maximum of 8,000!
Snowballs can also make funny props.
22. Blowing The Snow
Like the snowball fight, keep your shutter speed fast as you direct your client to blow the snow out of their hands.
23. Snowflakes As Props
The snowflakes can make an excellent prop and compositional element. Go outside while it is snowing, and keep your shutter speed fast to freeze the snowflakes falling all around! Or sprinkle some snow on the hood of a winter coat. If it isn't snowing, have an assistant throw snow up as you shoot.
24. Frame Through Winter Plants
Taking pictures through plants is an excellent way to work with any location limitations and uniquely frame your subject. In the winter, the snow piles in the plants can be even more interesting.
Put your subject on the other side of the plant and stick your camera through the branches at a spot where you can see your subject's face clearly. Play with depth of field and see what works best to ensure your subject stands out!
25. Throw Snowballs At The Dog
Pups love to play in the snow, too! Throw some (light) snowballs their way and capture the hilarious reactions that ensue!
26. Children Making A Snowman
Nothing says wintertime more than building a snowman. It's best to use a telephoto lens here to not distract from the process; simply be an observer. Focus on composition as you shoot from further away!
27. Make A Snow Heart
Snow is very malleable – and it's been a cute social media trend to make snow hearts (instead of snowballs). Experiment with different sizes and how you can add to your composition.
28. Creative Angles With Winter Sports
Snowboarding and skiing are exciting winter sports, full of action and cool tricks! Grab your favorite telephoto lens (a 70-200mm lens is my suggestion) and play around with different vantage points.
To add height to the show, shoot from below! To emphasize the emotion, try to capture the snowboarder from eye level. Fast shutter speeds are a must! 2,000 or faster is best.
No-Snow Winter Photoshoot Ideas
29. Dress Up As Santa
While not every state experiences snow, there are creative ways to embrace the festive spirit without it! Encourage the family in front of your lens to put on some Santa outfits, effectively conveying the holiday ambiance.
30. Go Ice Skating
Even if your state doesn't have snow, there might be a local ice skating rink! A family night out at the rink is a great way to create themed photos.
If you go at night (like in the photo above), use a low-light lens and bump your aperture up. It is more important to have a good shutter speed in this case, so prioritize that over having a lower ISO.
31. Wrapped In Christmas Lights
You don't need to be outside to take winter-themed photos. Play with the twinkling Christmas lights and use them to illuminate your model! Experiment with different angles, exposures, and types of lights. Traditional string lights are best, as small fairy lights can be too weak.
With supervision, you can even do this with your pets! Just make sure that the lights are cold.
32. Winter-Themed Pet Set
There are so many adorable winter-themed accessories, toys, and decor for pets! All pet stores are filled with them starting as early as September in some places. Use these to build a photo set for your four-legged best friends.
33. Wrapped In A Blanket
Blankets convey feelings of warmth, cuddling, and comfort. These feelings are commonly associated with winter, so structuring photoshoots around using a blanket is a great way to capture winter shots without needing snow.
Blankets also work for pets!
34. Find A Bridge
There is some sort of correlation between the winter and a beautiful bridge! Take an adventure day trip to find a stunning bridge – and remember to dress warm!
35. Early Morning At The Beach
Beaches are cold, foggy, and misty in the early mornings, conveying a winter feeling in the shots. The light hangs on the moist air, creating an almost fog-like filter.
Anyone who lives by the ocean knows that this is definitely a wintertime phenomenon. Add a blanket to the shot, and it'll feel even more like winter.
36. Scenic At The Lake
The same beach concept applies to lakes and other large bodies of water as well!
Holiday Photoshoot Ideas
37. Baking Holiday Cookies
The warmth and spontaneity of the kitchen is filled with photo-taking opportunities. Much like photographing kids building snowmen, keep yourself removed from the action and try not to influence it too much. The longer the lens you use, the less impact you have on what is going on in front of you.
38. Christmas Tree Shopping
A family day out at the Christmas tree farm is a wonderful idea to propose to your family clients. Become their paparazzi as you follow their Christmas tree excursion!
39. Exploring Decorated Neighborhoods
One of my favorite things about the holiday season is the beautiful decorations in the cities and neighborhoods. You can use those dazzling lights and colorful trees as a photoshoot backdrop, and the lights are often bright enough to keep a reasonable ISO level.
Use wide aperture lenses (which are best for low light), and the lights can become a striking bokeh.
40. Family Sledding Day
Less extreme than winter sports like snowboarding, a family sled day is a staple of the snowy season! Especially if children receive a sled as their present.
41. Use Presents As A Set Design
Speaking of presents, the wrapped boxes themselves can be a great compositional element. Use them to fill up the negative space and balance out a composition.
42. Cozy With Hot Cocoa
Who doesn't love a cup of hot cocoa with a best friend during Christmas? Use this much-loved treat as a photoshoot idea.
43. Decorate A Gingerbread House
Like baking cookies, focus on the candid action of decorating a yummy gingerbread house.
44. Reindeer Antlers On The Whole Family
Certain holiday costumes make for good best friend or family photos, such as the reindeer ear headbands! This also allows your clients to wear whatever they want without needing to focus on dressing "Christmas-like". Just pop on the headband, and any outfit looks ready for the holidays.
You can even find reindeer headbands made for dogs!
45. Storybook Time
A holiday bedtime story is a classic. There are some beautiful photo stories you can tell during a storybook scene.
46. Classic Santa
Which leads right into the greatest classic of all – Santa! Although this is a given during the holiday season, it is worth keeping him on our list because you cannot go wrong with having Santa in your winter photoshoots.
These photoshoot ideas offer a variety of creative opportunities to capture the enchanting winter season. May they inspire you to shoot stunning and memorable winter-themed photographs!