The night sky has long captivated people, and astrophotography captures our stars in the most artistic way. But not all lenses are created equal for this unique photography niche: the best lenses for astrophotography feature wide fields of view, edge-to-edge sharpness, and wide apertures.
Searching for the right lens for astrophotography can be overwhelming, so I'm here to make the choice easier for you. In this guide, I'll share my top lens picks with reasons why these options tend to be superb when capturing the night sky. 
The Best Lenses For Astrophotography
We review products based on independent experience and research, but we may earn affiliate commissions from buying links on this page.
The versatile 24-70mm lens has long reigned supreme in a large array of photography niches. Fondly known as the "walk around lens" amongst the photo industry, the 24-70mm can quickly adapt from a wide-angle landscape lens to a tight portrait lens with just the spin of the zoom barrel.
With every camera brand having a version of this focal length, Nikon's AF-S FX NIKKOR 24-70mm F/2.8E ED VR option stands out quite well in the astrophotography field. Despite being an older lens, as the mount is for DSLR, this lens still holds up today.
Although this lens compromises in its somewhat heavier and larger size, this 24-70mm is a durable workhorse – ready to withstand any outdoor elements! With high-quality lens coatings and protective gaskets, the outdoor world won't cause damage to this lens (so you can shoot in the freezing cold night).
Being an HRI lens, this particular version provides outstanding optical performance – ensuring you have good edge-to-edge sharpness on all of those beautiful stars and planets. The fixed aperture at F/2.8 lets in just enough light to maximize your shots of the Milky Way. For non-nikon shooters, I would recommend the equivalent Canon 24-70mm F/2.8 lens.
Reasons To Buy
Versatile focal length
Durable, workhorse construction
Great optical performance with edge-to-edge sharpness
One of the newer models on the list, the Canon RF 15-35mm F/2.8L IS USM improves upon the classic 16-35mm lens by offering one more millimeter of width to its widest point. Designed exclusively for Canon's RF mirrorless mount, this lens packs many beneficial features into a more compact package than its predecessors.
For starters, the optical performance of this lens will make any pixel-peeper happy. The sharpness is brilliant, and the clarity even more so! Staying true to Canon's famous L-line of lenses, the glass is ultra-high quality to produce fantastic results. Paired with the new technological advancements of mirrorless cameras, the results are breathtaking.
Secondly, the versatility of the 15mm to 35mm focal length allows you to easily compose your shot, going from a very wide 15mm to a more standard 35mm. Paired with in-lens image stabilization and in-body image stabilization and you can certainly drop down a few shutter stops and still achieve a sharp image – this is beneficial for astrophotography as you're looking to minimize ISO and noise.
Being an exclusive mirrorless lens, the size is also a bit smaller and more compact than the DSLR equivalent of 16-35mm. However, the price tag is rather hefty for all these perks, so this lens is considered a professional option.
Reasons To Buy
Noteworthy optical performance with extreme clarity
Versatile wide-angle focal length
In-lens and in-camera stabilization
Reasons To Avoid
Expensive
RF Mount may require an adapter depending on your camera
Likely the most popular wide-angle lens from Canon, the EF 16-35mm F/2.8L IS USM III is a classic. As such, this DSLR model still holds strong to its title of one of the best lenses to this very day.
Fully weather sealed with robust construction, this lens can take anything you throw at it. Version III of this lens improves upon all of the beloved features, including providing a new body coating to help with thermal stabilization.
This means that your lens will maintain a neutral temperature no matter how cold or hot it is. Since much of astrophotography happens at night in winter, the temperature can be freezing.
Boasting L-line quality, you can be confident that the results will be sharp, crisp, and clear. Minimal photo editing is required, which is always a big bonus. The 16-35mm focal length is quite versatile for the night sky, allowing you to go from an ultra-wide view up to a standard 35mm.
Reasons To Buy
Thermally regulated
Very robust construction
Beautiful L-line quality
Very versatile focal length
Reasons To Avoid
There is some vignetting
Pricey
Continuing on the mirrorless trend is the Sony FE 24mm F/1.4 G-Master lens, the L-line equivalent for Sony. Designed to maximize the technology within Sony's E-mount Alpha cameras, there is nothing flawed about this lens.
Generally smaller than other versions of this classic focal length, this 24mm is well weather sealed and durably built, intending to act as a workhorse despite the smaller stature. The smaller size also helps balance the lens better on tripods as it's not so front-heavy on such a lightweight mirrorless camera body. Since astrophotography utilizes tripods, this is a big perk.
The Sony 24mm G-Master excels in its optical quality, primarily due to its various lens coatings to prevent chromatic aberrations and flares. A filter won't be necessary to prevent light leaks and other such discrepancies in the images, so your entire night sky will appear crystal clear. With edge-to-edge sharpness, the stars hitting the corner of the frame will be just as sharp as those in the direct center. Both of these features are massive perks for astrophotographers.
Reasons To Buy
All of the G-Master quality in optical performance
Very significant reduction of chromatic aberrations and light flares
Smaller and lighter weight than comparable 24mm lenses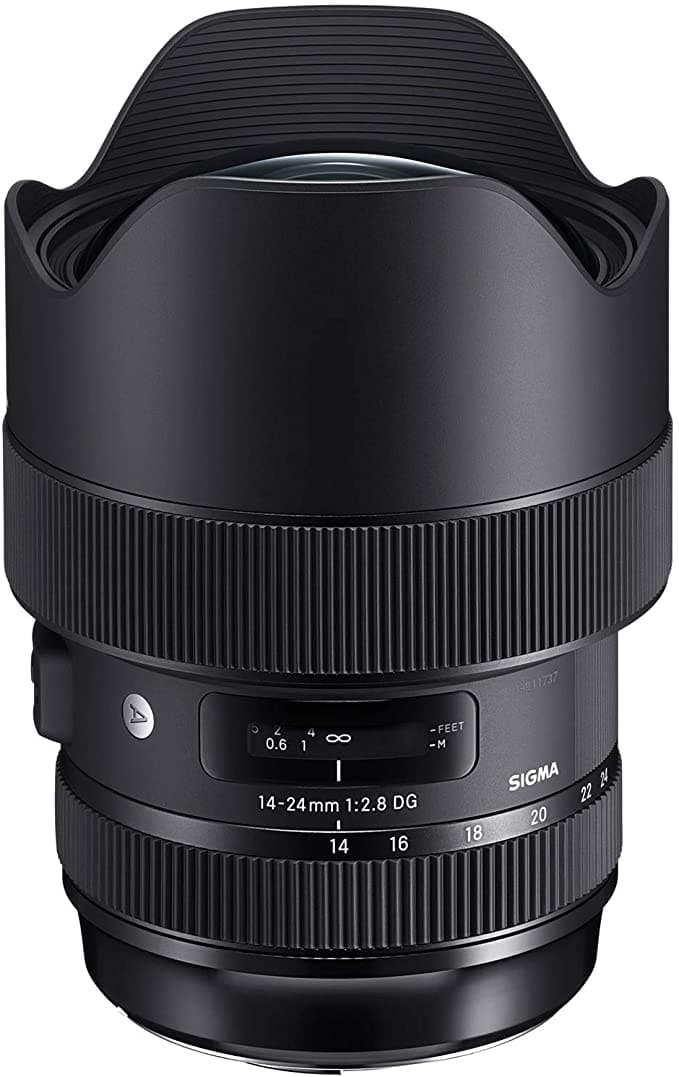 Mount: Nikon F Mount, Canon EF Mount
Autofocus: Yes
Image Stabilization: No
Although many want to buy name-brand lenses for their cameras, third-party companies can also produce lenses that act native to their mounts. SIGMA is one of the best third-party lens companies, alongside Tamron and Zeiss. The benefit to a third-party lens company tends to be a significantly lesser price while still maintaining decent quality.
The SIGMA 14-24mm F/2.8 DG HSM | A takes a classic focal length and makes its own brilliant version. Specifically designed for DSLR cameras, this 14-24mm provides optical performance indistinguishable from name-brand options. The result is crystal clear photos with the decent versatility of a zoom lens.
Available for both Nikon and Canon DSLRs, this lens communicates with both brilliantly – you would never know that this is a SIGMA lens. The benefit to this is saving some money on the cost while still being confident in the lens's performance.
The drawback, however, is that this is one of the larger and heavier versions of this focal length. However, the construction is incredibly weather sealed and will take a few bumps and falls and be fine. Considering you're working at night, little bumps and accidents can happen since it can be hard to see.
Reasons To Buy
Communicates natively with Canon and Nikon DSLRs
Great sharpness and clarity throughout
Better price than a name-brand equivalent
Reasons To Avoid
It can sometimes feature chromatic aberration but not often
Has no image stabilization
Last but certainly not least on the list is the Sony FE 12-24mm F/2.8 GM, another G-Master option. This is the widest zoom lens with a constant F/2.8 aperture you can get, so you can certainly maximize on that night sky.
Built for the professional photographer (and some say explicitly created for the experienced astrophotographer), this lens is lightweight and easy to carry in your bag. Considering hiking tends to be a significant part of astrophotography, this can make a big impact over time.
The edge-to-edge sharpness is also worthy of note, even at its widest aperture of F/2.8. Astrophotographers can easily open up wide to let in the light while knowing that the stars and planets will remain sharp (even at the corners of the frame). The lens is also coated to prevent chromatic aberration and lens flares.
That said, the lens comes at an outstandingly hefty price tag of nearly $3,000.
Reasons To Buy
Lightweight and easy to carry
Breathtaking quality
Consistent F/2.8 aperture across its zoom
For mirrorless users, SIGMA's brand-new I-Series line is a budget line that produces high-quality results at a fraction of the price. Taking advantage of mirrorless camera technology, the company was able to shrink down quality lenses into pocket-sized versions that make it easy to travel to your perfect astrophotography destination.
Although the compromise to the I Series lenses is that they aren't as durably constructed and don't feature benefits such as image stabilization, they have a few very special perks. In particular, the SIGMA 20mm F2 DG DN | C allows you to have complete aperture control on the lens barrel itself rather than fumbling with the camera settings.
This lens also has another significant benefit that is often overlooked (but can be so helpful for astrophotography) – you have two options for lens caps. You can either use the traditional pinch cap or you can use a magnetic cap.
The magnetic cap is solid and durable but allows you to flick it off very quickly if you see the perfect moment. Imagine looking up at the night sky and noticing something unique that requires quick action; just push the cap off and go for it.
The quality is lovely, with sharp results and a bright F/2 aperture. There are some chromatic aberrations when the light hits wrong, but this isn't too frequent. This lens is well under $1,000, making it very affordable.
Reasons To Buy
Very affordable for the quality produced
Small and lightweight
Magnetic lens cap option
Nice and bright F/2.0 aperture that you can control with the lens barrel
Reasons To Avoid
No lens stabilization
It can have some chromatic aberrations
Continuing on the 20mm train is the Nikon NIKKOR Z 20mm F/1.8 S for the company's mirrorless systems. Although this is double the price of the SIGMA F/2 focal length version, the Nikon version has a much wider aperture at F/1.8 and does excel in quality too.
The construction is top-notch, so you can feel very confident holding this lens loosely in your hands. The optical structure stays true to Nikon's promise of utmost quality, with multiple coatings preventing flares, aberrations, and other issues that can ruin your astrophotography photo.
A big benefit of this particular lens model is that it maintains brightness throughout the frame. This means you won't find dim or dark vignetted corners of your image. The stars at the edges will be just as bright as those in the center. This alone could make the hefty price tag well worth it, as vignetting tends to be a big problem that plagues night-sky photographers.
This lens also features the ability to program the control ring so that you can create custom functions for quick access during your shoot. Many astrophotographers program the shutter speed into the control ring, allowing you to adjust that without going into the camera body settings.
Reasons To Buy
No vignetting on your edges
A programmable control ring is a huge bonus
Superb quality
Reasons To Avoid
Relatively large in comparison to similar prime lenses
What Type Of Lens Is Best For Astrophotography?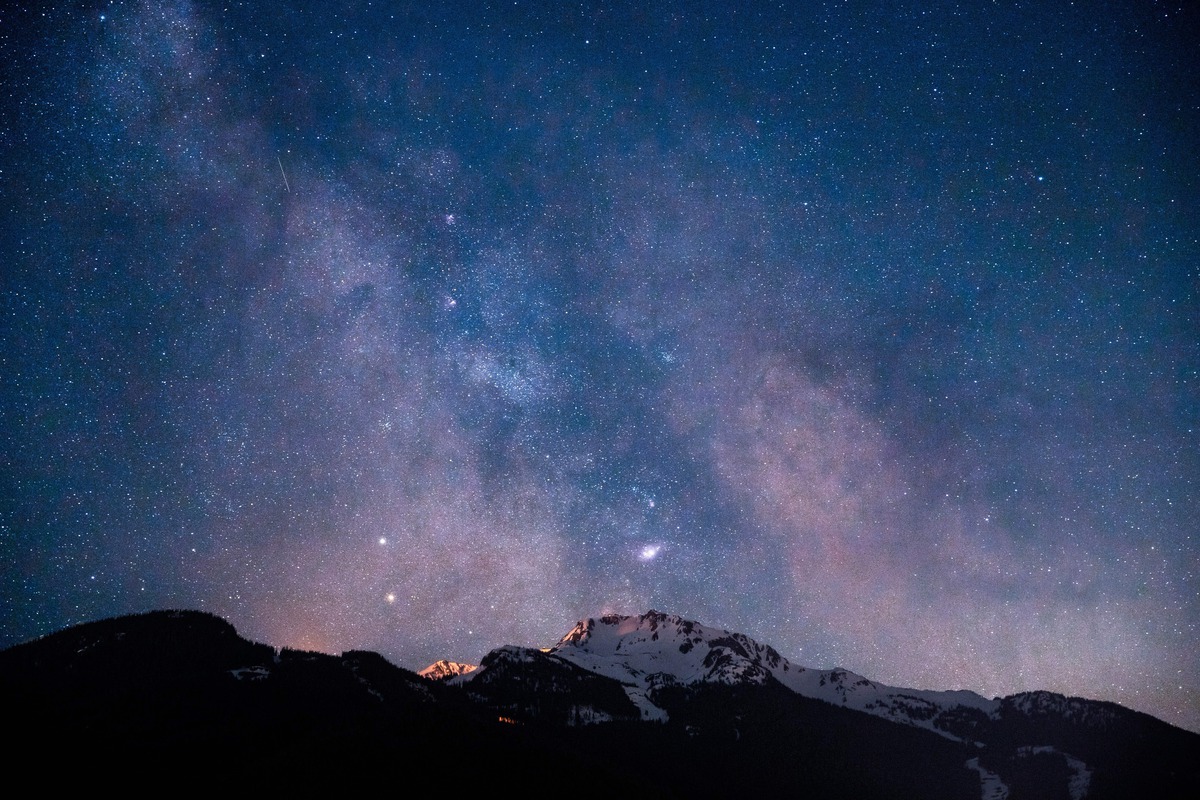 When considering lenses for astrophotography, a few distinct features play a significant role:
Wide aperture (F/2.8 or wider)
Wider field of view
Reduction of chromatic aberration and light flares
Because the night sky is vast, wider focal lengths create the most stunning captures. Instead of taking a shot of just a corner of the Milky Way, capturing the entire view is what tends to captivate audiences. Plus, with cameras featuring much higher megapixels than ever before, it's not too challenging to crop into the frame and still produce a high-quality image.
Due to the lack of light, wide apertures have become a must for nighttime photography. Wider apertures will maximize the available light and help keep the ISO lower. This prevents too much noise from messing up the shot.
Because stars, planets, and other such nighttime subjects are all relatively bright, you want to ensure that the shot does not have any chromatic aberration or light flares within it.
Chromatic aberrations are when you see a neon green or purple outline around parts of the image with the most contrast (such as around bright stars against the night sky). The clearer the picture, the better, and high-quality lenses tend to be the ones that reduce these abnormalities the best.
If a lens also features image stabilization and weather sealing, then you certainly have found yourself the best astrophotography lens. Image stabilization allows you to slow down your shutter speed without needing to account for camera shake, while weather sealing simply helps protect your lens against very cold or windy nights.
What Lens Is Best For Beginner Astrophotography?
Technically, there is no "best lens for beginners." All lenses work relatively the same. Some are just better quality than others.
Generally speaking, the best lenses are those with apertures that do not change as you zoom in and out. This is not only because these apertures tend to be wider but because that's one less factor needing to be considered when doing your camera settings (making it easier for beginners).
Granted, when first starting, you likely don't have thousands and thousands to invest in glass. As such, my favorite, more beginner-cost-friendly lenses include the SIGMA 16mm F/1.4 lens and the SIGMA 18-50mm F/2.8.
These lenses mix great features and lovely quality at a friendlier price, both being well under $1,000. Both lenses promise SIGMA's high-quality optical performance with excellent clear images while being easy to carry due to their small size.
Although the build quality is less robust than higher-end models, these two will still last you through the years.
If you're brand new in photography, you're likely investing in mirrorless systems (for longevity, especially as DSLRs are being phased out of the marketplace). Being a third-party lens company, these two lenses come in Sony E-Mount, Fujifilm X-Mount, and L-Mount (Panasonic, Leica, SIGMA) options.
What's The Best "Cheap" Lens For Astrophotography?
That being said, if astrophotography is something you're just starting to dabble in, there are some very cheap lenses that do the job decently well. The Canon EF 50mm F/1.8 STM lens is a personal favorite for the budget option, coming in at only $100.
Although this lens has no fancy bells and whistles, it does the trick nicely and has been notable for producing good astrophotography results. The wide F/1.8 aperture provides plenty of light intake, while the lens's smaller stature makes it easy to throw into a camera bag. Certainly not an option to overlook.
Being a 50mm lens, this 'nifty fifty' can also work for various other photography niches, allowing this lens to be more than just a dedicated astrophotography option. 
Ultimately when you're looking for a great astrophotography lens, you want to look for a lens with an F/2.8 or wider aperture, with a wide field of view so you can capture every inch of the night sky above. From there, it's just a matter of getting the right settings for night time photos!
We review products based on independent experience and research, but we may earn affiliate commissions from buying links on this page.