There have been many months that I've questioned why I'm paying the monthly subscription to Photoshop when there are programs like GIMP that seem to do almost the same thing for free. So with the idea of saving a few bucks every month, I tried GIMP to see if it could replace Photoshop in my regular editing workflow. Although there were some pretty great things about GIMP, I can't say it offered enough to make me jump ship from Photoshop.
However, for some, GIMP could be a perfect option to get started with, depending on what you need out of an editing program. So here's everything you need to know about GIMP Vs Photoshop, what to consider about each program, and why I'm not going to be canceling my Adobe subscription anytime soon.
Reasons To Love:
Most advanced photo editings tools available

Versatile graphic design options

Regularly updated & better support

AI-powered tools

Endless free online tutorials to learn the program

Works seamlessly alongside other editing programs like Lightroom or Luminar
Reasons To Avoid:
Requires a monthly or annual subscription

Time-consuming to learn
We review products based on independent experience and research, but we may earn affiliate commissions from buying links on this page.
What Is GIMP?
GIMP, short for GNU Image Manipulation Program, is a free, open-source raster-based image processor. The program is commonly used for photo editing, manipulation, and retouching, as well as free-form drawing and converting files into different formats.
GIMP was not designed for digital drawing and graphic design. However, the program has tools and features available for these functions, but not on a professional level. The program is well-suited for individuals doing a one-off image editing project for an assignment or showing a mock-up.
The program is also a good starting point for beginners who want to try photo editing and basic graphic design tasks before committing to a subscription-based program. It can also be used to make minor adjustments for clients by a freelancer trying to break into the industry.
As open-source software, GIMP has the advantage of being 100% free to users and has a dedicated team of developers worldwide who constantly work to improve the program and fix bugs.
However, the downside is that the program may experience glitches and bugs occasionally since it's open source. You may also find limitations with the software when editing photos as the features, capabilities, and tools are limited compared to other programs such as Photoshop.
GIMP will likely be complex for users who aren't familiar with any graphics editing programs. However, the interface is clean, and each tool offers a lengthy description to help you learn the various functions.
Pros
Free and open-source software
Raster-based editing capabilities
Easy learning curve for beginners
Similar interface to Adobe products
Cons
Limited editing tools and features
Capabilities not at an industry-level standard
What Is Photoshop?
Adobe Photoshop is a raster-based photo editing, manipulation, and retouching program that is used by creative professionals worldwide. The software has been labeled the industry-standard leader among photographers and graphic designers.
The program allows you to edit images down to individual pixels while preserving quality. You can also do certain graphic design processes, such as website design, as there are certain vector processing capabilities.
Photoshop is a useful tool for users who want to create professional work in the photography, graphic design, or digital marketing industry, as well as many others. The program is used by interior designers and architects too.
Not only can users use the program to manipulate photos on a high level, such as removing objects, adding objects, or manipulating features, but they can also use Photoshop as a tool for creating mockups, text effects, and so much more.
Photoshop constantly evolves and offers more in-depth tools and features, including many AI functions that speed up your workflow and seamlessly complete complex tasks. The program has several tools, features, and capabilities, and even experts need to consistently learn the new functions and features as the program evolves.
While Photoshop offers several capabilities, it is a steep learning curve for users to get used to the program.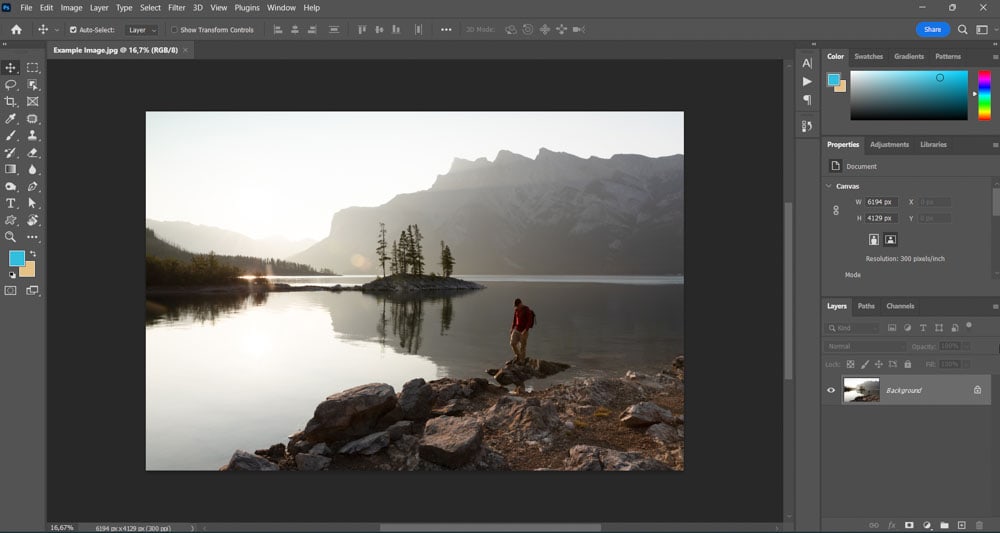 Pros
Industry-standard program
High-level editing and graphic design tools and features
Constant updates and bug fixes by a dedicated Adobe team
Regular intuitive AI developments
Cons
Subscription-based and costly for beginners
A steep learning curve, especially for users new to editing software
Comparing Features Of GIMP Vs Photoshop
To decide which program is the best for you, it helps to compare the features of both programs head-to-head. I will compare the general photo editing, graphic design, and drawing capabilities and features to show you what each program offers.
Whether you are new to design software or looking to upgrade your programs, the comparisons below will help you see which program is better for you.
General Capabilities
GIMP is primarily a photo editing program, so the general capabilities relate to editing raster-based images. Users can manipulate and edit photos in various ways, such as cropping, resizing, and creating new image compositions.
The program has a crop tool, multiple selection tools, a path tool, a type tool, and various color tools, which provide users with the necessary functions to apply basic edits and create new compositions.
GIMP is limited in vector-based tools as there are no shape tools, so users can't create logos or vector graphics unless drawing freehand or by using paths.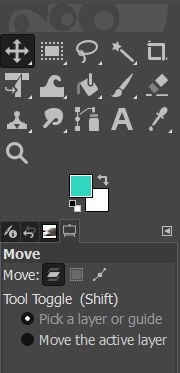 GIMP offers limited adjustment layers, such as Curves, Levels, Saturation, and more. This enables users to add effects and adjust the colors on images.

The program also has several filters, such as noise, animation, and web filters. You can use these filters on photos to create unique effects.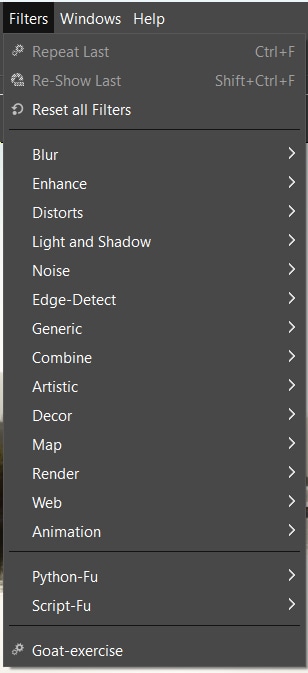 Users can edit and save files in multiple common formats, including PSD, PNG, JPEG, WebP, PDF, GIF, and more.
The interface is relatively clean and straightforward, which helps beginners learn the program more efficiently. The tools offer a description for new users to know what the tool will accomplish. There is also a large online community with helpful tutorials and experienced users to assist new users.
Photoshop is primarily a photo editing program but offers vector-based tools and other functions that allow for specific graphic design and digital drawing possibilities. This enables users to crop, re-color, and manipulate photos and create digital marketing material, such as social media posts and website banners.
There are currently over 69 tools in Photoshop, and every Photoshop tool has a function to work on photos or new designs. You will find more tools and processes in Photoshop than GIMP, as you also have specific vector tools in Photoshop, such as shape tools.
There are several selection tools in Photoshop, including more tools than GIMP. In addition, many of Photoshop's selection tools are taking on AI capabilities, such as the Select Subject feature.

Photoshop has a panel of adjustment layers, including Curves, Levels, Black-and-White, Hue/Saturation, and Color Balance. You can use these to correct colors or create unique photo effects.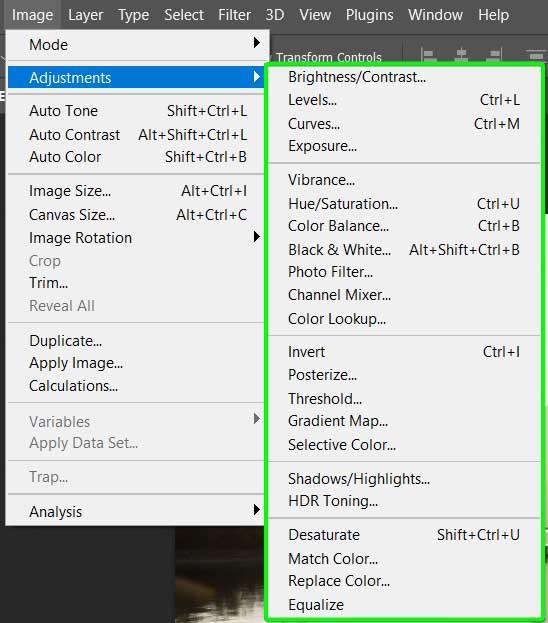 The program also offers several filters, including Noise, Distort, and Blur. Photoshop offers better filters than GIMP when looking at Neural filters, which use AI to complete complex tasks, such as adding color to a black-and-white or sepia-tone photo when restoring old photos.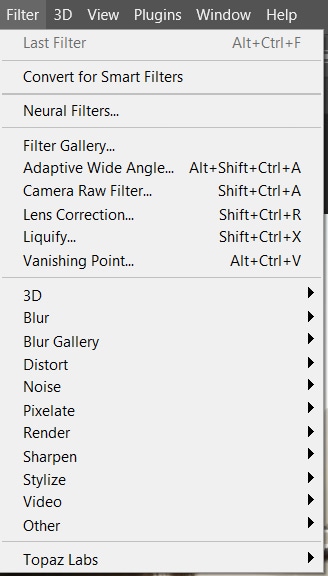 Photoshop is compatible with a more extensive range of common file formats than GIMP, which offers the main ones users likely need. You can open and export files as PSD, PDF, GIF, PNG, JPEG, WebP, PSB, TIFF, and more. The main format that stands out is the ability to open and process RAW image files.
Photoshop's interface is complex and can be daunting to beginners unfamiliar with similar software. The learning curve is steep, but everything makes sense once you learn the program and get used to the interface.
Photoshop also has a fully customizable workspace to save different tools and panels for different workflows.
Both programs use layers to allow for selective edits, and the two programs also have general retouching tools. You can access various brushes in both programs, although Photoshop has more default brush presets available.
Personally, I find that GIMP is not as intuitive, and some of the processes are awkward, such as the text feature where each letter is placed in a separate box while editing it. The adjustment controls are busy and confusing. Photoshop is more straightforward in how you use tools and functions. The panels are cleaner and more straightforward to use and understand.
Winner: Photoshop
Photo Editing Capabilities
Since these two programs are designed for photo editing, it is the space where both programs shine. Both programs allow users to edit photos using non-destructive editing techniques. Common image editing processes include exposure edits, object removal, and color grading functions.
In GIMP, you can find exposure edits in the adjustment options, especially the Exposure, Curves, Levels, Shadows/Highlights, and Brightness/Contrast adjustments. You can use any of these features to edit the exposure by darkening, lightening, or changing the image's contrast.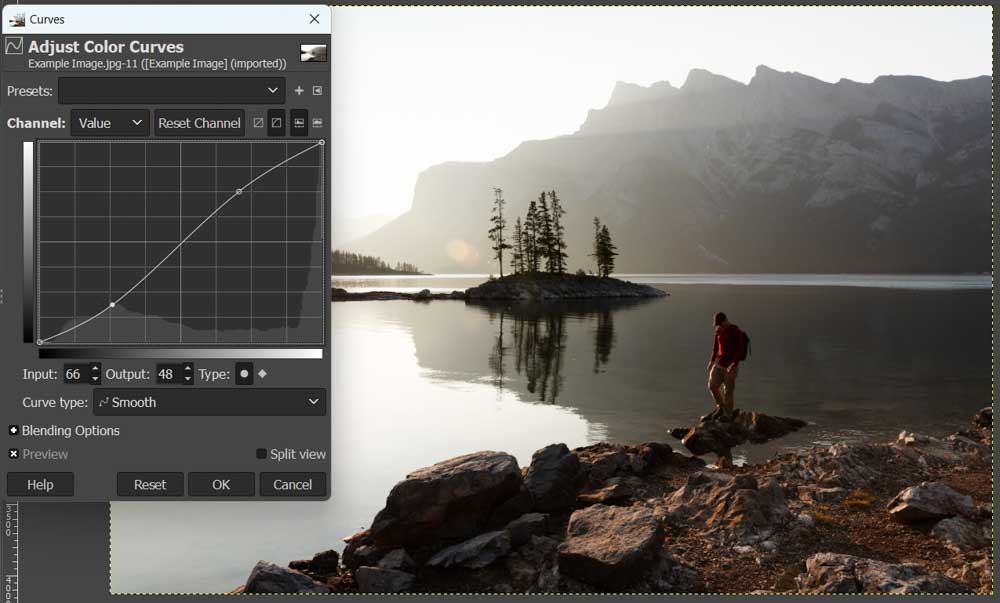 You can apply these effects to the entire image, a layer, or a selection for more selective edits.
GIMP also offers object removal features, which include the Clone Tool, Perspective Clone, and Healing Tool. These tools can all be used to remove objects or retouch certain areas of the photo.

Using the Levels or Curves adjustments, you can create color grading effects in GIMP. The Levels option works to correct the white balance of an image, while Curves allows you to add creative color grading effects to the photos by using the RGB curves.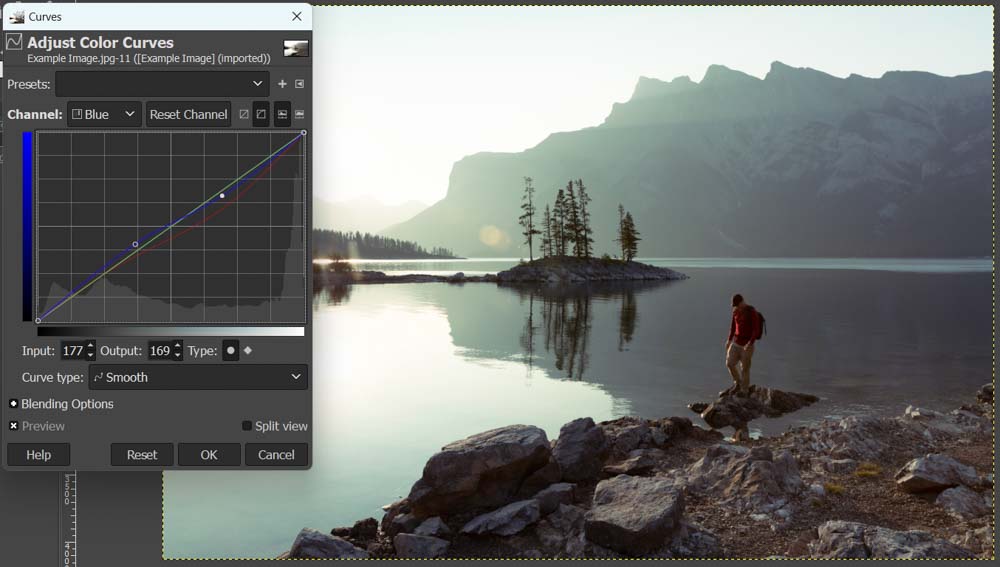 In Photoshop, you can access the same adjustment options as GIMP to adjust the exposure of an image. In this regard, the exposure edit capabilities are tied. You can produce similar edits in both programs using the adjustment options.
For instance, you can use the Levels adjustment in Photoshop to adjust the image's exposure.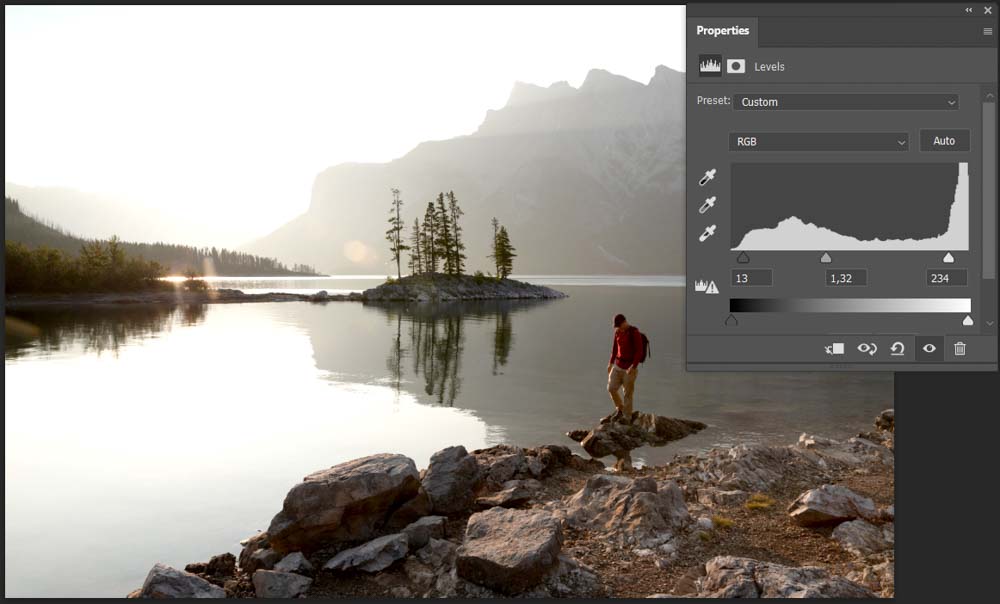 Object removal in Photoshop is excellent, and there are several functions to achieve these edits. You have access to the same tools as GIMP, plus more, such as the Patch Tool and Content-Aware Fill.
Photoshop added a new tool in the May 2023 version 24.5 update called the Remove Tool, which uses AI to accurately remove objects by merely brushing over them, simplifying the process of removing objects from photos.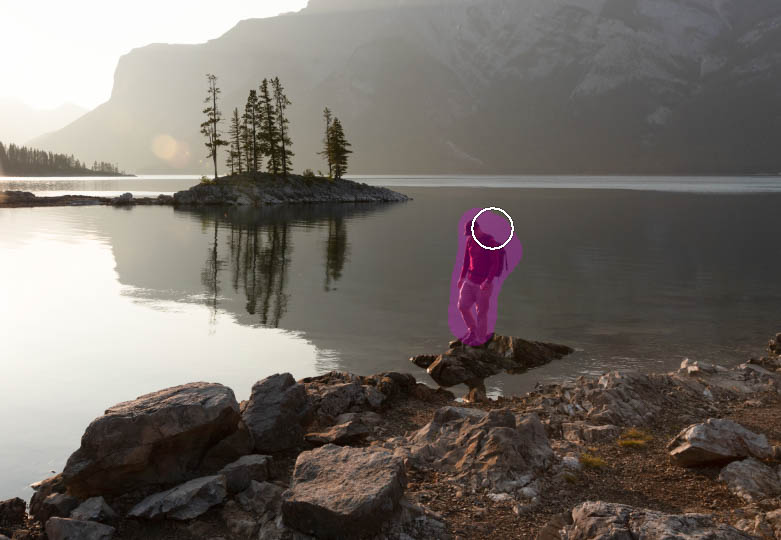 Color grading in Photoshop can be done using Levels or Curves in the same manner as GIMP. However, there are more advanced color grading tools in Photoshop, such as the Selective Color adjustment, which gives users more control over the color-grading effect.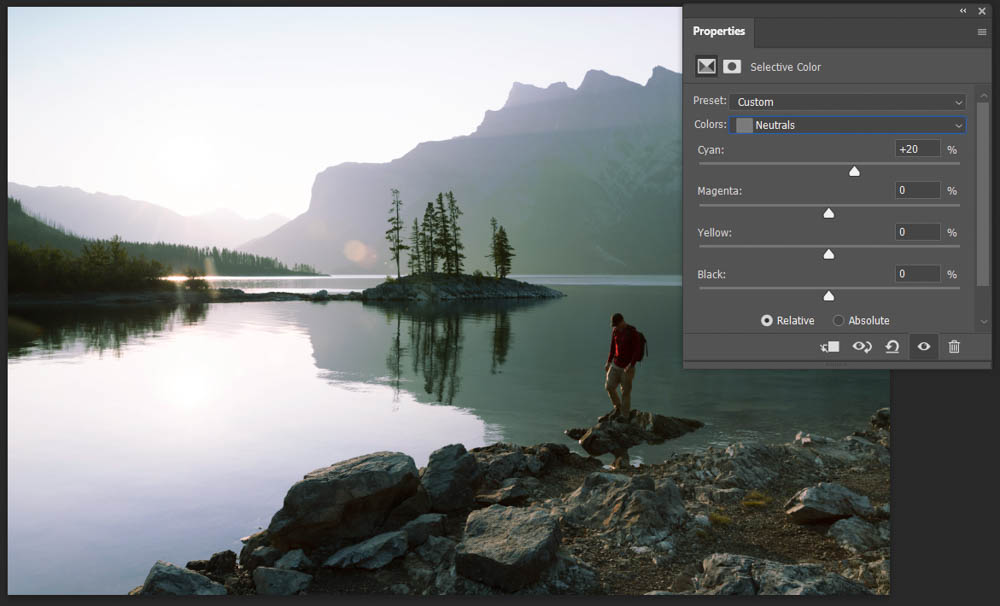 While both programs offer similar features for editing pictures, Photoshop has a slight advantage with more tools, features, and AI capabilities that are lacking in GIMP.
Winner: Photoshop
Graphic Design Capabilities
Photo editing and graphic design are often interchangeable practices used by many creative professionals. This is why having a program with certain graphic design capabilities is important.
GIMP offers limited graphic design capabilities and can be used to create basic designs for school, college projects, or once-off designs. However, the program isn't suited for more complex and professional designs.
GIMP offers a text tool that allows you to add text to the canvas and format the text by changing the color, spacing, font, and more. The tool is relatively easy to use but slightly awkward in how you add and edit text in the design.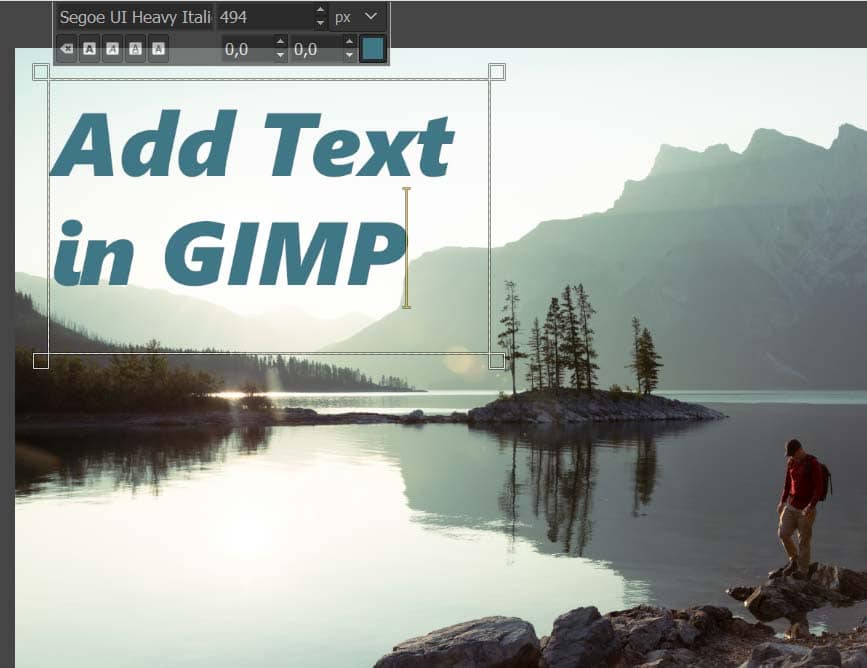 GIMP falls short in shape creation as there are no straightforward shape tools to use, which is limiting when designing web assets and posters. There is a workaround where you can use the selection tools or the pen tool to create shapes, but this limits the editing capabilities of the shapes.
Selection tools are essential when creating designs for web and print, as they allow you to cut out and rearrange objects in the layout. GIMP has basic selection tools, such as rectangle and ellipse select, freehand select, and color-based selection tools.
These tools allow for basic selections but make it challenging to create complex selections, such as selecting a subject to cut out of the background. This limits users in the graphic design capabilities.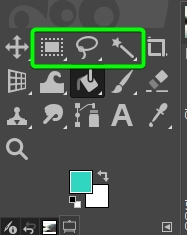 GIMP only works with the RGB color mode, which limits users from designing artwork for print. Print projects must be in CMYK color mode to print correctly without any color inconsistencies.
Photoshop has vertical and horizontal type tools, which gives users more flexibility when adding text to designs. The Type Tools are straightforward and allow users to customize the text by changing the color, font, size, and other text formatting options, such as kerning and spacing adjustments. Users can also easily add images or patterns to the text.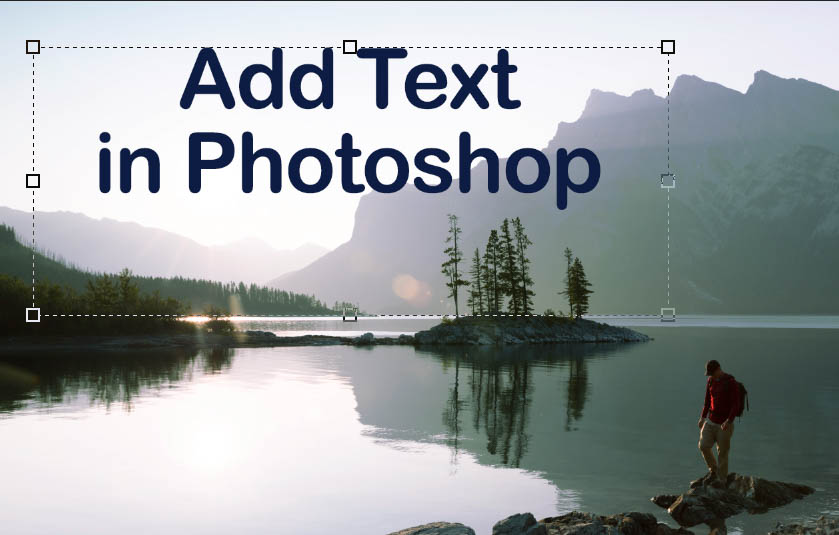 The program has shape tools, including basic shapes and custom shapes. This allows users to easily draw shapes to add to the design and create logos and other marketing material using vector shapes.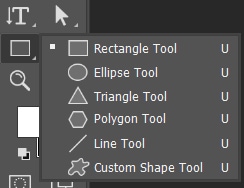 Photoshop has the same selection tools that GIMP has, plus more. The selection tools are more intuitive and allow users to make more selections in designs, such as using the Object Selection Tool to remove the background or isolate objects for edits.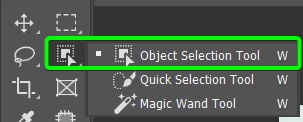 Users can work in a fully CMYK color mode in Photoshop, allowing them to create designs for print that are correctly colored without causing any color deviations on print. This means Photoshop is more suited for digital and print graphic design purposes.
Photoshop is also easy to work in alongside Adobe's other graphic design programs, such as Illustrator and InDesign, to create cohesive designs on a professional level.
Winner: Photoshop
Drawing Features
Neither of these programs is recommended for digital artists if drawing is the primary purpose. These programs weren't designed for creating artwork. I recommend Adobe Fresco, Procreate, Krita, or Inkscape if you need a dedicated drawing app.
However, GIMP and Photoshop do offer basic drawing tools that you can use on digital projects and images.
GIMP offers a few tools for drawing, including the Paintbrush, Pencil, Airbrush, Ink, and MyPaint Brush tool. These tools all provide different types of drawing capabilities. The Paintbrush tool is similar to the Brush Tool in Photoshop.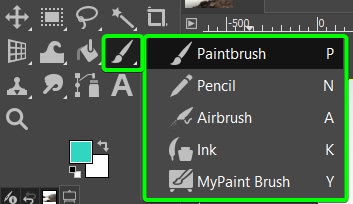 Each brush tool offers the same brush presets, which is limited. However, the MyPaint Brush tool provides a more extensive selection of brush presets to create unique drawings on the canvas. The tool is linked to the free program called MyPaint.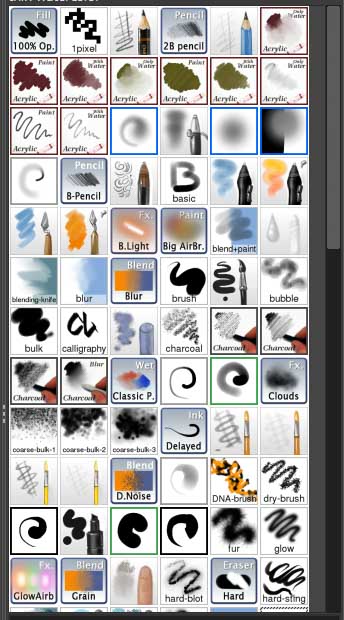 When using the other brush tools, there are several settings to customize the brush presets, including Size, Angle, Jitter, Opacity, and more.

You can also change the blending mode of the brush. GIMP offers more blending mode options than Photoshop.

Photoshop also offers limited drawing tools, which include the Brush Tool, Pencil Tool, Color Replacement Tool, and Mixer Brush Tool. The Brush and Pencil tools offer simple brush strokes, but the Color Replacement and Mixer Tools offer more creative drawing functions.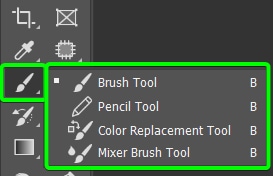 The tools offer several brush presets to choose from, and users can create or load new brush presets.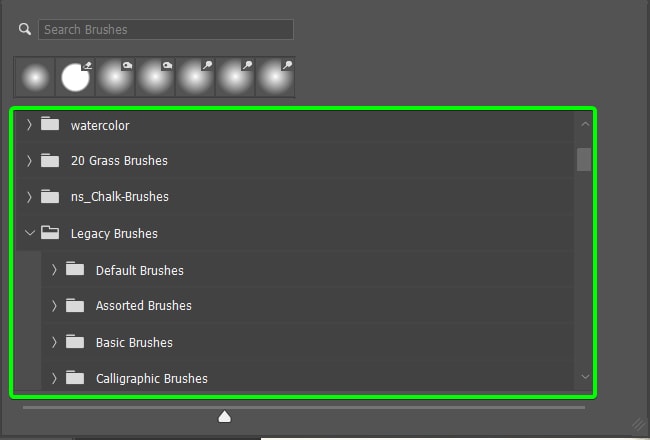 You can adjust basic settings using the Options bar, such as the Brush Size, Flow, Smoothing, Opacity, and Hardness.

There is also a full Brush Settings panel for more complex setting adjustments, including Spacing, Jitter, Smoothing, and more.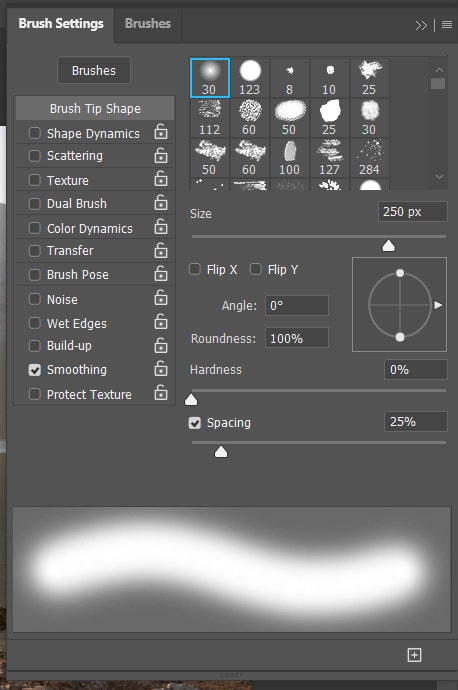 Photoshop also offers several Blending Modes for the brushes.

While neither program offers in-depth tools for digital drawing on the level of creating Manga, Comics, or Animations, there are basic drawing tools in both programs with a decent amount of settings and brush presets to choose from.
Winner: Tied
GIMP Vs Photoshop – Which Is Better Overall?
After comparing the two programs head-to-head, the clear winner and the better program overall is Photoshop. This program is the top choice because it offers more advanced tools, intuitive AI capabilities, and ever-evolving updates, including new features and bug fixes.
Reasons To Love:
Most advanced photo editings tools available

Versatile graphic design options

Regularly updated & better support

AI-powered tools

Endless free online tutorials to learn the program

Works seamlessly alongside other editing programs like Lightroom or Luminar
Reasons To Avoid:
Requires a monthly or annual subscription

Time-consuming to learn
We review products based on independent experience and research, but we may earn affiliate commissions from buying links on this page.
Photoshop has several high-level photo editing and graphic design capabilities, with a decent range of drawing tools. The program also supports and saves files in multiple common and useful file formats. Photoshop is also a much-needed tool in a professional graphic designer's toolkit as it works hand-in-hand with Adobe Illustrator and InDesign to offer a complete package.
The program works non-destructively on high-quality RAW images to produce stunning compositions and can also be used to create digital designs from scratch.
If you are looking for a once-off photo editor with a few graphic design and drawing capabilities, a free program such as GIMP is ideal, as you don't need to commit to a yearly subscription.
GIMP offers all the essential tools and functions a beginner or hobbyist would need without the yearly price tag. The tools and features available in GIMP are impressive and can produce good results. However, the drawbacks prevent the program from being used professionally.
When it all boils down, Photoshop allows users to imagine and create professional-standard photo edits and designs using the almost endless tools, filters, and features available. However, while Photoshop offers a lot, there are instances where it won't be the right program.
Who Should Use GIMP?
GIMP is an excellent choice for beginners and hobbyists who want to try out photo editing and graphic design to see if it is something they want to pursue. You can also use the program to start as a freelancer and gain some clients before spending money on a paid program.
GIMP is ideal for making quick one-off adjustments when you don't need an extensive range of tools. For instance, it can be used for basic image adjustments such as cropping, exposure edits, and basic color grading.
This program is an excellent choice to use alongside free graphic design software such as Canva.
Who Should Use Photoshop?
If you are a serious hobbyist or professional needing to create industry-level compositions and designs, you need to have a capable program such as Photoshop. The program allows you to manipulate photos in ways you may not know are possible.
Photoshop also has the capacity to keep images high-quality while adding creative elements. The program is also suited for creating digital and print marketing materials. You can professionally design posters, websites, YouTube banners, and logos in Photoshop.
Photoshop is the best choice for professionals or businesses looking for a high-quality image editor capable of various graphic design tasks. The program is the right choice for anyone able to pay for the software, as Photoshop comes at a monthly fee with an annual commitment in most cases.