Adobe programs work with multiple file types, which sometimes causes confusion when trying to work with a specific file format. Luckily, it's easy to convert an image to JPEG in Photoshop using a few simple steps. You can open any supported file type in the program and then save it as a JPEG.
It's beneficial to use this common file format to share your images on social media, send them over email, or upload them to your website. Here is all you need to know to save your photos correctly.
How To Save A JPEG In Photoshop
This is the fastest way of exporting your image to a .JPEG, and it works great if you want to quickly export and don't have specific requirements for the image. This option still exports files to JPEG in the best quality possible.
Step 1: Go To File > Save A Copy
To export via Save A Copy, go to File > Save A Copy. Alternatively, use the shortcut Alt + Control + S (Win) or Option + Command + S (Mac).
Note: Older versions of Photoshop have the JPEG format option in the Save As window. However, the later versions of Photoshop have moved the JPEG format option to the Save A Copy window.
Step 2: Set The File's Name, Destination Folder, And Format
The Save A Copy window appears, giving you various settings to save your file. Type in your desired file name, set the destination folder, and change the Save as Type to JPEG. Click Save at the bottom of the window to save the photo.
Step 3: Adjust The JPEG Options Settings
A final Jpeg Options window will appear to set the export and quality control of your photo. First, you can set the Quality of the image, and while I often export all my images at the maximum quality of 12, it's not always recommended because it increases the file size. You can see the export size underneath the Preview option.
If you want to send a low-resolution image to someone, then choose a lower-level quality. This is easily adjusted with the Image Options quality slider. Although this slider will change the file size, .jpeg images are compressed enough that they rarely exceed just a few megabytes.
Step 4: Click OK To Save The Image
When you have completed the above steps, click OK, and you will find your file in the chosen destination folder.
How To Convert Multiple Images To JPEG In Photoshop
This option works best when you want to export multiple files all at once. A benefit of the method is that you can save your image as both a .jpeg and a .psd file simultaneously using the image processor. You can also convert a batch of files that are different file formats into JPEG files.
To access the image processor, go to File > Scripts > Image Processor.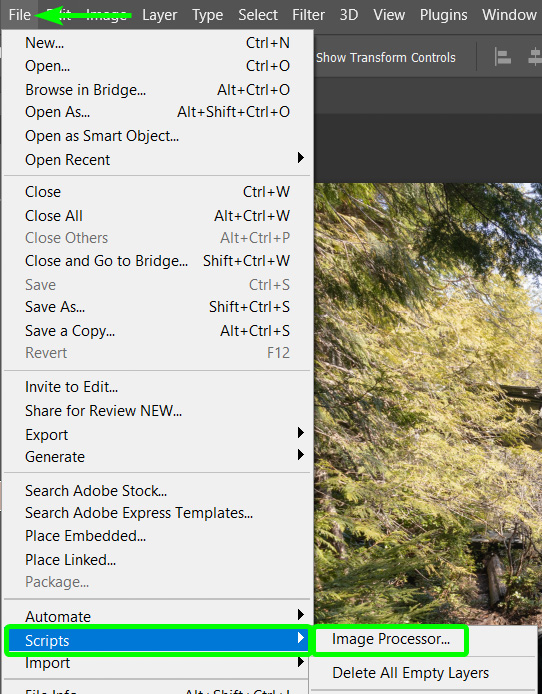 In the Image Processor window, you have a few options, all of which are very straightforward.
The first option you have is to select the images you want to export. If you want to export your multiple opened Photoshop documents, select Use Open Images. If you have a file of images you want to convert without opening them in Photoshop, check the circle next to Select Folder and choose a folder of images on your device.
The second option is where you set your export destination folder. Either select Save In Same Location to save in the original file folders or select a new destination by clicking Select Folder.
The third option allows you to select the formats you want to export the image in. You have three options, JPEG, PSD, and TIFF. Simply check the box beside the desired file format(s) to have your image saved in that format. I recommend saving your JPEG images at a quality of 12 and checking the Convert Profile to sRGB option. By converting your color profile, you will not have to worry about your colors looking strange when you upload your image online.
You can select multiple file formats to save more than one copy of your image.
The fourth option allows you to add your own export preferences. Generally, you won't need to adjust these settings, but I recommend you keep Include ICC Profile checked. Once you have gone through each option, select Run to begin exporting your files to JPEG format.
The great part about the image processor is that it will separate each file type into its own folders. It does all the organization for you. That's why the Image Processor export feature is one of my favorite options when exporting multiple images to JPEG in Photoshop.
Learn More Photoshop Tips:
Happy Exporting!