Sometimes it feels like there are a thousand different graphic design and photo manipulation software. Adobe has two of them with similar names: Photoshop CC and Photoshop Express. The real question is, which one of these two is the best?
Photoshop CC is a complete and pro-level image editing and graphic design software with a wide array of tools and capabilities. Photoshop Express is a more bare-bones yet beginner-friendly image editing tool with more limited functionality. For professional uses, Photoshop CC is a superior program.
Now to prove this to be true, I will judge these two pieces of software based on their usability for veteran and beginner photo editors.
Photoshop CC VS Photoshop Express Comparison
To determine which software ends up on top, I will judge them using five categories: Interface & User-Friendliness, Photo Editing Tools, Graphic Design Tools, Exporting Options, and Cost.
– Interface & User-Friendliness
When you first open up Photoshop CC, you are presented with a list of recently worked on projects. Click on any of them to jump right back in.
It's equally as easy to start a new project by clicking New File. After clicking New File, you'll see various sizes and other options for the look of your project.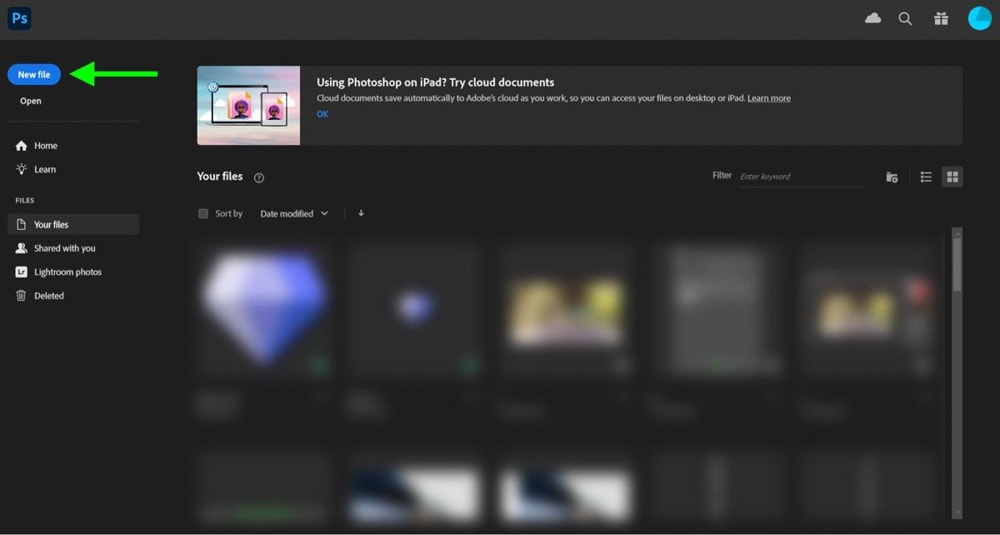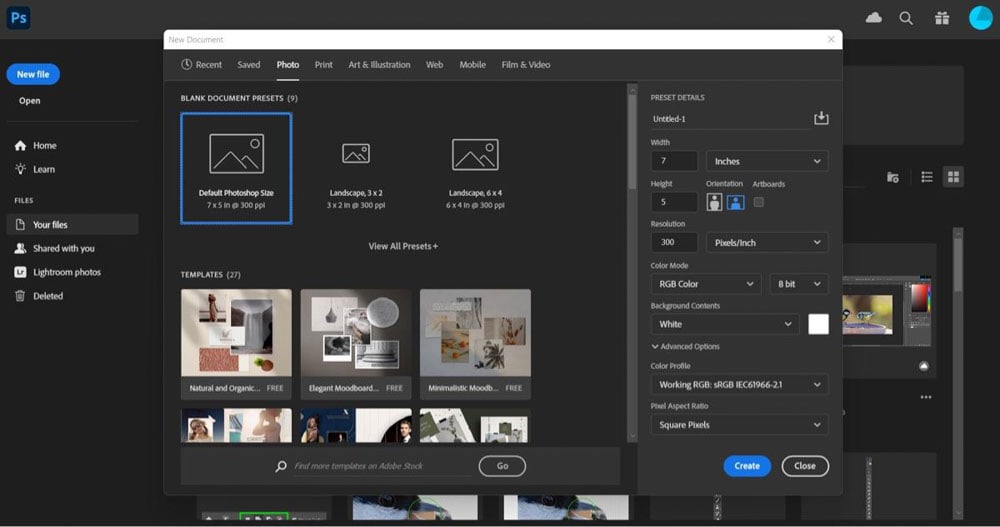 When your file is open, you are presented with the interface of Photoshop. It's a lot to look at all at once.
You have a Toolbar to the left. Each time you select a tool, the Options bar at the top of the interface is updated with the options for the tool you selected. These options allow you to customize the tool to your needs.
To your right, you will find all your color options, your Properties panel, and an essential part of the Photoshop interface; the Layers panel.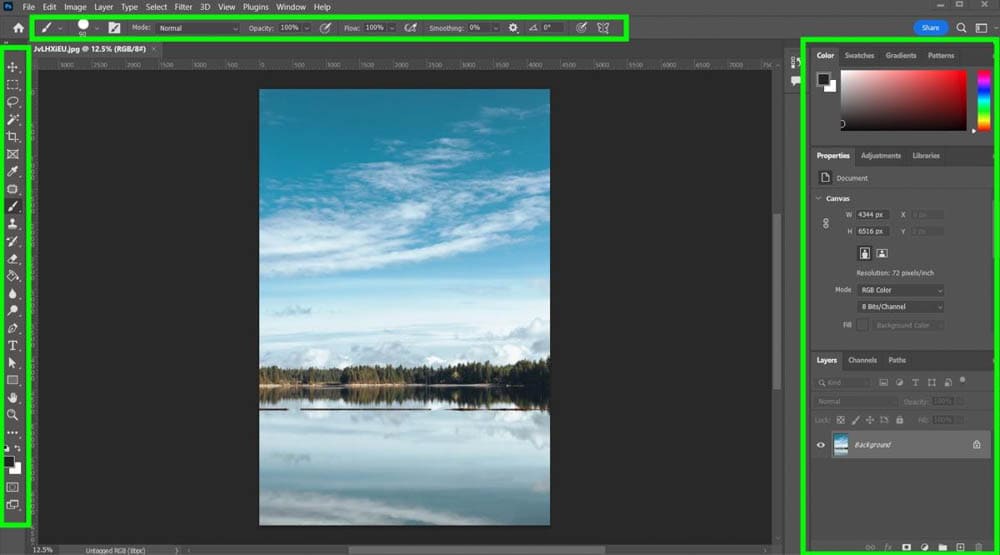 If you are brand new to Photoshop, these choices, options, and effects may overwhelm you.
When opening Photoshop Express, you will be asked to select an image with your camera or from your library. Click on either option to start working on your image.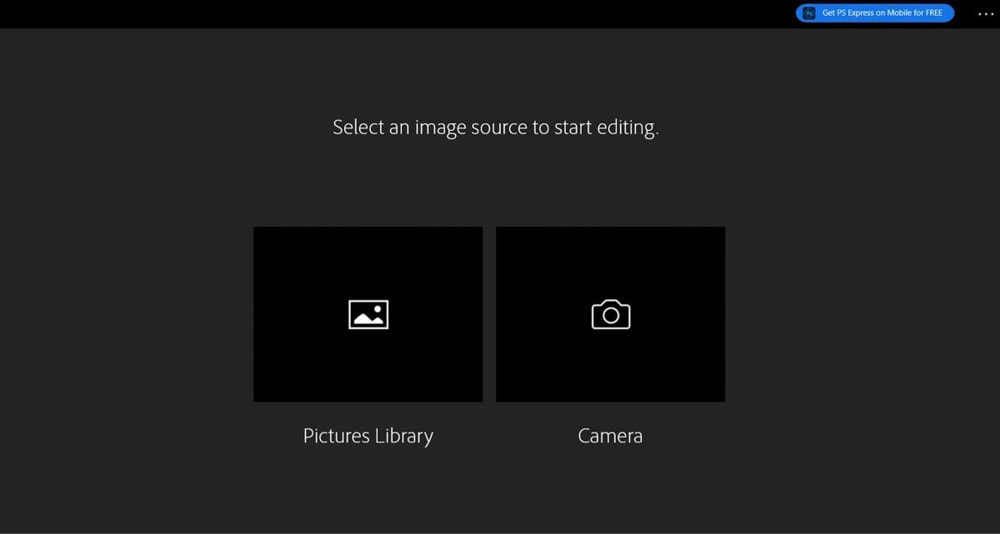 The simplicity of Photoshop Express' Interface is immediately noticeable. Instead of being bombarded with panels and tools everywhere, there is just a panel to the left and a few options at the top.
In the left panel are six categories: Looks, Crop, Corrections, Spot Heal, Fix Red Eye, and Borders.
For the options at the top, you'll find the Undo and Redo buttons, a Zoom Tool to zoom in and out of your image, and a Save/Share button to export and save your image.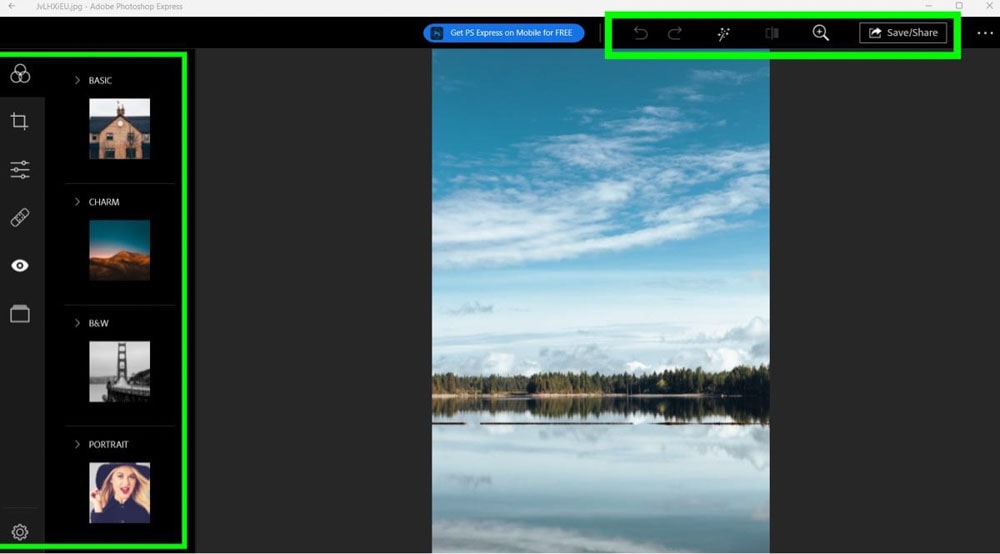 One of the most useful buttons is Auto Enhance. Click this button to let Photoshop Express pick all your effects and options for you.
You can click the View Original button next to it to see what your image initially looked like.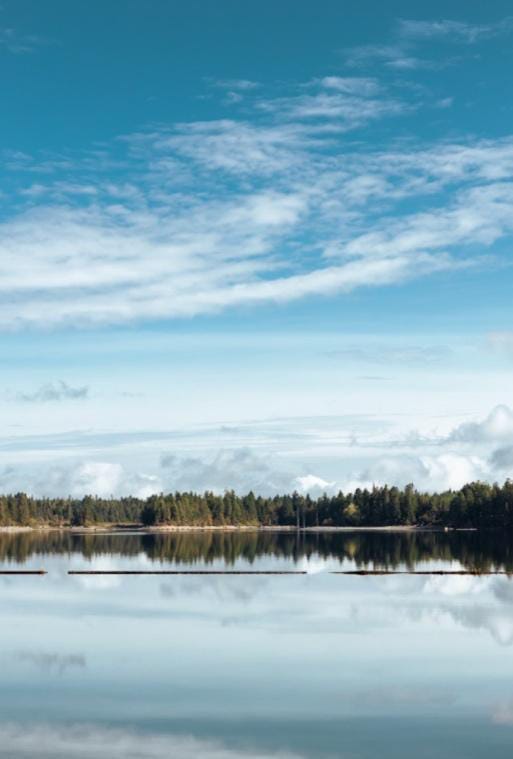 Winner: Photoshop Express
As clean and tidy as the interface is for Photoshop CC, there are so many options thrown at you that it can be overwhelming.
Photoshop Express packs a good amount of options in basically one panel. This newbie-friendly interface can also speed up a veteran with its simplicity.
– Photo Editing Tools
One of the best ways to edit your photos is by adding an adjustment layer. You can do this from the Layers panel in Photoshop CC, where you'll find a long list of adjustment layers you can use.
Here's just a sample of the adjustments layers you can choose from: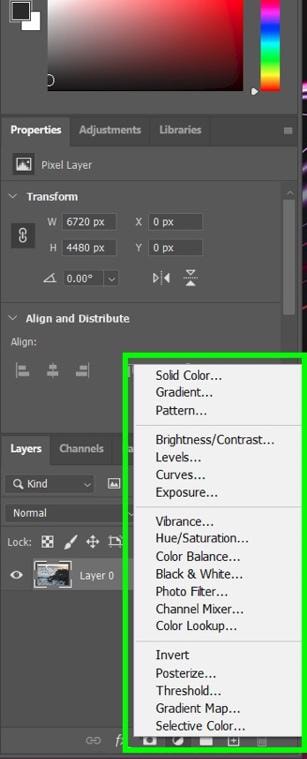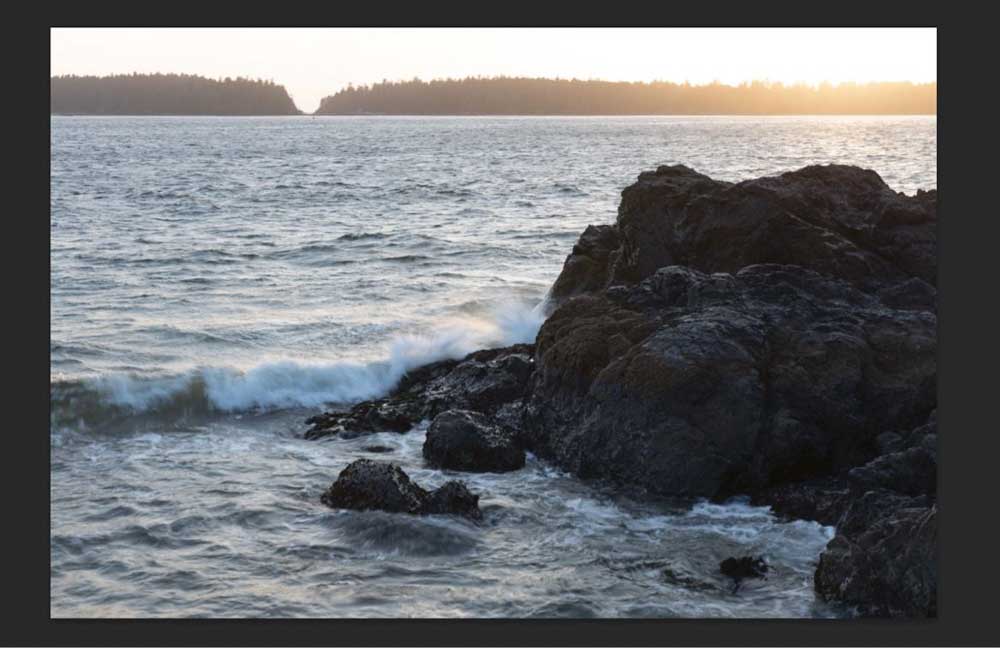 The curves adjustment layer is a commonly used adjustment layer and also one of the most difficult ones to wrap your head around.
Adjusting your curves will often make your image look much better with little effort. It will, however, take a long time to understand how it works.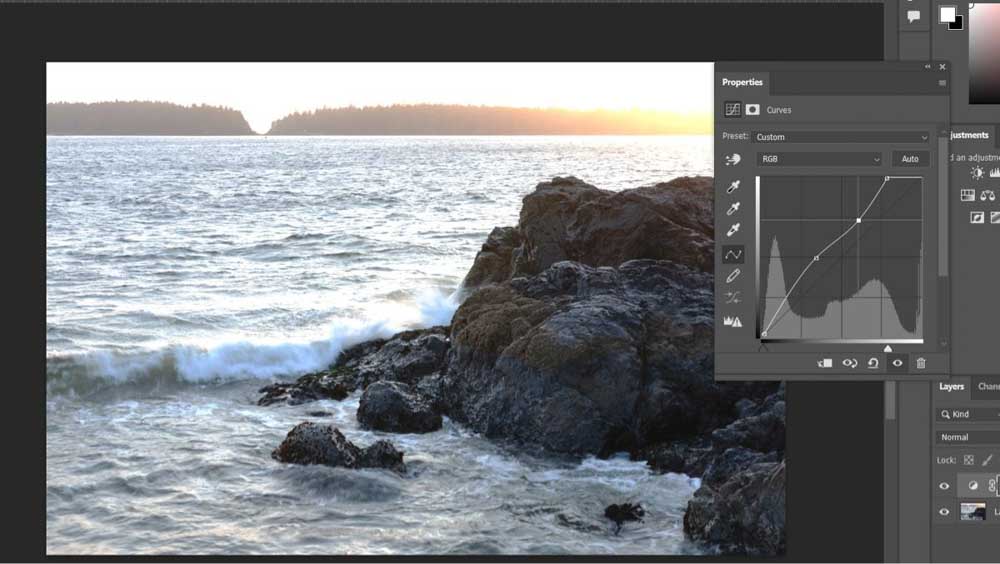 The Vibrance Adjustment Layer is another popular option to breathe new life into your photos.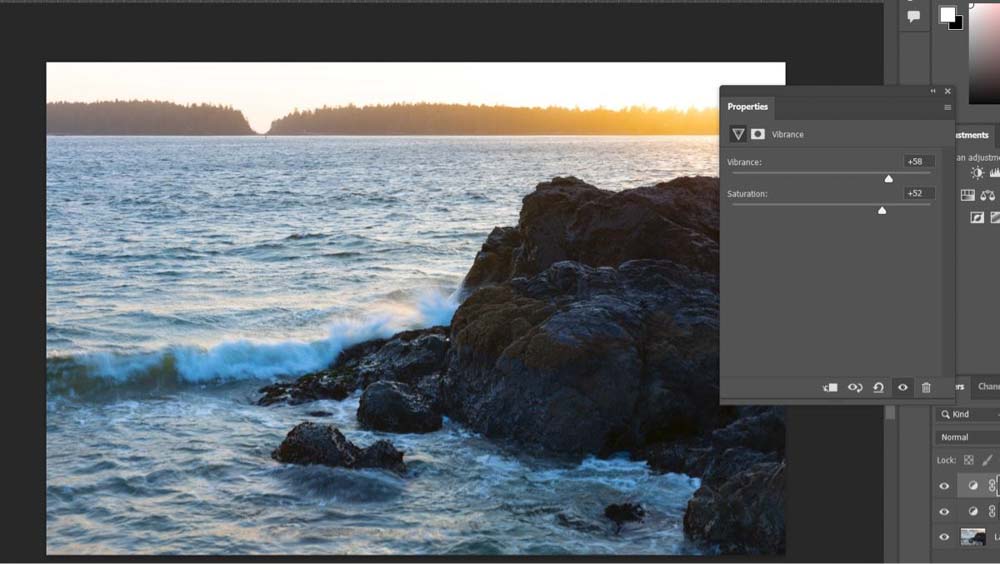 You can also use a Color Balance Adjustment Layer to change the color of your image to any hue you want.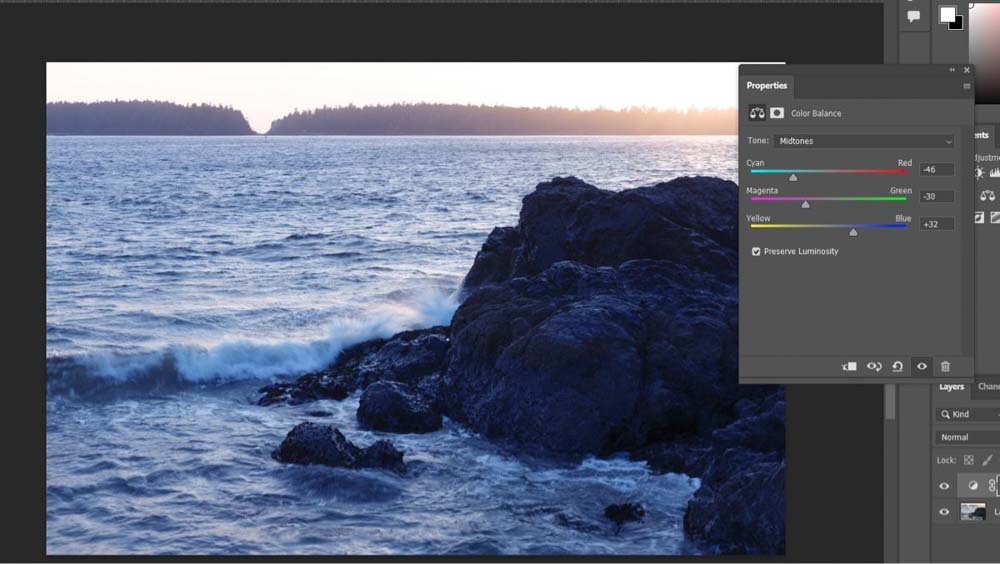 You can combine as many adjustment layers as you want and use selection tools to apply adjustment layers to specific areas.
You can also add special effects to your photos using the Filter options at the top of the Photoshop interface.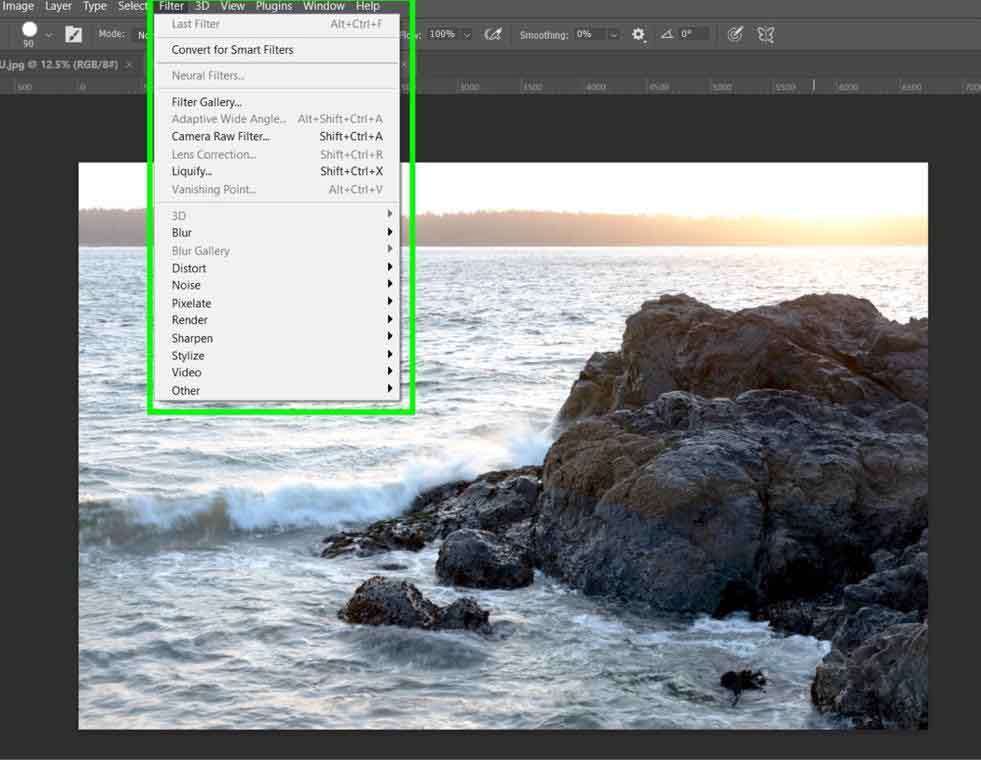 A typical filter to use is the Gaussian Blur, where you can blur your image or layer to soften your image.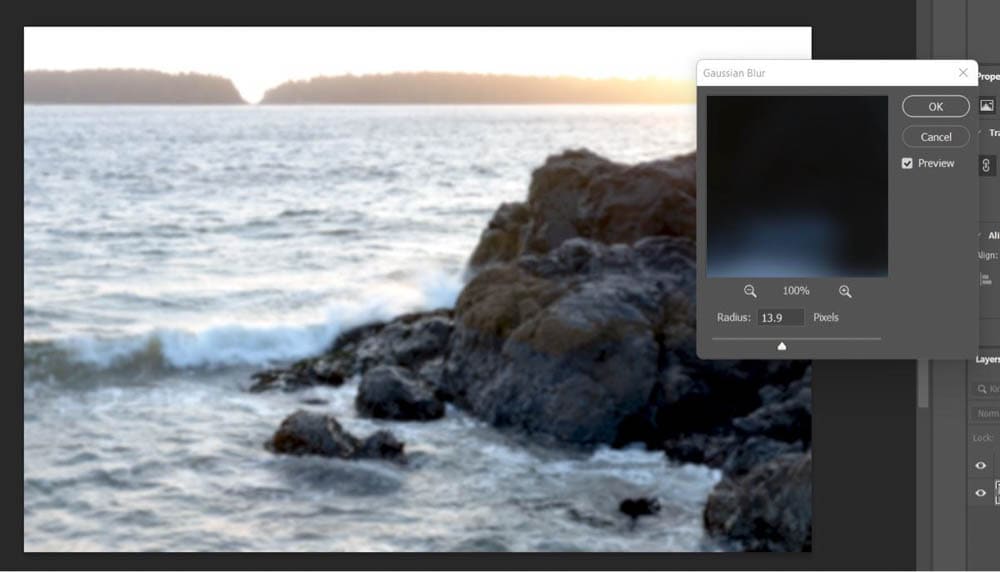 You can add cool effects like the Oil Paint filter to turn your image into a matte painting.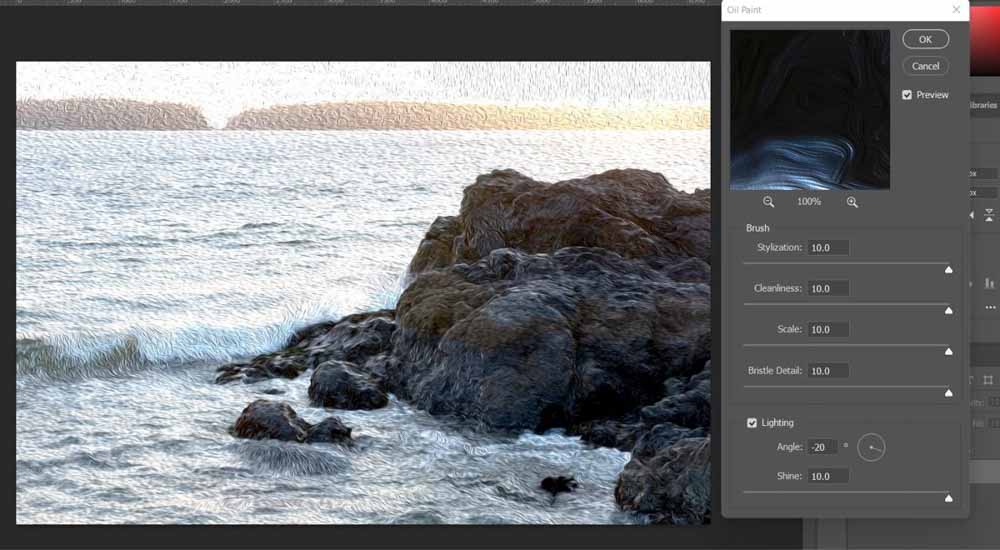 Another great option, especially for nature-based images, is the Lens Flare filter. It can add an extra touch of "awe" to your photo. These are some extreme examples, but you can see all the options you have in Photoshop CC.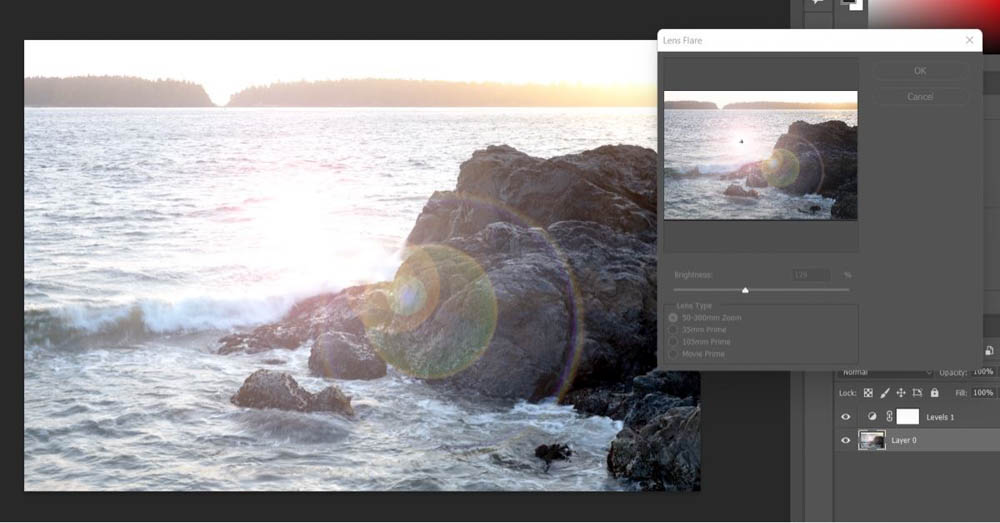 When it comes to photo editing options, Photoshop Express has a much more streamlined process.
Once you have your image open, click on the Looks tab. You will find over a hundred different filters at your fingertips. Simply click on the filter, and your photo will be adjusted to the look of the filter.
With your chosen filter, you can adjust the effect with this slider at the bottom.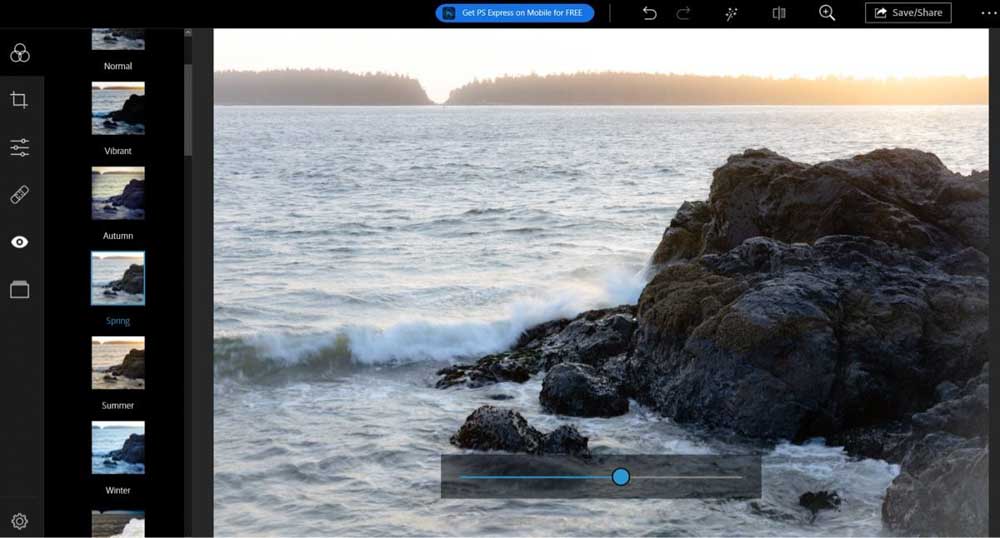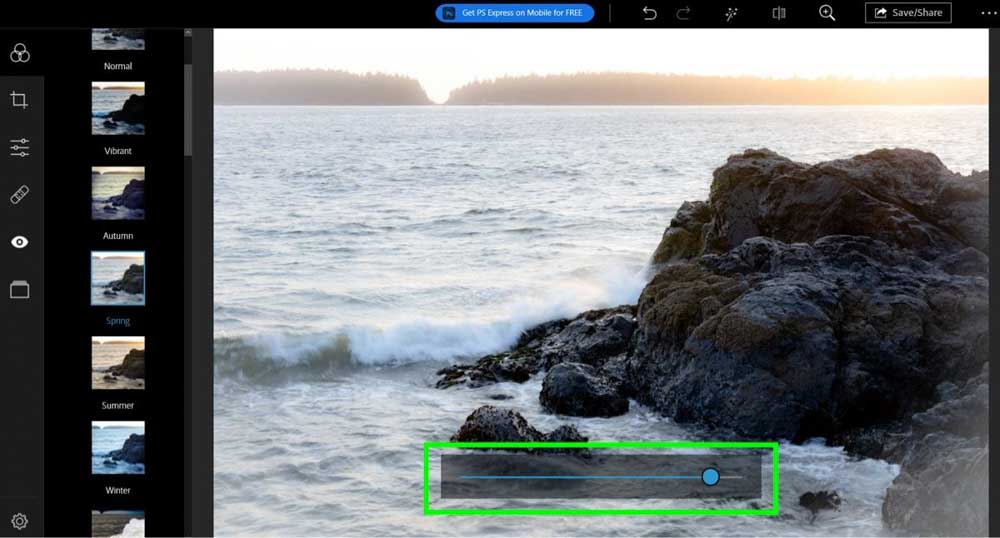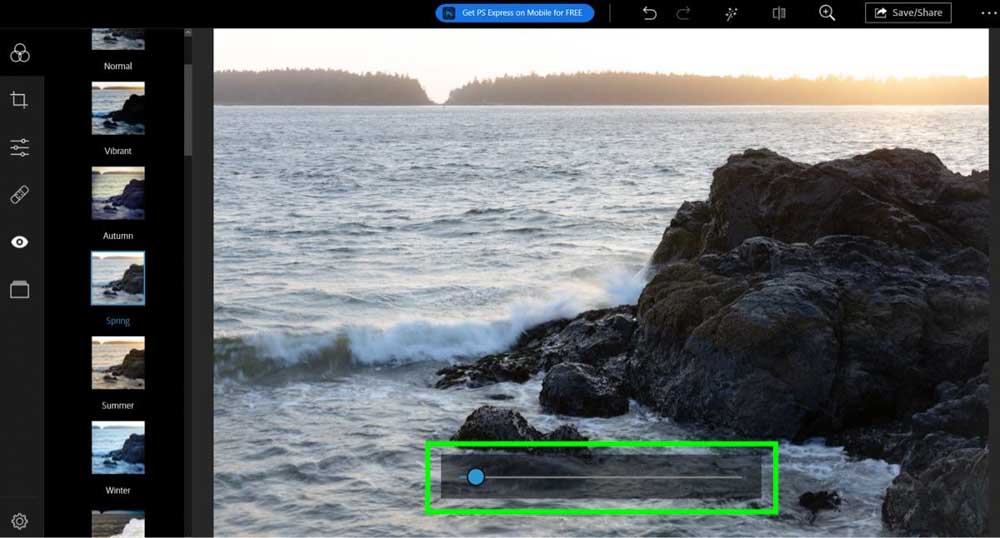 There are so many different filters to choose from. I can't go through them all here. Most of them will dramatically change the look of your photo: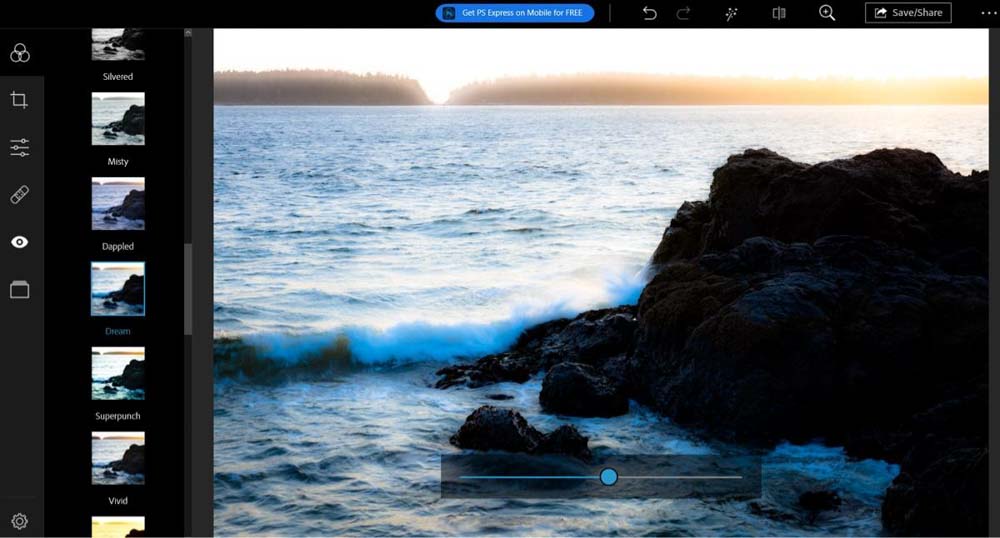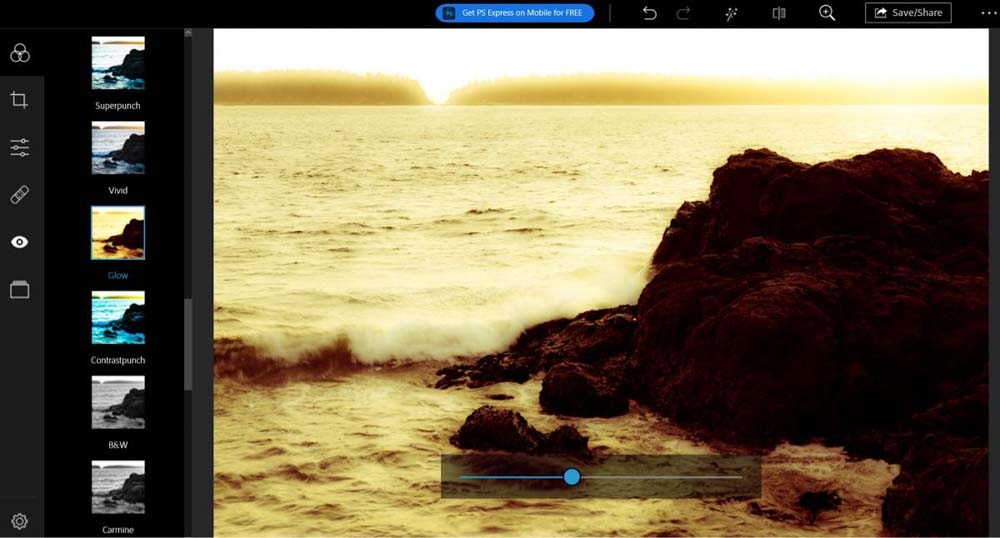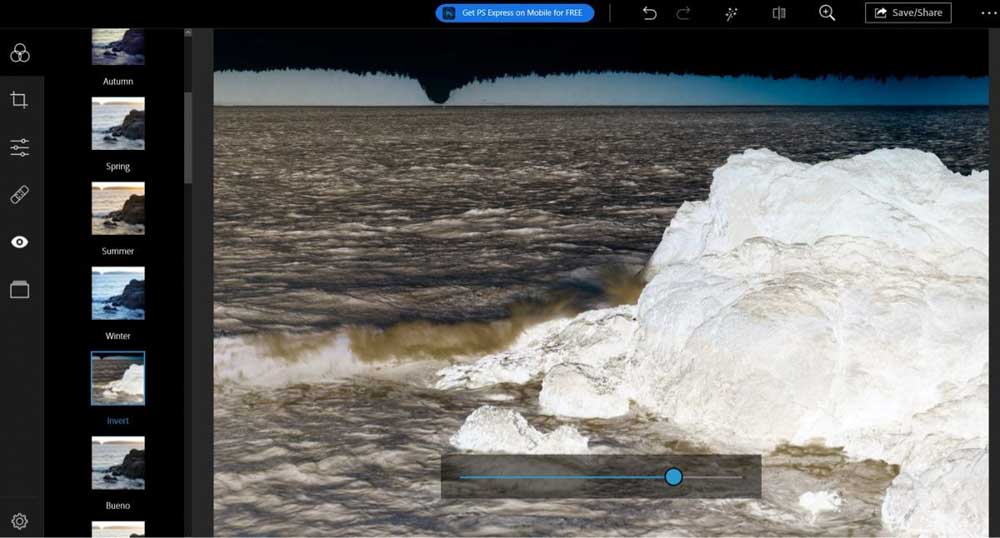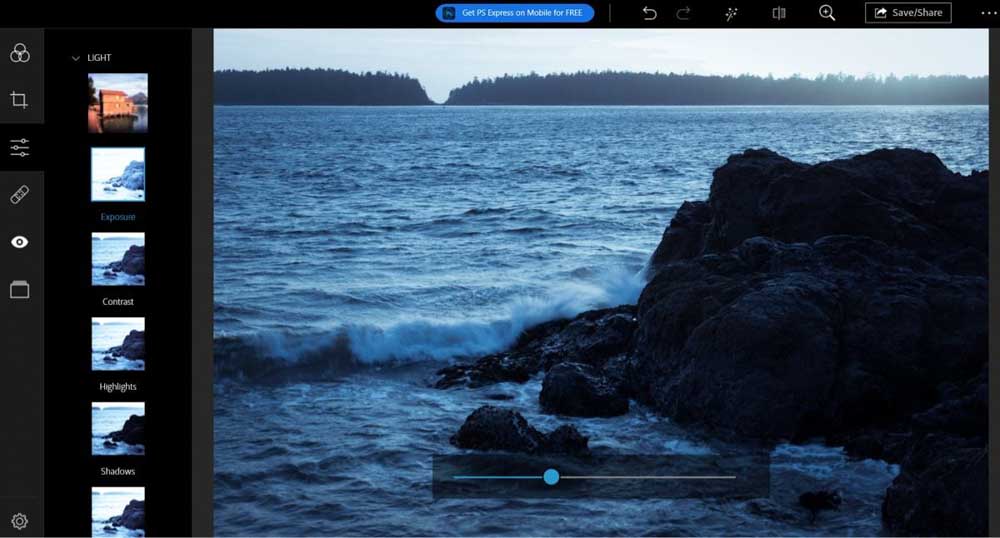 After you've picked a filter for your image, you can adjust your photo's look further with the Adjustments tab.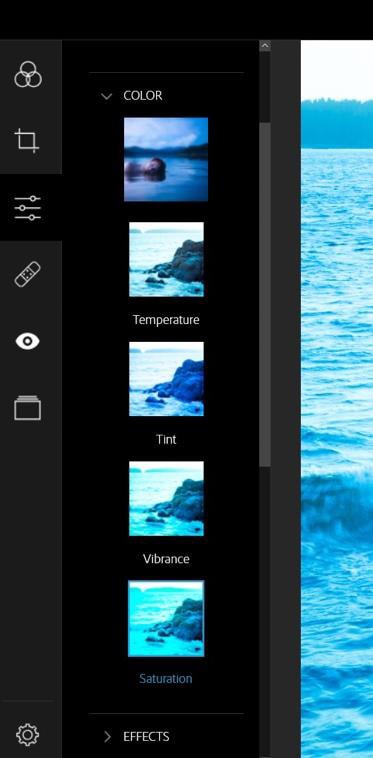 You will also find some adjustments that give you more than one slider to adjust. These filters are just as easy to experiment with and give you even more control.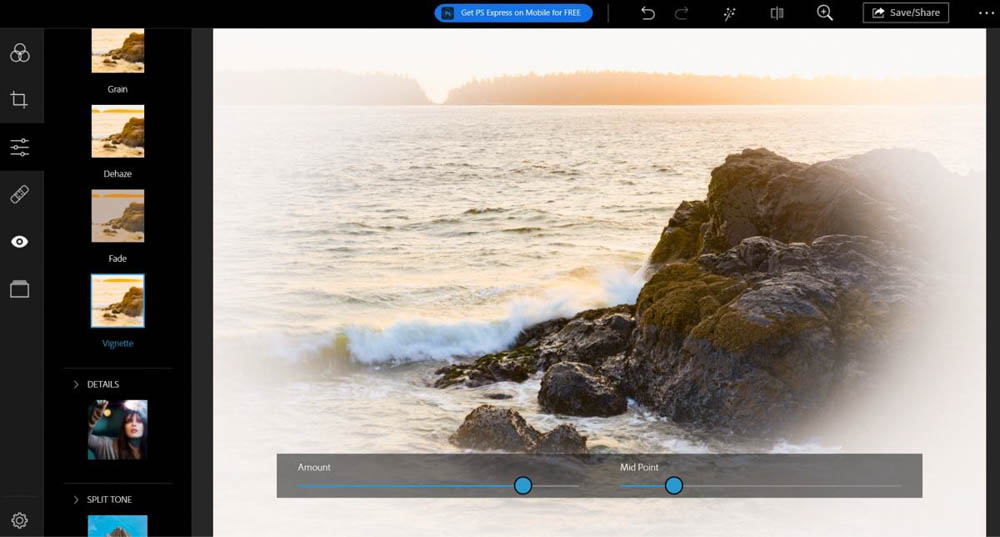 Photoshop Express also has an easy-to-use Blur effect. Choosing a spot on your image to highlight and blur the rest of the image is simple.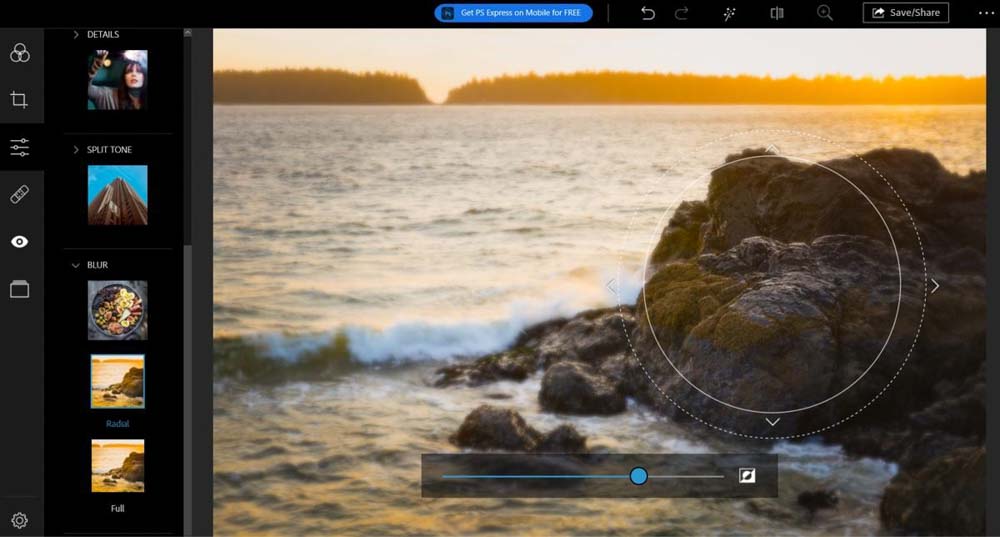 Photoshop Express also offers a few tools, such as the Spot Heal and Red Eye tools, but they are not as good as Photoshop CC and can be very hit or miss.

Winner: Photoshop CC
Photoshop CC is the clear winner for photo editing tools because the program offers everything you need to create unique images.
Photoshop CC offers everything from basic editing to more in-depth creative tools. However, some editing tools are complex and take some learning and practice to master.
So if you are a beginner looking for easy editing tools that don't offer much space to customize, then Photoshop Express is better. If you want to edit images professionally, then you need the control Photoshop CC offers.
– Graphic Design Tools
In Photoshop CC, you will find most of the Graphic Design tools in the Toolbar. Not only are there 20+ tools you can see in the Toolbar, but if you click and hold on to any of the tools, you will find more hidden tools.
There are multiple helpful tools in Photoshop CC to create stunning visuals for your graphic design projects. While you won't use every tool in Photoshop, you are likely to use many of these in your designs.

As good as the Toolbar is, the most critical aspect of Photoshop CC for graphic design is the Layers panel. The Layers panel allows you to stack multiple images and elements on top of each other to create a brand new image.
Using the New Layer button, you can add new layers to your image anytime.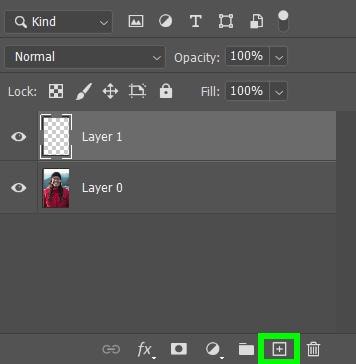 The opportunities for graphic design in Photoshop CC are vast.
You can add customized text to your image: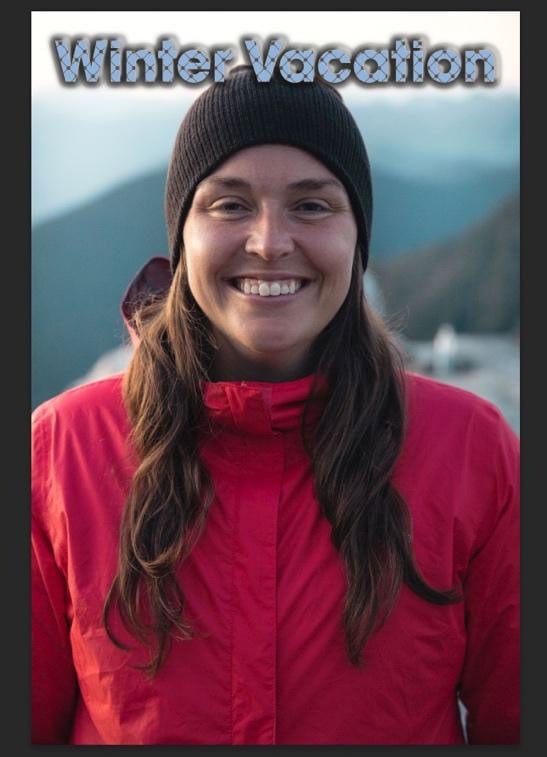 Or, adjust your layers and put the text behind your subject.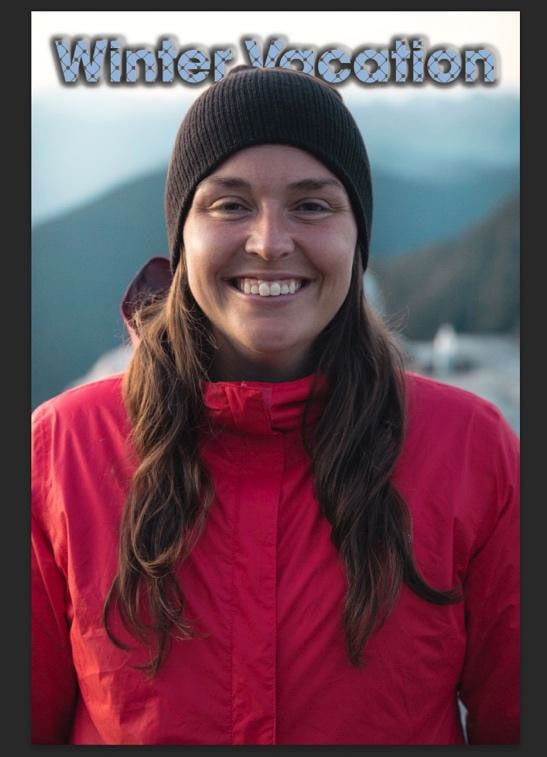 You can use the program to change the color of clothing: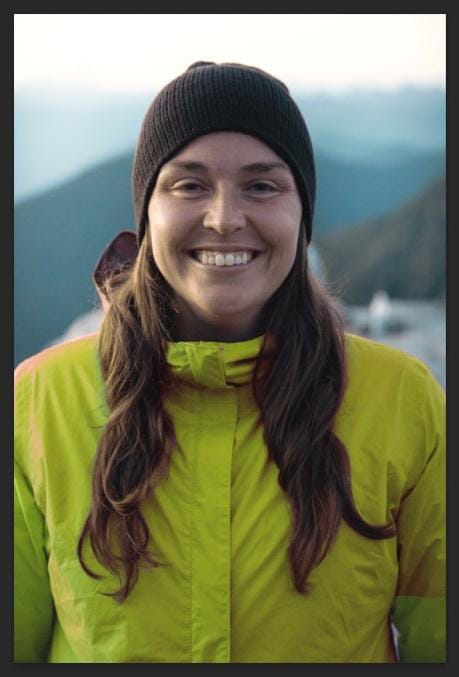 And of course, changing the background is a common use for Photoshop.
There's just so much you can do here.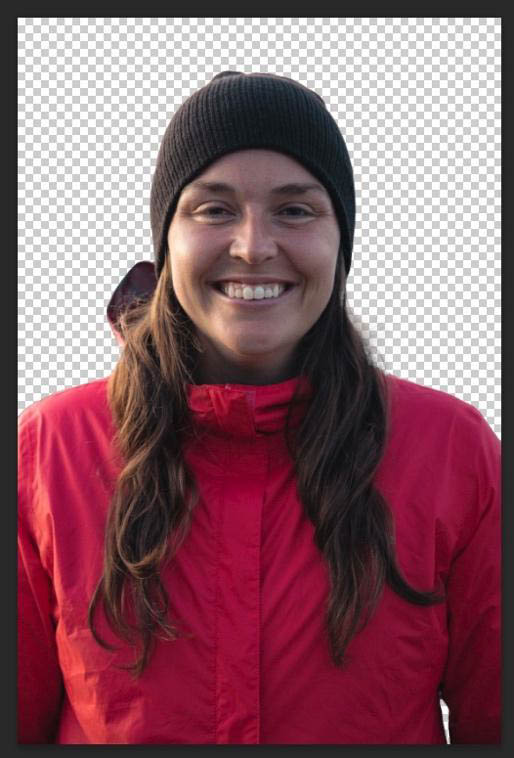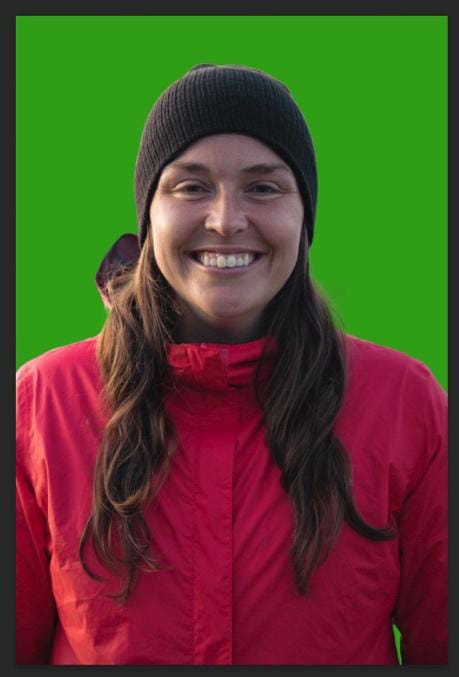 Photoshop CC also allows you to crop your graphic to whatever size you need. You can even crop your image into any shape you choose.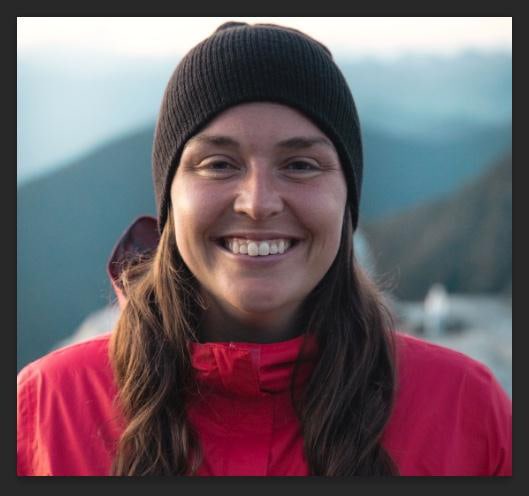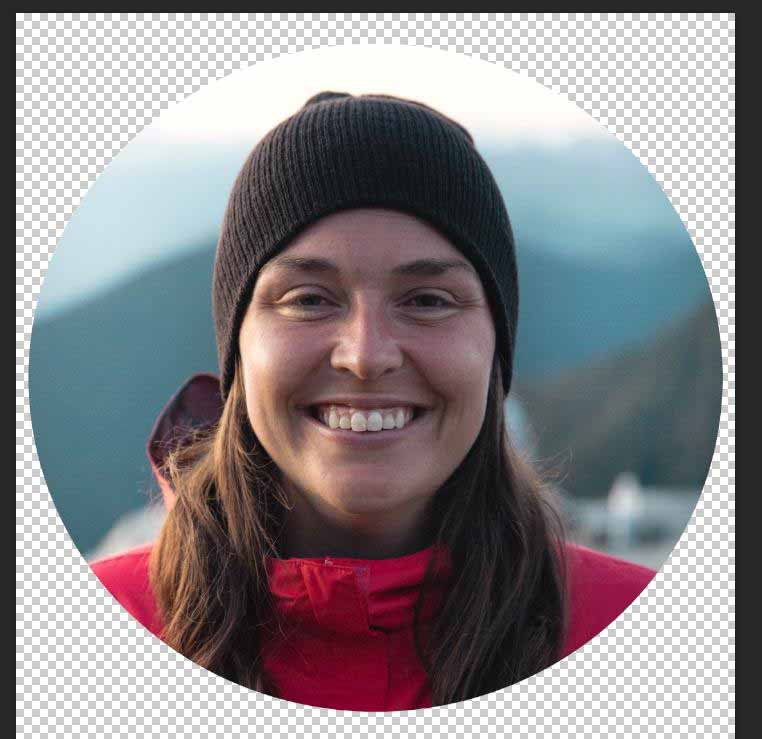 Photoshop Express, however, has very little to present regarding graphic design.
You can easily crop your image into whatever size you need it. You can even crop your image to specific sizes, from an Instagram Image to a YouTube Thumbnail.
You can not crop your image into any shape you would like.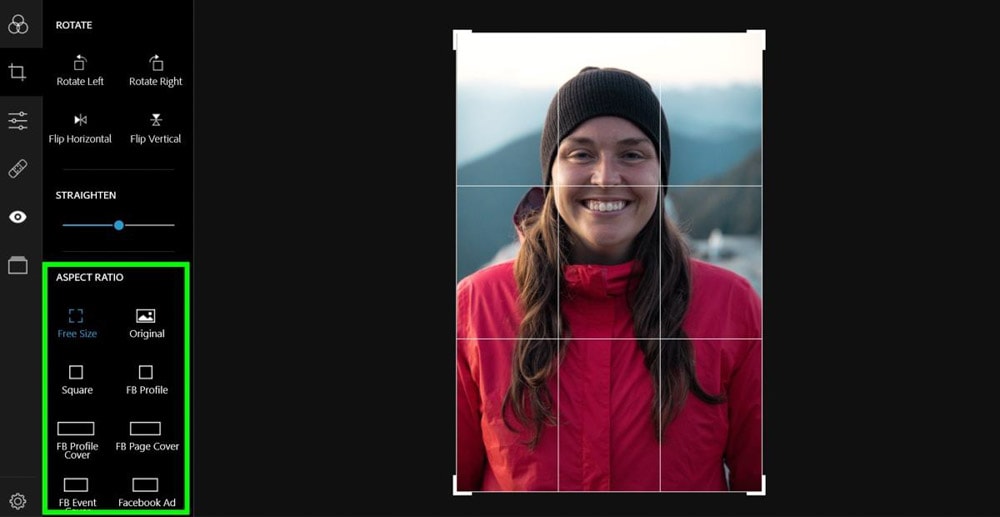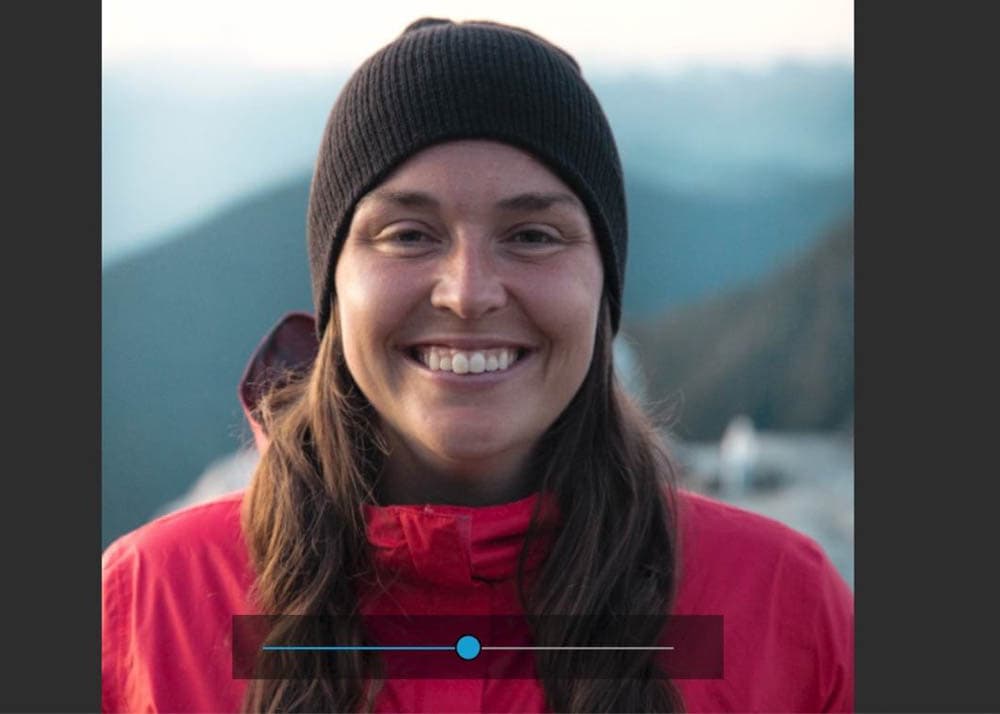 The last thing you can do graphic design-wise in Photoshop Express is add a border to your image. This is a nice touch for social media posting.
There are a ton of borders you can use. These borders are easier to apply than they would be for Photoshop CC.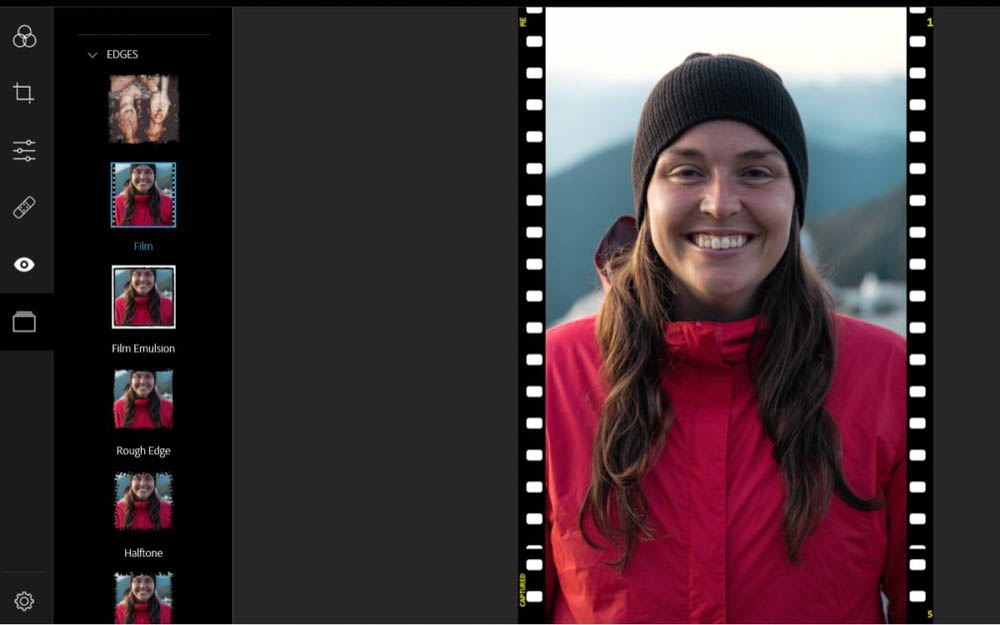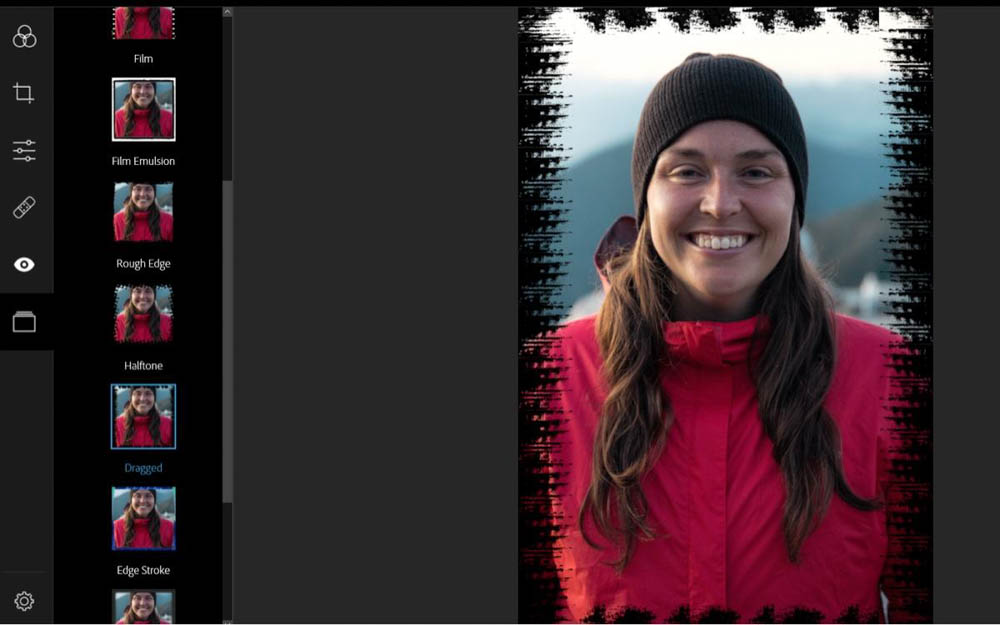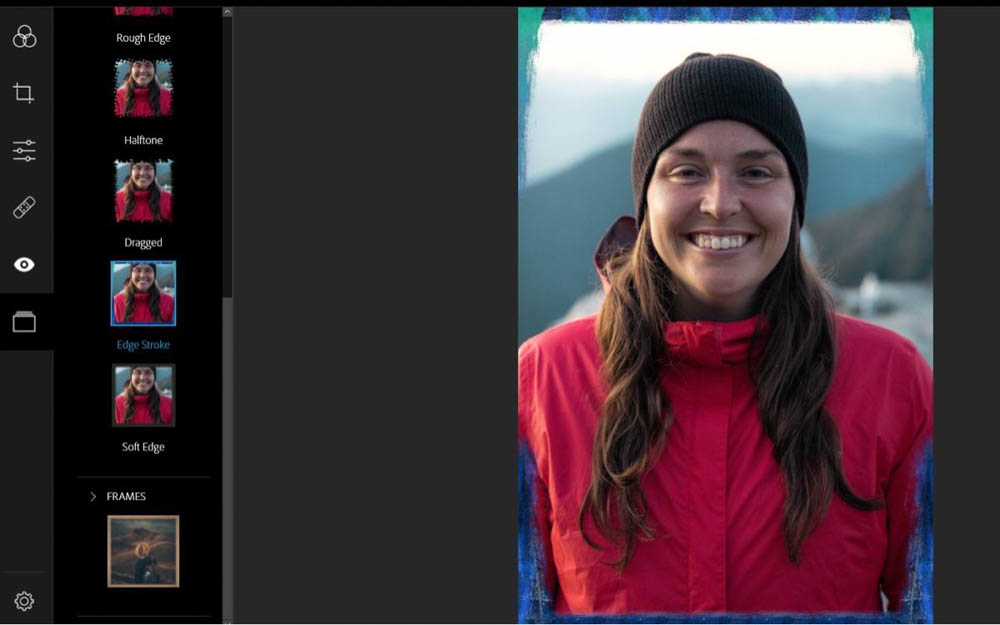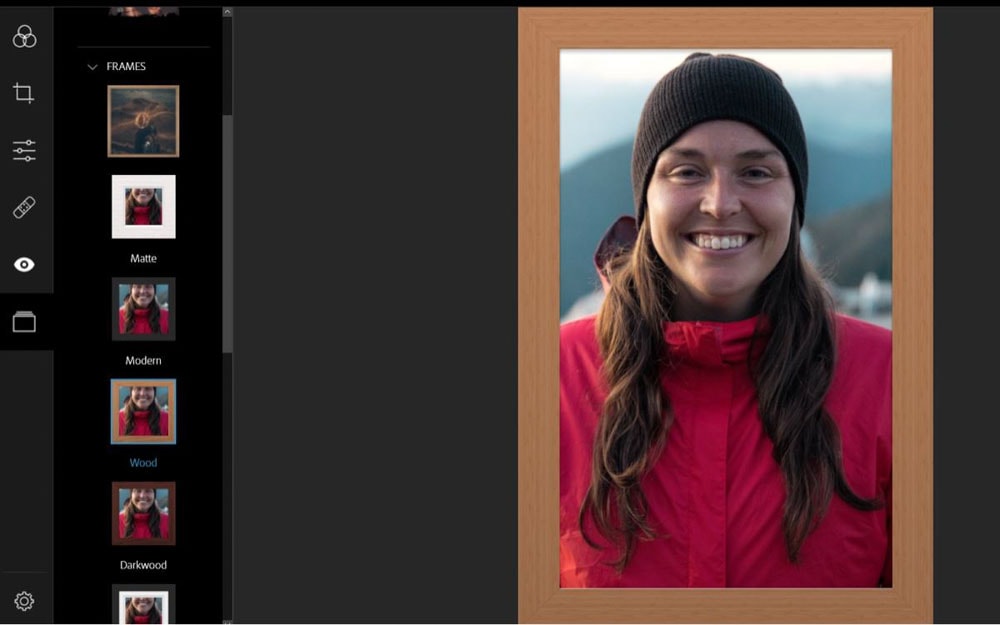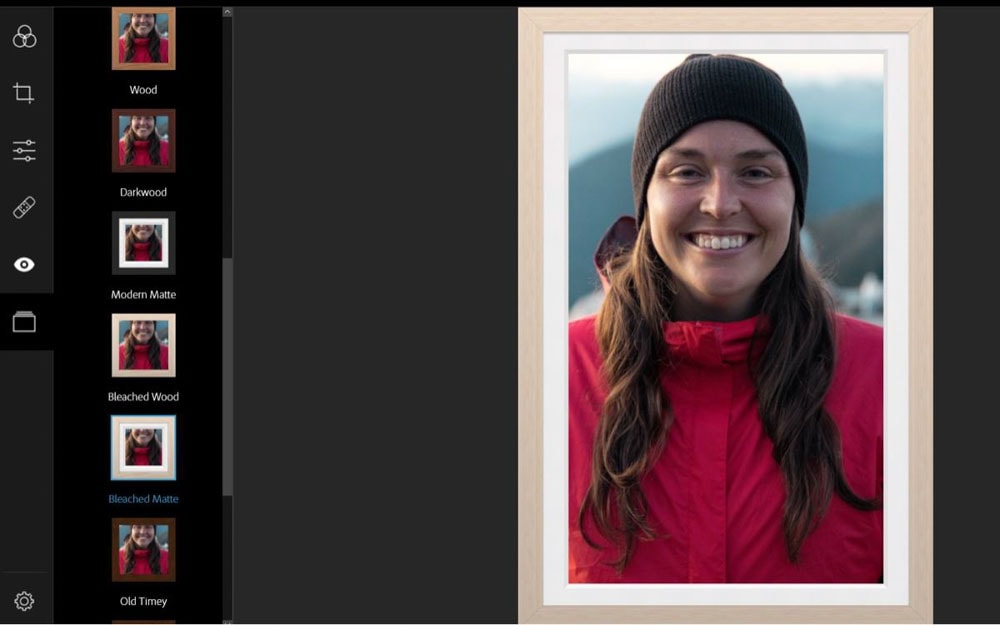 Winner: Photoshop CC
Photoshop Express only has a handful of graphic design options, whereas Photoshop CC's graphic design options are unparalleled.
When it comes to graphic design, you can do almost anything with Photoshop.
– Exporting Options
In Photoshop CC, you can quickly export to JPG by going to File > Export > Quick Export As JPG. If you need to export your image as a PNG, go to File > Export > Export As.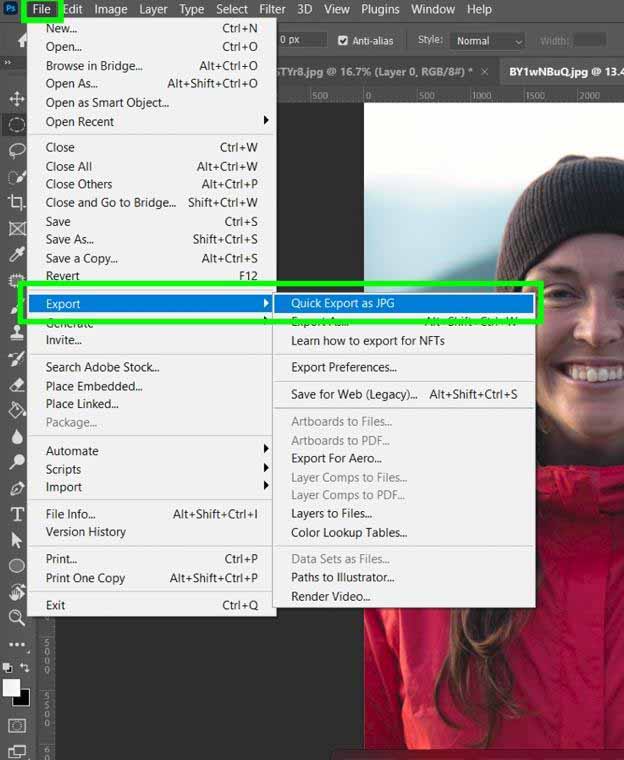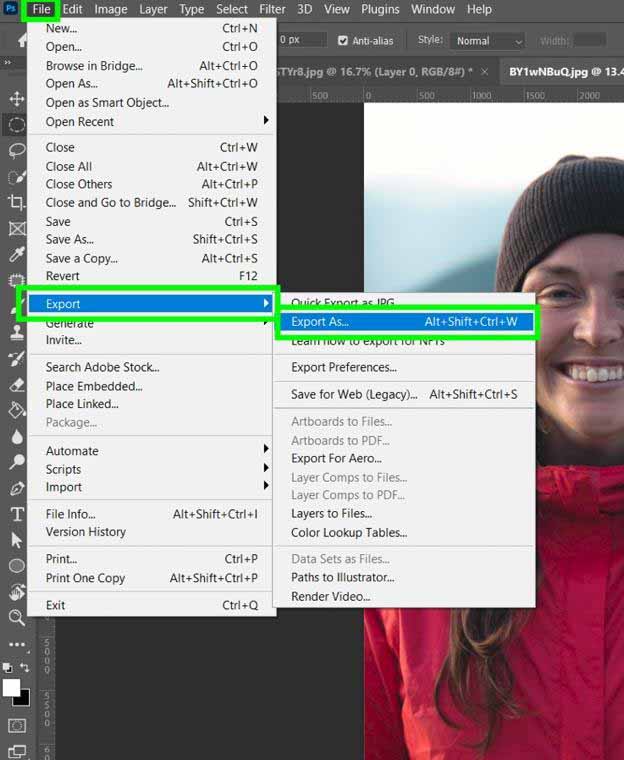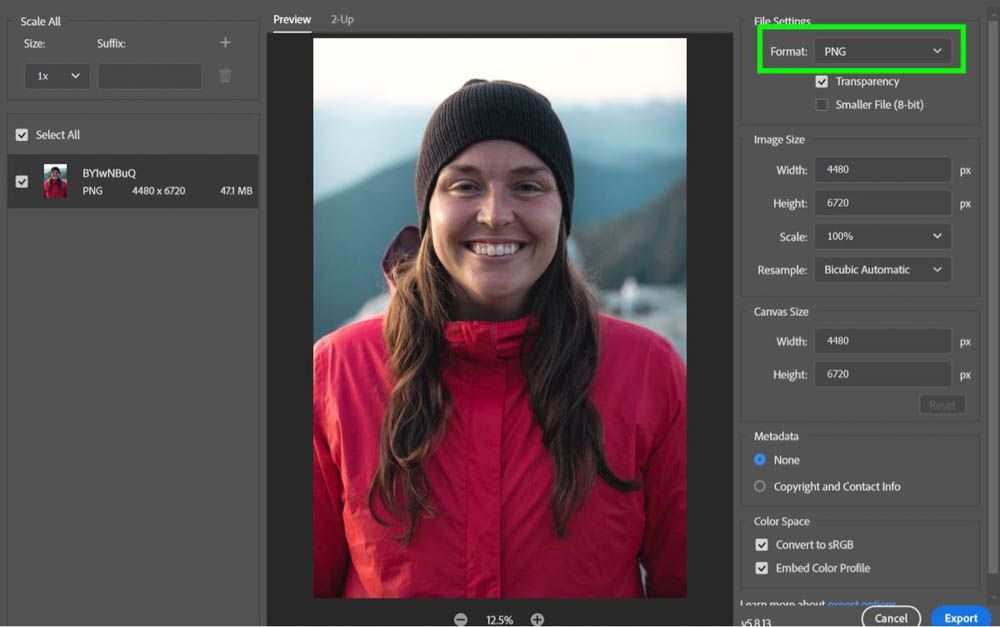 Photoshop CC also lets you save your image in almost any format. Go to File > Save As and then choose if you want to save your image on your computer or in the Adobe Cloud.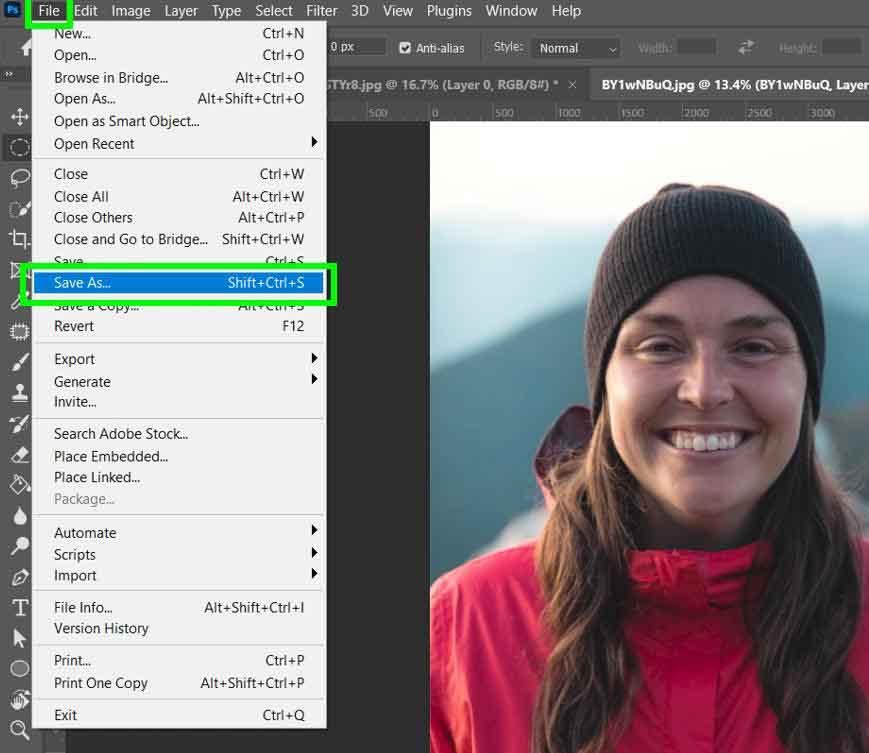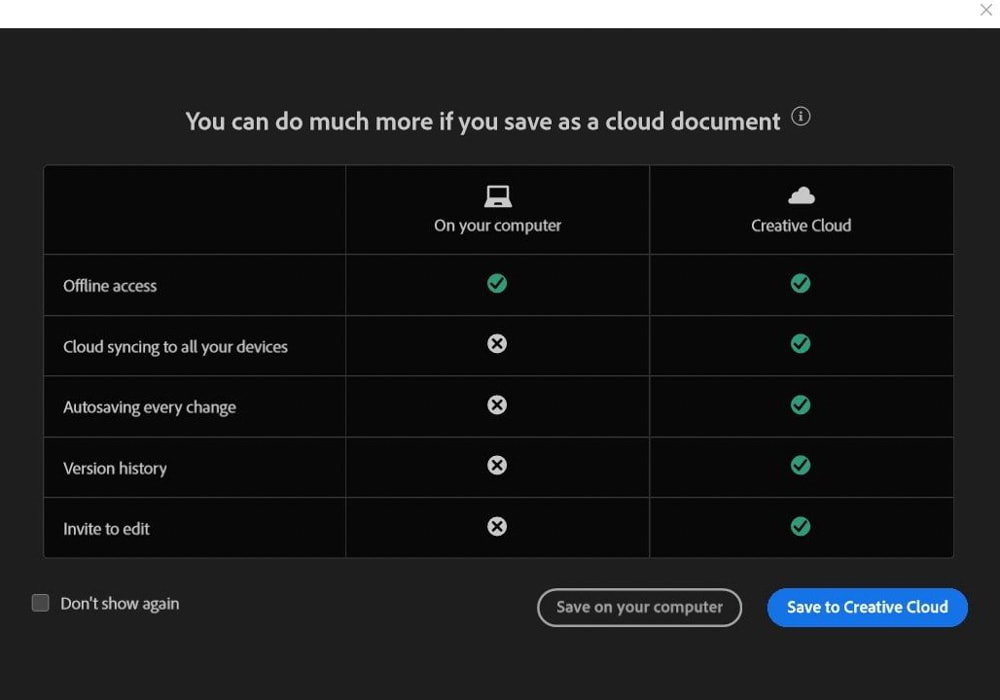 Then, click Save A Copy and open the drop-down menu for Save As Type. You will get a long list of format options to save your image.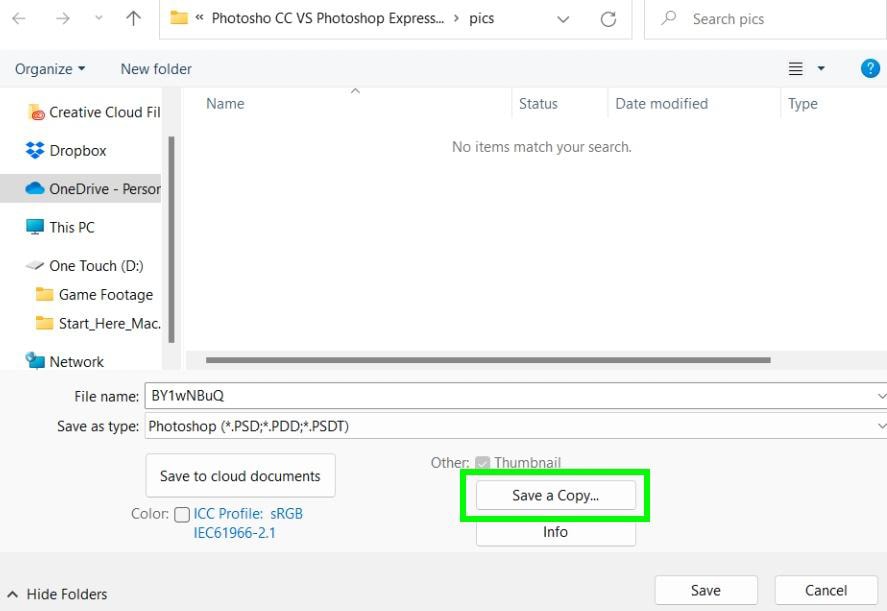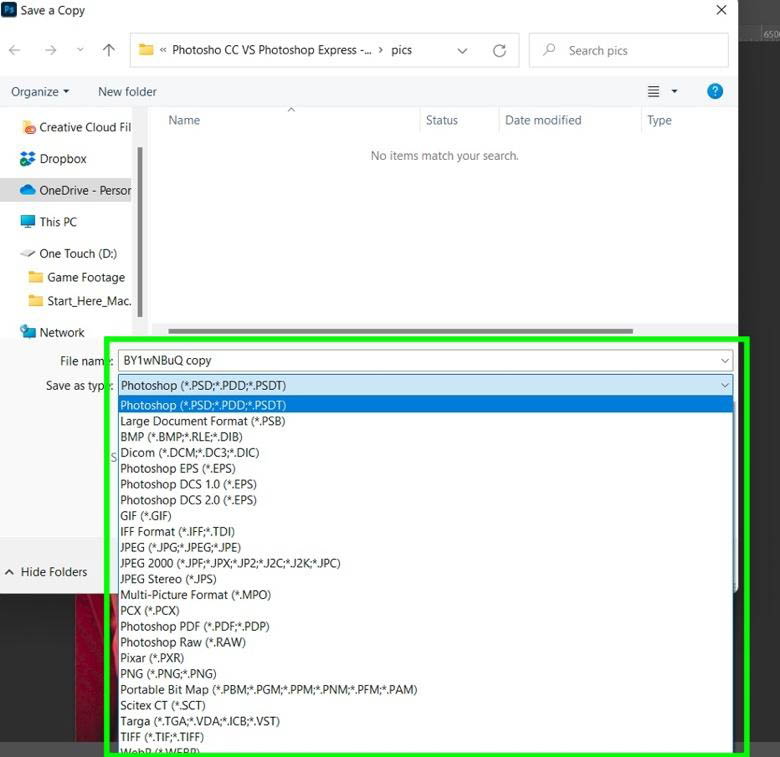 For Photoshop Express, you can only save it as a JPG.
Click on the Save/Share button and then select Share. You will find a few export options, but ultimately, you can only save your image as a JPG.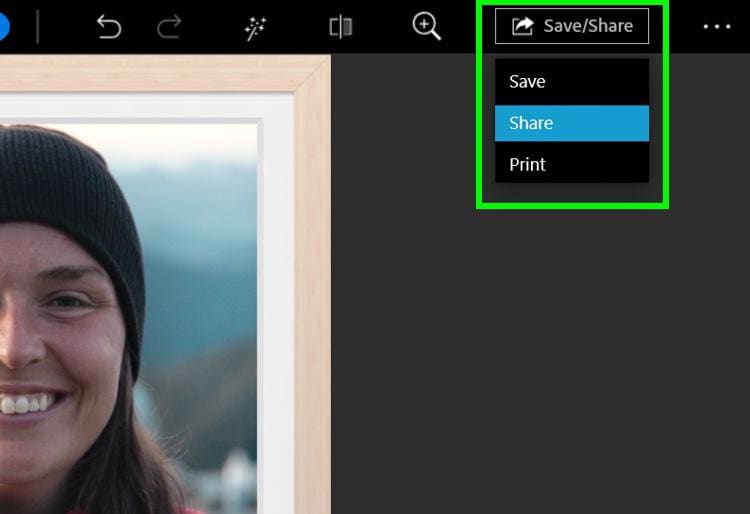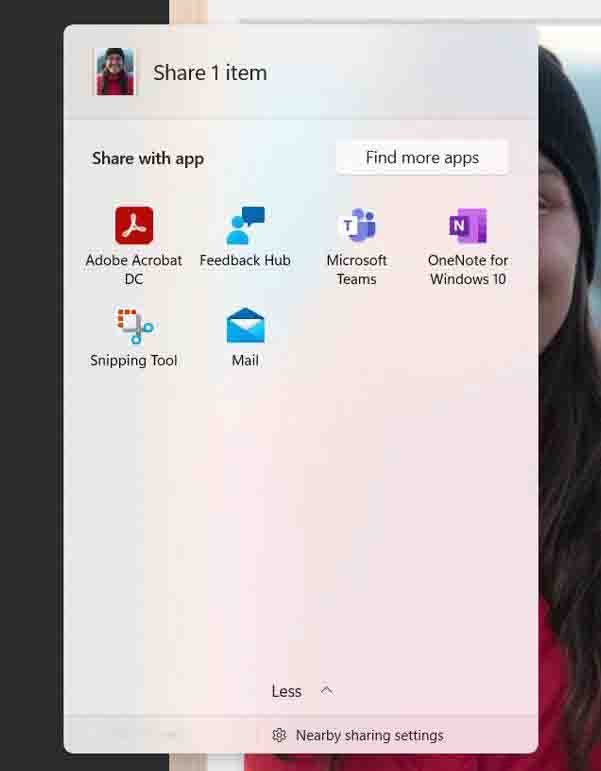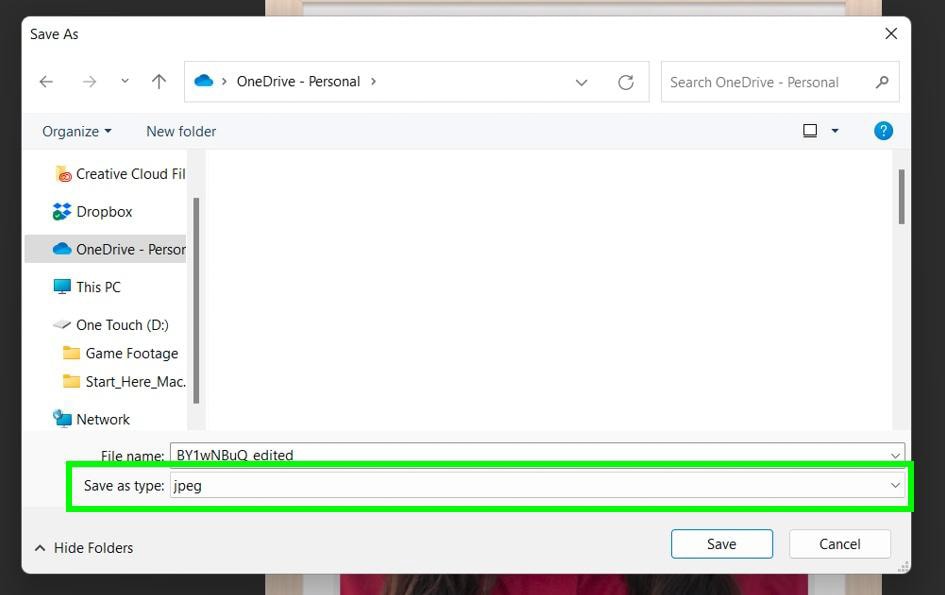 Winner: Photoshop CC
Photoshop Express is perfect for you if you only need your final image as a JPG. However, most users want more export options, and that's where Photoshop CC comes in.
– Cost
Photoshop CC is a subscription-based service. It can be as low as $9.99 per month or as high as $54.99 per month if you need to use all of the Adobe apps. I share the cheapest ways to buy Photoshop CC in this buying guide.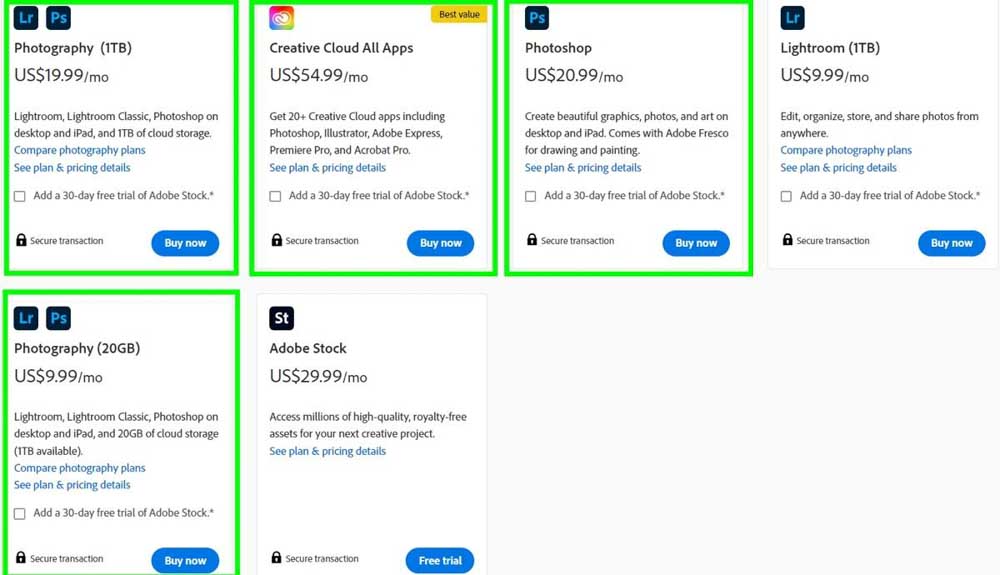 Photoshop Express is a free download on both the Apple App Store and the Windows App Store.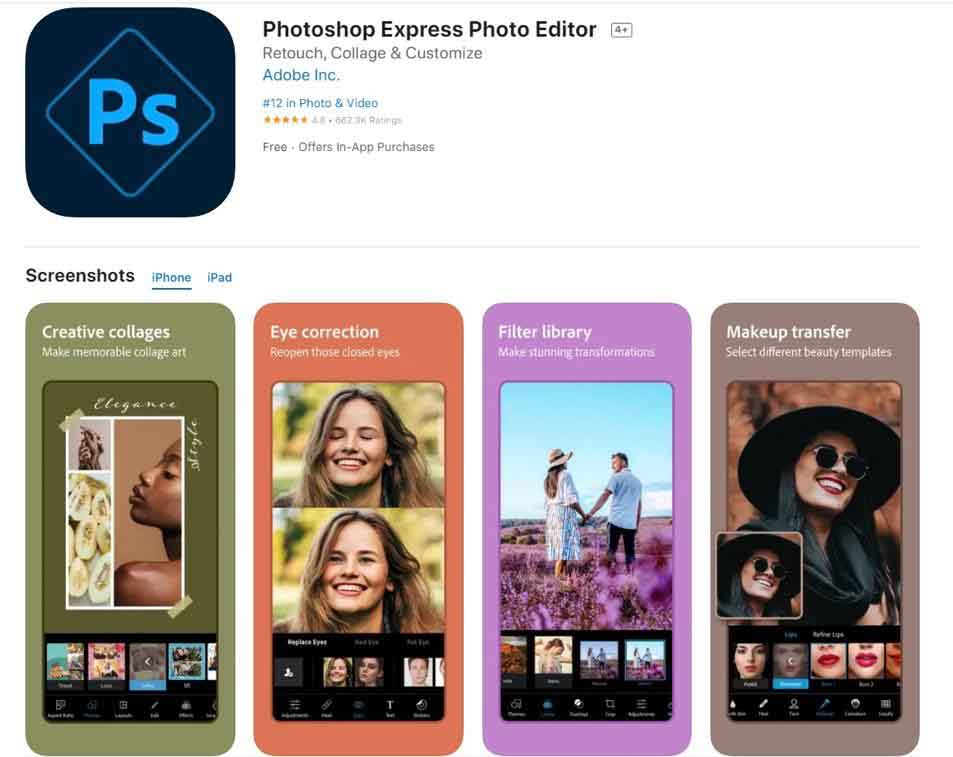 Winner: Photoshop Express
It's tough to beat something free, but you can do so much with Photoshop CC. You get a complete in-depth editing program for as low as $10 per month. However, on the other hand, Photoshop Express offers a good option for beginner editors, influencers, and people wanting to add quick edits to their photos.
Should You Use Photoshop CC Or Photoshop Express?
| | | |
| --- | --- | --- |
| | Photoshop CC | Photoshop Express |
| Interface | The complex interface takes time to learn | The straightforward interface is quick to understand |
| User Friendliness | Requires learning how to use specific tools and panels | Simple click-and-apply filter/adjustment system |
| Photo Editing Tools | Adjust the look and feel of your photos using powerful adjustment layers and tools | Basic filters and tools with few adjustment options |
| Graphic Design Tools | Several tools and features to create professional graphic design layouts | Very few tools to choose from |
| Exporting Options | Quick export to JPG as well as PNG. You can also save your project in several popular formats | Only export to JPG |
| Cost | As low as $10 per month | Free download |
| Ideal User | Professional photo editors and graphic designers who work with clients or create professional-looking work | Hobbyists, social media influencers, and users looking to do light editing and adjustments without spending money |
Overall Winner: Photoshop CC
Photoshop CC is an excellent photo editing and graphic design software for photographers. Your imagination is the limit when it comes to this program.
However, not every user needs this many bells and whistles. Photoshop Express is the better choice if you're looking for software to add filters and basic photo adjustments. It's a powerful piece of software with a minimal learning curve.
Photoshop CC is a must-buy if you need to work with layers often (for example, YouTube thumbnails) and add more customized and in-depth edits to images or layouts.