4×6 is one of the most common print sizes for photo albums and keepsake images to look back on. Since it's hard to imagine exactly how a 4×6 photo looks when viewing a photo on your computer, let's take a look at how big this print size is and how it looks in real life.
Then with the proper dimensions and an idea of how big the photo is, I'll share an easy way to resize your images to fit a 4×6 print without worrying about cropping or quality loss!
Let's get started.
How Big Is A 4X6 Photo?
4×6 stands for "four inches by six inches." That's four inches wide and six inches tall.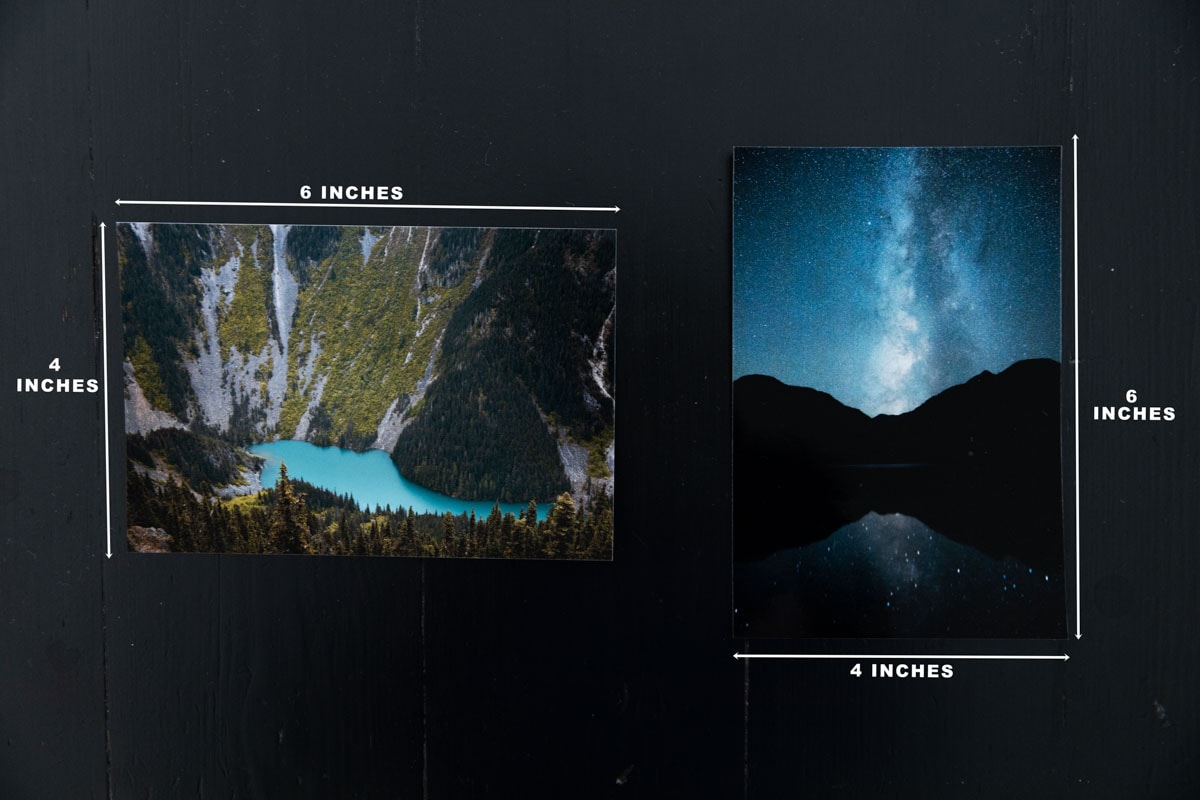 – 4×6 Photo Dimensions In Pixels
Converted to pixels, a 4×6 photo ends up being 1200 by 1800 pixels.
– 4×6 Photo Dimensions In Centimeters
1 inch = 2.54 centimeters. So a 4×6 image converts to 10.16 x 15.24 cm.
– 4×6 Photo Dimensions In Millimeters
1 inch = 25.4 millimeters. So a 4×6 photo converts to 101.6 x 152.4 mm.
What Does A 4X6 Photo Look Like?
Physically, a 4×6 photo is about the size of a large cellphone. This image size is the common printed size of most images for scrapbooks and small frames.
A 4×6 photo is much smaller than an 8×10 photo. An 8×10 image is close to the size of a piece of paper.
An 8×10 photo will have much more detail and a higher resolution than a 4×6 photo. If you are looking for a large, high-quality print to put as a small decorative piece on your wall, an 8×10 is the way to go.
The 4×6 photo is smaller in size but not necessarily in quality. The 4×6 picture can still produce excellent results, mainly if printed on high-quality paper. However, they are not typically meant to be hung on the wall. That is unless you want to create a mini gallery of moments from recent trips and adventures.
Understanding The Aspect Ratio Of A 4×6 Photo
The aspect ratio is the size of the photo in comparison to the size of the screen it will be displayed on. A 4:3 aspect ratio is the standard size for a photo, as it was created to fit traditional television screens.
As technology has changed and screens have widened, the 16:9 aspect ratio has become more popular. This is the size of an HDTV screen, and many digital cameras now take photos in this size by default.
If you want to print your photos in a more traditional 4:3 size, you may have to crop them slightly.
Knowing the aspect ratio of a photo can be helpful when trying to determine how it will look on different screens.
For example, if you have a photo that is 4:3 and want to know how it will look on a 16:9 screen, you can multiply the width by 9 and divide it by 16.
This will give you the new width of the photo. So, if your image is 800px wide, the new width would be: 800px x 9 / 16 = 450px.
The aspect ratio for a 4×6 photo is 2:3. This is the standard size for modern images. The aspect ratio tells you the width of an image relative to its height. This also means that aspect ratios can be linked to multiple image sizes.
2 Ways To Resize An Image To 4×6
Resizing a larger photo to a 4×6 is relatively easy. The two best tools for the job are Photoshop and Photoshop Express.
Option 1: Using Photoshop
Resizing an image in Photoshop is not complicated, but you will have a stretched-out ugly picture if you don't know what settings to change. Follow this guide closely to ensure your picture looks as crisp as possible.
Step 1: Open The Image Size Properties Panel
With your image already open in Photoshop, go to Image > Image Size you can also press Alt + Control + I (Win) or Option + Command + I (Mac). You will need to change most of the settings in the window that pops up.
Step 2: Change The Resample To Bicubic Sharpener
Resampling is changing the pixel dimension of an image. You must be careful when resampling because choosing the wrong option can degrade the image quality.
If you're resizing a larger picture to a 4×6, you will want to choose a resample that works well when reducing the size of the image.
In the drop-down menu, choose Bicubic Sharpener (Reduction). Selecting this option will maintain the detail in your pixels without over-sharpening.
Step 3: Change The Resolution To 300
To ensure you print out a high-quality photo, set your resolution to 300. Keeping your resolution at 72 will produce a pixelated image after resizing it.
Doing this now ensures you won't forget later and lets you see the exact pixels you will be working with.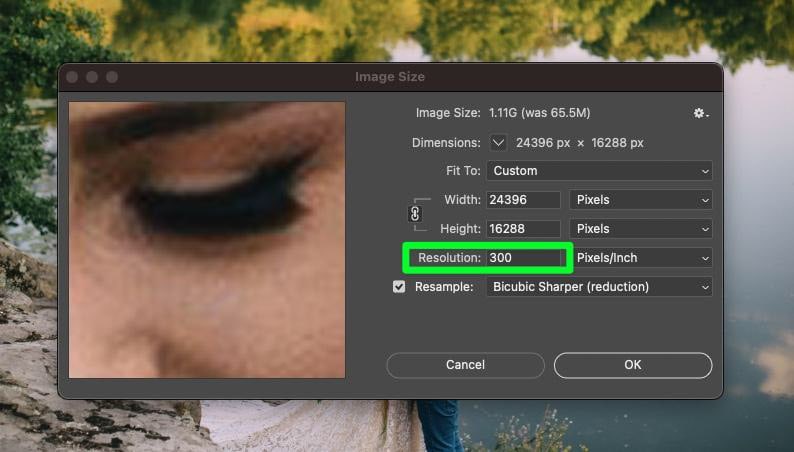 Step 4: Change Pixels To Inches
In the drop-down menu next to Width, change Pixels to Inches.
Also, make sure that the Chain Link icon is enabled. This way, when you change the pixels for the Width, the Height will also change. Additionally, keeping the Width and Height connected will ensure that your image won't look squished by the end of this process.
Step 5: Change The Size Of The Width And Height
Now it's time to start resizing. Change the width to 6.
After you change the Width to 6, you will notice a few things. First, as we discussed in a previous section, the pixel dimension for the Width is correct at 1800 pixels. However, the Height may not end up at 1200. Plus, in the Height box, you might not have just the number 4.
This is because the width and the height are connected. Photoshop is actively trying to stop you from squishing your photo. If the aspect ratio of the image isn't the same as the new size you want, this will cause the height and width to be misaligned.
Now, if in the Height box, you have a number that is below 4, then you don't need to change anything. You can move on to the next step. If your number is above four in the Height box, even if it's only .006 over, you will need to change the height to 4.
You can do this by selecting the number in the Height box and then typing 4.
Once you type in the 4, you will notice a few more things. The Height is now correct at 1200 pixels, but now the Width is off. Again, this is Photoshop trying not to squish your photo.
The resizing process is not a perfect one. You will end up with some extra white space in your printed photo that you can cut out if you want to. Alternatively, you can keep the height over 4 inches and crop the image using a 2:3 aspect ratio.
When you're done making all your changes, click OK to confirm.
Step 6: Review Your Image In Print Size
Once you have resized your image, it may look a bit small. To fix this, go to View > Print Size.
You should now have a better representation of what your image will look like.
Option 2: Using Adobe Express
Resizing an image in Adobe Express is much easier than resizing an image in Photoshop. It's also a great free option for those who don't have a Photoshop subscription. However, you will have less control and the possibility of printing a lower-quality image.
Step 1: Open The Resize Image Window
When you open Adobe Express, you will find Resize Image on the main page. Click on it to open up the Resize Image window. 
If Resize Image is not on your main page, click on the big purple Plus button, and you will find Resize Image under the Image column.
Step 2: Drag & Drop Your Image Into The Resize Image Box
The main attraction of the Resize Image window is the drag-and-drop area. From a separate window, drag your original image into the drag-and-drop area.
Step 3: Pick "Custom" In The Drop Down Menu
With your image in the drag-and-drop area, you will see a drop-down menu labeled Resize For.
This drop-down menu will mostly have social media post sizes. At the very bottom, you will find Custom. Select it.
Step 4: Change The Pixel Size For The Width & Height
Unfortunately, you won't have the option to resize your photo based on inches.
Thankfully, we've already discussed the pixel dimensions of a 4×6 photo so that you won't be lost. The pixel dimensions of a 4×6 photo are 1200 by 1800. Which is flipped to 1800 by 1200 in this case since it's a landscape image. So in the Width box, type in 1800.
By default, the width and the height are already chained together. So once you input the width, the height will change as well.
If your photo is already in a 3:2 ratio, then your pixel dimensions will end up as 1800 x 1200 px. If not, you will need to adjust the number that went over back to what the number should be.
For example, if the height ends up being 1250, change the Height to 1200 manually. The Width will be off, but that's okay.
When you're done with your changes, click on Download to download your photo to your hard drive.
Step 5: Check Your Image Size
Find your new resized image on your computer and check the picture's metadata. If your pixel dimensions match what you put in Adobe Express, your image has been officially resized to 4×6.
You now know that the size of a 4×6 photo is about the size of a large cellphone. Plus, you know two different ways to resize your image to 4×6. To learn more about other standard print sizes and resizing tips, see my guide to standard print sizes here.