Are you overwhelmed by the endless design possibilities and looking for an easy way to create amazing visuals? Creating a template in Canva is an excellent way to speed up your workflow and take a lot of the guesswork out of your designs. The best part about creating custom templates is how easy they are.
In this post, you'll learn how to make a template quickly and how to customize your new template in less than five minutes. Plus, if you plan on sharing your templates with a client or if you plan on selling your templates to the rest of the world, then this guide is especially for you.
How To Create A New Template In Canva
The best and easiest way to create a new template is to modify a ready-made template found in Canva. The ability to do more specific searches makes finding the perfect template easy.
For example, if you need a template for a Pinterest pin, you can type something like "social media branding pin" and press Enter. Doing this will bring up the exact type of pin template you need.
Note: I am using a pre-made template from Canva and switching out a few elements for this example, which is only acceptable for personal use. If you plan on using the template to sell as your own, you must create the template from scratch using your own unique ideas. I will share how to do this later in this tutorial.
There's almost an endless supply of templates that you can find on Canva. So, try adding a few extra words that match your needs to find the best template.
There's one other thing to take into consideration when template-hunting. Keep your eye out for templates with a Crown icon in the corner.
This Crown icon means that the template is for Canva Pro users. If you're a free user, it's best to stay clear of these templates.
Once you find a template you want to customize, click on it. Then, click Customize This Template.
Your template of choice will open up in a new tab. Before working on it, remember that you can customize more than one template at a time.
Click the Home button in the top left corner. This will bring you back to the previous screen.
On the previous screen, check out the More Like This section. You will find around 50 other templates that match the theme or style of your chosen template.
Click on one of these templates, then click Customize Template to open it in a separate tab.
Feel free to pick out as many templates as you like.
How To Customize A Template In Canva
You can customize every element found on a Canva template.
To customize a text block, click inside the block, then type your message.
You can click on any element and then drag it around your Canvas. For example, you can move your text blocks and shapes from the bottom of the page to the top.
It's always a good idea to switch out the photos used in your template.
The best way to find good photos is to click the Elements tab, then search for your specific theme in the search bar.
Once you have found your photo, click and drag it on top of the image on your template. Your photo will automatically replace it.
You can also add elements to your template from the Elements tab, such as adding a border.
For example, if you search for "border," you will find hundreds of borders that you can use. Just click on the one that fits your template to add it.
One useful feature when customizing your templates is using the Styles tab. With this tab, you can switch up all the colors on your template with one click.
You can do this by selecting the Design tab, clicking Styles, and clicking See All across from Color Palettes.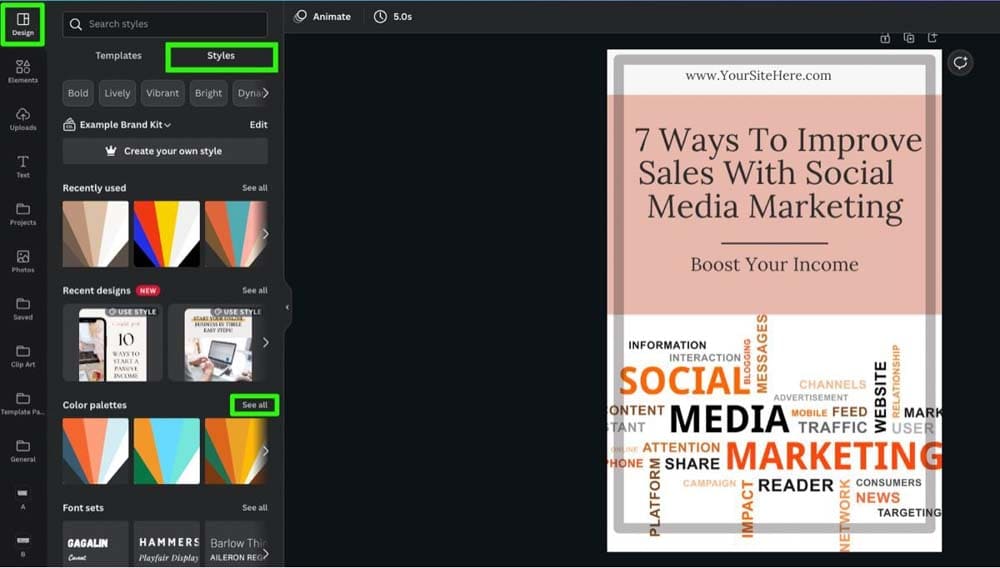 Where To Save Your Customized Templates
After you've finished creating your templates, you need a way to organize them so they are easily accessible. The best way to do this is with folders.
To add a new folder, click on Projects in the left side panel, then click the Folders tab. At the top of the list, click Create Folder.
When creating a new folder, you will be prompted to name the folder. After you do, click Create Folder.
Your folder is now created, and you can find it in the Folders section.  
After your folder is created, you will need to save your templates as brand templates. To do this, make sure your first template is open, then click on the Share button. Then, click the Brand Template button.
In the drop-down menu, choose the folder you created (or a different folder) and then click Publish.
How To Create Canva Templates For Clients
Canva also allows you to create and share designs and templates with clients.
To start, make sure the template you've created from scratch is open. Then, click the Share button.
In the options that pop up, open the drop-down menu at the top. Select the second option, Only [Your Name]'s Team.
Selecting this option will only allow your link to be opened by members of the team you have established on your Canva account.
Once you choose to only share with your team members, the next option you need to set is the permission for the link. Click to open the permission drop-down menu to find three choices:
Can View – When the client gets the link, they can only view the design, excluding the ability to change any element on the page.
Can Comment – The client you send your link to can view the design and leave a comment on any available page.
Can Edit – Your client can view, comment and change or add an element to the project. Only choose this option if you are collaborating with your client or have saved a backup of your design.
Once you are ready, click Copy Link. You will know that the link has been copied to your clipboard when you see the Copy Link button change to Copied.
Now that you have the link copied to your clipboard, you can text, email, or DM your client the link to your project. Depending on your share settings, the client can make a copy of the template that you've shared for their own personal use. That way, it won't affect your original template.
How To Use The Templates You've Created
Once you've saved your customized templates, you can tell them apart from your other designs from the Brand Template text in the corner of each thumbnail.
Click on the template you want to use, then click on Use This Template.
Note: Clicking Use This Template will make a copy of your template. If you want to change the template itself, click on Edit Original. After you make your changes, every time you use your template from that point on, it will include the changes you made when you edited the original.
Clicking Use This Template will create a copy of your template in your Canva account. Click on this copy to start editing it.
Before editing your template, click on the Duplicate button at the top of the page. This will create an exact copy of your template.
Making a duplicate of your template is a good idea to do right away. This makes it easier to go back to the original template if you need to.
Don't be afraid to make as many copies as you need while customizing your templates.
How To Quickly Customize Your Template
It's possible to turn one template into a finished design in less than five minutes.
First, you should change out the photo. Changing a Photo is as simple as clicking the Elements Tab, searching for the theme you need, then dragging a new picture onto the image on your template.
Changing the overall look of your template is even easier. Simply select the Design tab, then click on Styles. Scroll down to the Color Palettes section, and click See All.
From here, you can change the color of most elements on your template by clicking on one of the color palettes presented to you. Using these color palettes is great when you don't want to think about color theory when designing.
Plus, you can click as many palettes as you want before you find the colors that work best for you.
From here, you can always add more shapes and elements from the Elements tab. For many designs, just changing out your photo, editing the text, and switching up the color palette is enough for you to hit the publish button on your project.
Using Other Templates In Your Design
While customizing your templates, don't feel tied down to only using the template you chose at the beginning of this process. You can bring in other templates from the folder you created earlier (or any folder in your account).
To do this, click the New Page button at the top of the page. This adds a blank page to your project.
With your new blank page selected, click the Projects tab, then Folders. This will bring up the list of every folder in your Canva account. Find the folder you want to open, then click on it.
To add the template page to your project, select the blank page, then click the template page.
This will replace the blank page with your new template page.
From here, you can customize the template just like before by adding a new photo and elements and switching out the colors.
As you can see, you can customize a template very quickly.
How To Share A Canva Template
If you want to share one of your templates with a friend or if you want to sell your templates online, then this section will show you precisely what you need to do.
First, once your template project is complete. Click on the Share button in the top right corner.
In the menu that pops up, open the drop-down menu under Link Sharing Restricted. Out of the options presented to you, choose Anyone With The Link. This will ensure that the person who ends up with your link can access it, no matter who it is.
Next, you need to set the permissions of the link. This part is vital if you plan on selling your template.
First, open up the permission drop-down menu.
You have three choices for giving permission to your link:
Can View – Your end user will be able to view the design and nothing more. Perfect for a template you're sending to a friend that you only want them to look at.
Can Comment – Your end user can both view and leave a comment on each page of your project.
Can Edit – Your end user can view, comment, and change every element in your design. If you're selling your template to the public, you want to choose this option.
Once you've set your link permissions, click on the Copy Link button. You will know that the link has been copied to your clipboard when the button shows Copied.
With your link copied to your clipboard, you can now send it out to others to save a copy of for themselves. All they need to do is visit the share link you sent them, then go to File > Make A Copy to make a duplicate version of your template for their own use.
So whether you need to create a template to sell or just to save time in your regular Canva designs, you now know everything you need!
Happy Templating!