What Is A Freelance Photographer?
More often than not, the term "freelance photographer" gets thrown around whenever someone talks about hiring a photographer. Freelance photography is something that's found across all genres of photography and is accessible to just about anyone with a camera. In a nutshell, this line of work allows you to work for yourself and (usually) choose the types of jobs you take on. It can sound like a dream for many working a regular 9-5, but freelance photography can come with a unique set of challenges.
A freelance photographer is someone who gets hired for different contracts or odd jobs with varying companies. Each contract a photographer takes on usually varies in scope and requirement, making some contracts more profitable than others. Freelance photographers are often seen as self-employed since it's up to the photographer to market their portfolio and find work independently.
For anyone passionate about taking photos and dreaming about turning photography into a career path, freelance photography will have you salivating. Let's dive into the business of freelance work and what it takes to be a freelance photographer!
What Does It Mean To Be A Freelance Photographer?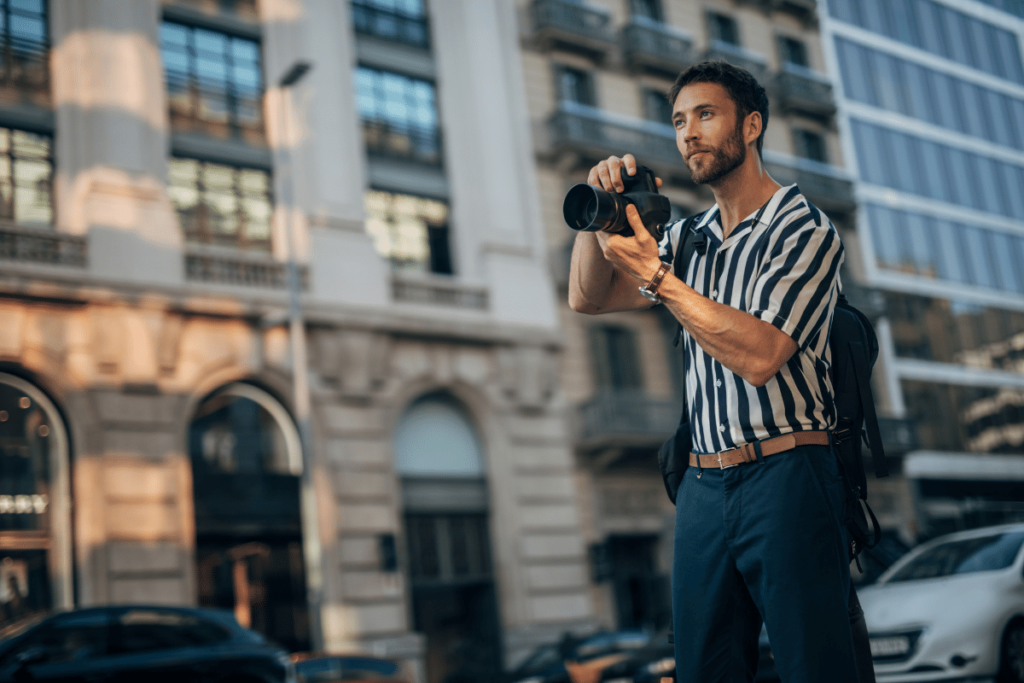 As a freelance photographer, you make your money by working various jobs with different people or companies. Most successful freelance photographers will have a small handful of lucrative contracts on a reoccurring basis with different companies. These multi-year contracts are like gold for any freelance photographer since it guarantees some kind of guaranteed income and career stability.
Freelance photographers can be found in any niche imaginable. After all, every kind of business needs pictures of some sort! Often, freelance photographers will shoot a wide array of styles to fit different client's needs. One client may need a new batch of product photos for a fall clothing catalog, while another needs interior photos of their new storefront. It's all fair game in the world of freelance, and most freelance photographers starting out will take whatever they can get. Getting your the ball rolling as a freelance photographer is a lot of work, so you're not always working the most glamourous jobs to pay the bills.
Ultimately, being a freelance photographer means that you make money by taking photos for different clients. The combined income from all of your clients' pools together to be your annual salary for the year. Every job will pay different amounts, and as you build more experience, you can command a higher rate from each contract you take on. Rather than being a photographer who works full-time for one company, freelance photography can be more enjoyable since you're shooting in different situations all the time.
How Does A Freelance Photographer Make Money?
Freelance photographers make money by taking on more contracts or finding random one-off photo gigs. Contracts are the bread and butter of any freelance photography business since it guarantees a fixed rate over an extended amount of time. When it comes to planning for the future, this offers a lot more security than random jobs here and there.
More often than not, any photographer that does a good job on a project will have an "in" with a certain company. Since you provided a valuable service once, it's very likely that the same company will hire you again. As your freelance photography career progresses, more and more companies will want you to take their photos, thus making money start to flow. This takes a lot of time and dedication to get to, but boy, oh boy, is it ever sweet when you get there.
There are a ton of different jobs that a freelance photographer could be hired for. Below are just a few examples where a freelance photographer could make money.
Wedding Photography
Event Photography
Business Headshots
Product Photography
Catalog Or Lookbook Images For Brands
Social Media Content
Advertisement Content
Brand Campaigns
Family Portraits
Behind The Scenes Photos
Selling Prints To Individuals Or Clients
And the list goes on. A freelance photographer can make money from anyone who needs photos to be taken. With a good portfolio and a price list to match, you'll be on your way to making money as a photographer.
How Much Can A Freelance Photographer Make?
This is a tricky question since it all depends on the experience and reputation of a photographer. For example, joe blow, who just landed his first photography gig at a birthday party, can't ask for the same amount as someone like Paul Nicklen, who's one of the best outdoor photographers in the world. When negotiating rates for different jobs, your experience and reputation in your industry truly matter.
Since every freelance photographer has a different amount of contracts each year, their income can vary dramatically. It even depends on who and what you're shooting for. A bride and groom will pay significantly less for all their wedding photos than Under Armour would for an international ad campaign. To keep it in the world of "regular" folks who aren't on the superstar photographer level, freelance photographers' average income tends to vary between $25,000 to $100,000 a year.
If you're just starting out and landing a bunch of small clients, $25,000 a year is easily attainable for any freelance photographer. As you begin to grow and find yourself working with larger clients on bigger jobs, you'll quickly find yourself floating into the $75,000 a year range.
Just take real estate photography, for example. This is one of the most lucrative freelance photography jobs that's accessible to just about any half-decent photographer. With the right pricing strategies, you can make yourself $81,600 a year taking photos of houses for sale. I share exactly how you can get into this line of work in this post.
What Qualifications Do You Need To Be A Freelance Photographer?
The beauty of freelance photography is that there are no pre-requisites. Nobody is going to ask you what degree you have, what level of first aid you are, or how good you are at working in a team environment. Instead, your portfolio and all the work you've done beforehand is what gets you hired.
This goes without saying but knowing your way around a camera and having a keen creative eye is a crucial trait of any freelance photographer. Once you're hired onto a job, it's often up to you to come up with different shot ideas, deal with clients, make invoices, and pay your team members (if you have second shooters). Like any freelance work, freelance photography requires you to be self-motivated, outgoing, organized, and adaptive to changing situations.
If all that sounds right up your alley, then the next section is going to be exactly what you're looking for.
How Do Freelance Photographers Find Work?
At this point, the idea of freelance photography might sound pretty romantic. You get to be self-employed, choose your own hours, work in different places, and make a pretty good salary to boot. You're ready to submit your 2-weeks notice at your current job and climb aboard the freelance express; destination awesomeness.
But there's a problem.
How in the world do freelance photographers find work?
Most of us don't have a long line of clients waiting to hire us, so it takes a lot more elbow grease to get hired as a photographer. Although you might think there's some kind of magic formula, the best way to find work as a freelance photographer is to ask.
Reach out to companies and start a conversation. A great idea is to start locally and meet with business owners you already know in real life. Odds are, they're in need of photography services, and you're the perfect person for the job. When starting out, it's all about reaching out to whoever you can and taking whatever work comes your way.
Eventually, you'll have built up a solid portfolio that you can use as leverage with larger clients. From here, it snowballs, and you can begin reaching out to larger and larger companies to work with. As basic as this sounds, freelance photography is a numbers game. The more people you meet, the more people who know you as a photographer, the more chances you have to get hired. Building your network is crucial as it's the main thing that can and will get you hired for years to come.
If you're looking to work in a niche such as wedding or family photography, start talking to your friends and family about your new venture. It's pretty amazing how many people you're one or two degrees of separation away from. Before you know it, you've landed a job shooting your uncle's cousin's step-sister's wedding, and it just continues from there.
Until you hit the peak of your freelance photography, networking and asking to work with different companies is and always will be the way of finding work as a freelance photographer.
How To Become A Freelance Photographer
It's very rare for someone to transition from their regular job to full-time freelance photography overnight. It takes time to build clients and land new contracts. There's no shame in starting a freelance photography side-hustle until it replaces your regular job income. In fact, that's exactly how most of us start out. Getting out and shooting is the most important thing you can do to build your portfolio and start building new clients.
So how can you build your portfolio without having any clients? This is a troubling catch 22 that troubles a lot of people starting out. The truth is, there's no rule saying that your portfolio has to be of paid work. You can create mock photoshoots with the idea in mind that if you were hired by "this" company, you'd take photos like this.
Reach out to your friends and family and see who would be interested in taking photos with you. After coming up with some sort of creative idea, start shooting away, and slowly build up your portfolio. The idea here is to create a gallery of photos showcasing your best work as well as the style and look that's unique to you. You can learn more about starting a photography portfolio without clients in this post.
Eventually, you can reach out to models and try your hand at working with people you don't know. This not only helps you to capture more professional images but gives you a taste of what it's like to work with strangers. Since as a freelancer, you'll be doing a lot of that!
After you land your first paid photography gig, I'm willing to bet your next one won't be much further away. With more and more jobs coming in and building up your income, you can eventually go full time as a freelance photographer. Just remember, this takes some serious time and dedication. Anyone who claims someone's an overnight success is a liar, and don't let anyone tell you differently.
Now get out there and start crushing the photo world.
Happy Shooting,
– Brendan 🙂