Photoshop has a dizzying variety of brush tips and styles you can use in your projects, but one brush that adds a unique effect to any project is a square-shaped brush. Square brushes allow you to draw in a boxy style perfect for any projects involving a pixelated appearance. Although you can import square brush packs, an easier method is to load Photoshops legacy brushes.
To access a square brush in Photoshop, select the Brush Tool and open the Brush Preset Panel. Clicking on the gear icon in the upper right of this panel, select "Legacy Brushes." Now reopen the Brush Preset Panel and look for the Legacy Brush folder which contains a square brush.
Sometimes, though, you may want to expand your brush collection or simply create a customized square brush. So, whether you'd rather load Photoshop's preset square brushes or make your own, the process doesn't have to be difficult. Let's break down how to use and make square brushes in Photoshop. 
How To Load Square Brushes Into Photoshop
Square brushes used to come ready-to-use in Photoshop, but updated versions of the software require you to manually load the brushes for use.
The brush folder that contains square brushes is called Legacy Brushes, and you can easily load the pack in order to use the brushes without leaving the software. Otherwise, if you aren't happy with the Legacy brush options, there are plenty of square brush packs that you can download off the internet for free and load into Photoshop to use. 
So let's explore the different options for square brushes and how to use them.
Option 1: Using Legacy Brushes
The easiest way to use square brushes in Photoshop is to take advantage of the Legacy brushes. These brushes are not automatically available to use, so you need to find and load them. To do this, first, make sure the brush tool is active.
Keep in mind that, if you've been working with the pencil tool, you will see a pencil icon in place of the brush icon. In that case, you'll have to click and hold the icon to see the brush tool option.
Once you've activated the brush tool, right-click on your canvas to reveal the brush preset panel. You can also find this panel in the upper settings bar.
If you scroll through the available brush options, you'll notice there are no square brushes to use. Don't worry, we can add the square Legacy brushes by going to the settings icon in the top right corner and clicking Legacy Brushes.
In the dialogue box that comes up asking if you'd like to restore the Legacy Brushes, click OK.

Now, right-click your canvas again, and this time when you scroll down to see the available brushes, you will see the Legacy Brushes option at the bottom of the list.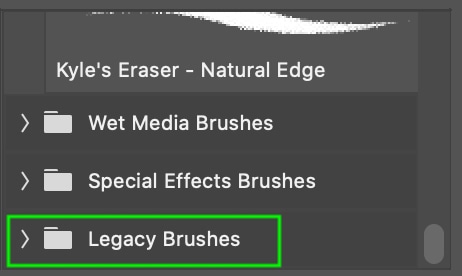 Click to open the available Legacy brushes and scroll until you find Square Brushes. Click to see the various options you have.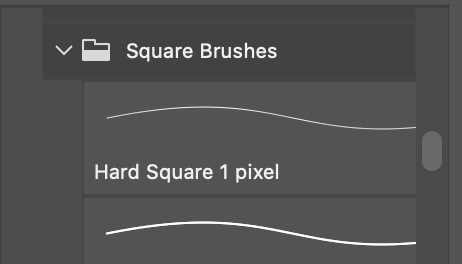 There are 18 different square brushes ranging in width from 1 pixel to 24 pixels. The bigger the size, the more clearly you'll see a pixellated effect. Let's test out the 20-pixel option.
Now you have a fun pixellated effect, which is especially visible when you're painting diagonal lines. Now, what if you want more options for square-shaped brushes beyond what Photoshop has built-in? 
Option 2: Using A Free Square Brush Pack
Another way you can access a variety of square brushes is to download a free brush pack online and load the brushes into Photoshop manually. This is useful as it gives you more options than just the basic Legacy brushes, but it requires less effort than creating your own brush.
A great square brush pack that you can download for free online is the pack of 10 square brushes by Brusheezy. To use these brushes in Photoshop, first, download them by heading to this page and clicking Free Download. Your download will begin automatically.
In your Downloads folder (or wherever you've saved the brush pack), double click the zipped folder to open it, and the brushes will appear as a .abr file.
To load them into Photoshop, first, make sure the brush tool (B) is enabled.

Then access the Brush preset panel in the upper settings bar and click the settings icon in the top right corner of the panel.
Then, click Import Brushes.
Next, find your brushes in the form of the .abr file – it will likely be in your Downloads folder. Remember that you must have unzipped the folder first before you can import them into Photoshop. Click OK, and your new brush pack will appear at the bottom of the list of brushes.
Voila! Now you can use your imported brushes as you wish. This pack has some gorgeous brushes, so have fun with it.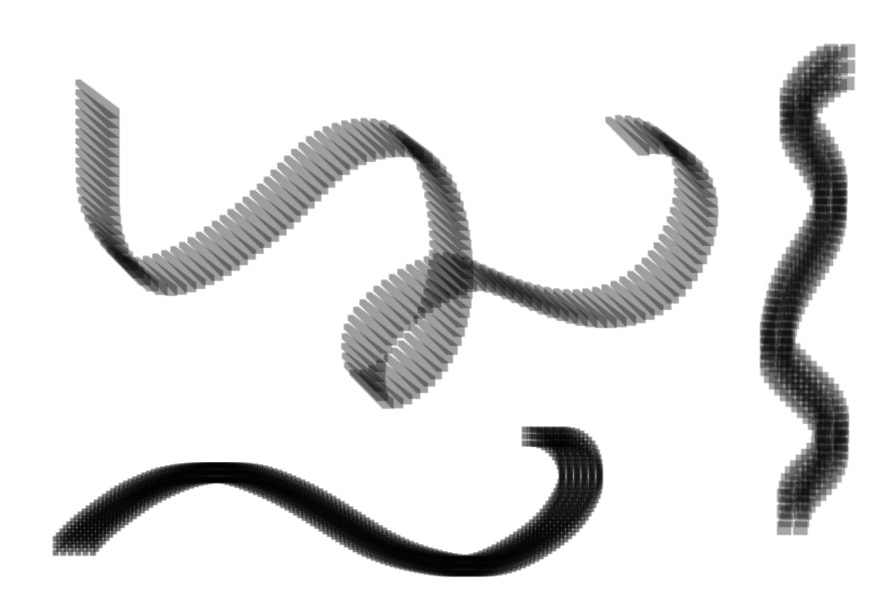 If the brushes appear too large for your canvas, you can easily edit the brush size in the brush panel.
There are plenty of other free square brush packs available on the internet, you've just got to do some digging. I share some of the best sites to find Photoshop brushes in this post if you need a place to start!
How To Make Your Own Square Brush In Photoshop
If you'd really like to customize the way your brushes appear and behave, you can make your own square-shaped brushes right in Photoshop using the Rectangular Marquee tool.
First, select the Rectangular Marquee tool by pressing M. Again, be mindful that, if you've been using a different Marquee tool, such as the Elliptical Marquee, you'll have to click and hold to select the Rectangular Marquee from the options.

With the tool selected, hold Shift and drag to create a uniform square-shaped marquee on your canvas. Make sure the size and shape you make are similar to the size and shape of the brush tip you'd like.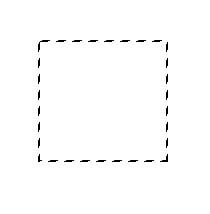 Now fill the selection with color by clicking the Shift + Delete at the same time. The fill window will appear. Click the drop-down menu next to Contents and select Foreground Color. Click OK.
You'll see the shape on your canvas now appears filled with whatever main color your color tab is set to – mine will fill with black.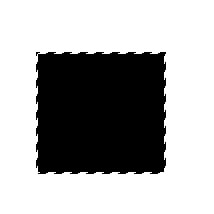 Now, head to Edit > Define Brush Preset.
In the window that appears, name your brush and click OK.

Now, Command/Control + click the square on your canvas and click Deselect. You'll now be able to use your brush.
To find your new brush, head to the brush tool and right-click to bring up the brush preset window.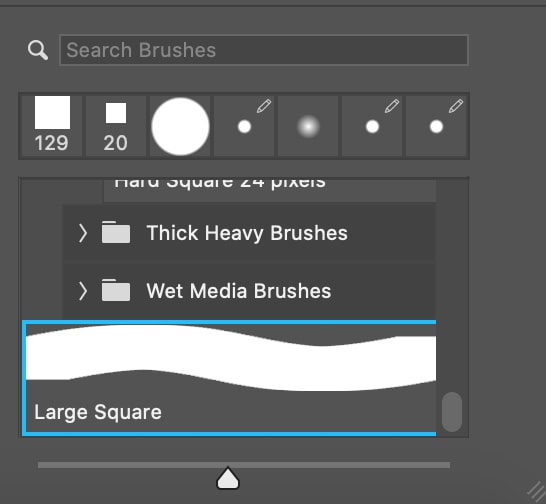 Here, you'll find your new brush under the name you chose. Click and drag on your canvas to test it out.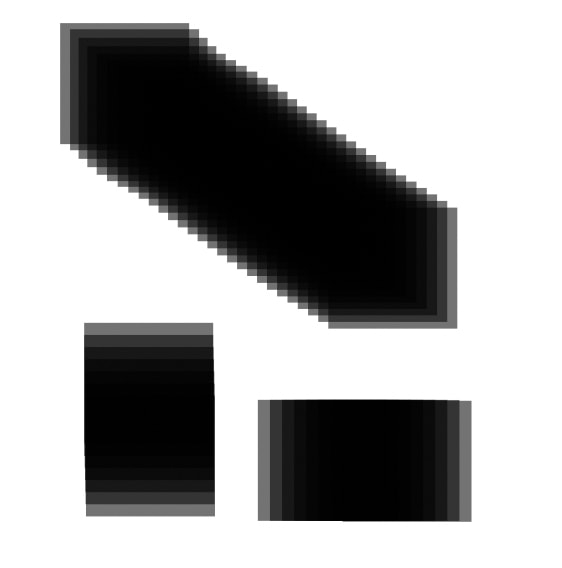 So whether you want to use the square brushes built into Photoshop, get more variety with a free brush pack from Brusheezy, or simply create your own, now you have those options! Once you have your square brushes added into Photoshop, they will operate exactly the same way as your usual brush tip presets.
Happy Editing!