Apart from being a great image editing program, Photoshop can also function as a PDF Editor. From importing, editing, and saving PDF documents, Photoshop has enough basic capabilities to do it all. Although it won't be as complete with features like Adobe Acrobat DC has, it still is a totally valid option for creating PDF presentations. Here's how to quickly save a PDF in Photoshop.
To save a multi-page PDF document in Photoshop, go to File > Automate > PDF Presentation. In the window that appears, click "Add Open Files" to turn your opened Photoshop projects into PDF pages. Set the output option to "New Multi-Page Document" and click "Save" to export your PDF.
Now this covers the tip of the iceberg for working with and editing PDF pages. So let's dive into the complete process of importing, editing, and exporting PDF files in Photoshop more in-depth.
Video Tutorial
How To Import A PDF In Photoshop
To import a PDF in Photoshop, go to File > Open and locate the PDF on your computer. In the Import PDF Dialogue box, set the Select option to "Pages" to open all your PDF pages into Photoshop. Next, adjust the document size and resolution if needed and click OK to import your PDF document.
So as you can see, importing a PDF in Photoshop is just like importing any other image. The only difference is the import PDF dialogue box which provides some further import settings.
To import the PDF file, go to File > Open or press Control/Command + O on your keyboard. Now select the PDF from your computer and click on 'Open'.
Here comes the important part. You'll see a dialogue box with some controls. You'll have options for Cropping, Bit Depth, Resolution, Size, etc…
Apart from that, you will have two options in the "Select" panel called Pages and Images. Selecting "Pages" will make Photoshop select individual pages for editing. If you select 'Images', then Photoshop will extract separate images from the pages for editing.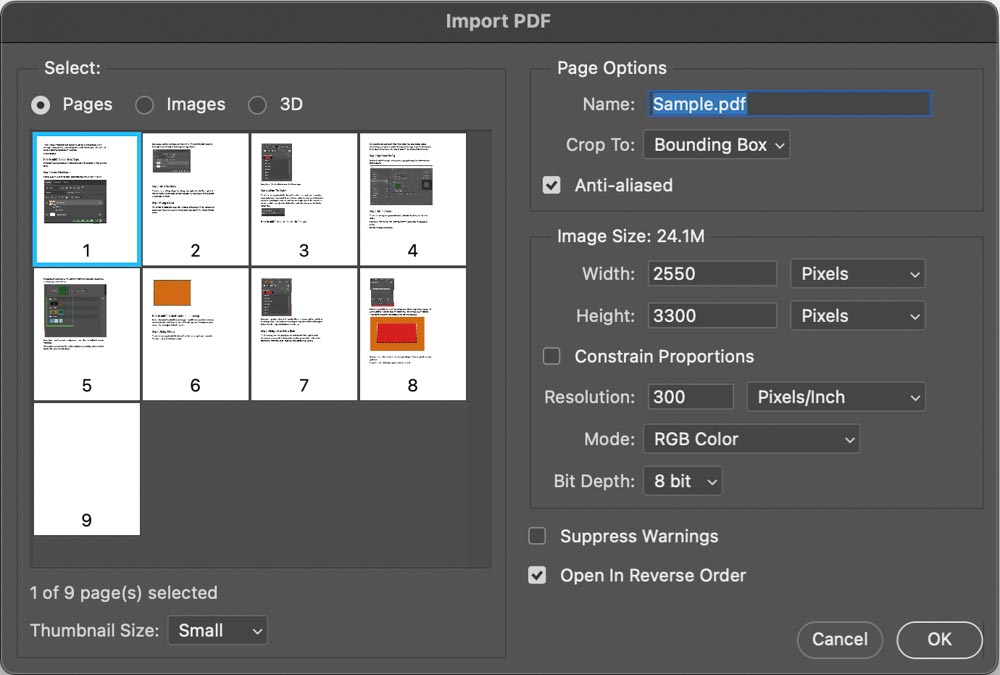 With "Pages" chosen, you can select multiple pages to edit or you can select a single page. To select multiple pages, press Control or Command on your keyboard and click on the desired pages. Selected pages will be represented by the blue highlight around them.
Although most of these settings are self-explanatory or can be left untouched, let's quickly highlight the "Crop To" option as this setting will vary depending on your files.
Media Box: The media box defines the final page dimensions. It is the largest of all boxes.
Crop Box: Specifies the region that a PDF viewer prints
Trim Box: It is the final size of your page after printing and corrections
Bleed Box: Bleed Box is like a Trim box with some more space given. It is bigger than Trim Box
Art Box: It defines the content of your page along with some extra margin. It is the smallest of all boxes.
Most of these are used for commercial printing purposes. Select one which you like, but if you aren't sure, the Media Box setting will get the job done.
With your settings in order, click on 'Ok'.
Now Photoshop shall open all your pages in individual tabs (aka projects).
How To Edit A PDF In Photoshop
Once you have all the pages opened, select one of the tabs for editing.
One important thing to note is that you can add extra things like annotations to your PDF but you cannot edit the existing elements like text or images as they are a part of the PDF itself and not editable.
If you wanted to remove something from your PDF, you would need to cover it up using the clone stamp tool or hide it behind a white shape layer for example. From there you could add new elements such as text to replace the covered area.
Apart from that, you can do pretty much everything else like adding shapes, annotations, text, adjustment layers, and more to stylize your PDF pages.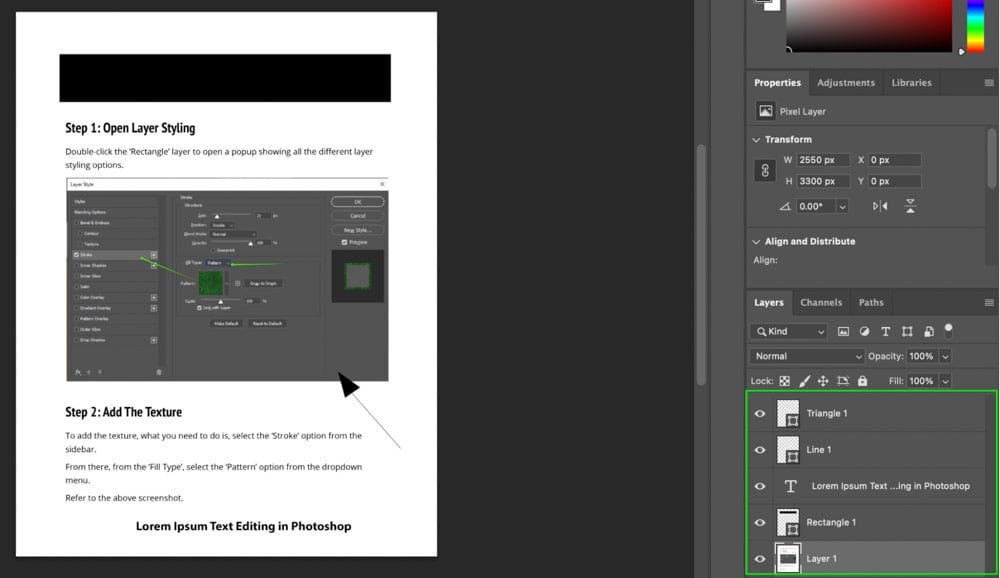 If you want more PDF editing options, then Adobe Acrobat is what you might want to consider.
How To Save A PDF In Photoshop
Once you have edited to your heart's content, it's time to save your PDF. This part isn't as easy as saving a regular image in Photoshop, but it's very straightforward with the right steps. Here's what you need to do:
Step 1: Go To File > Automate > PDF Presentation
To save your PDF, select File > Automate > PDF Presentation from the top menu.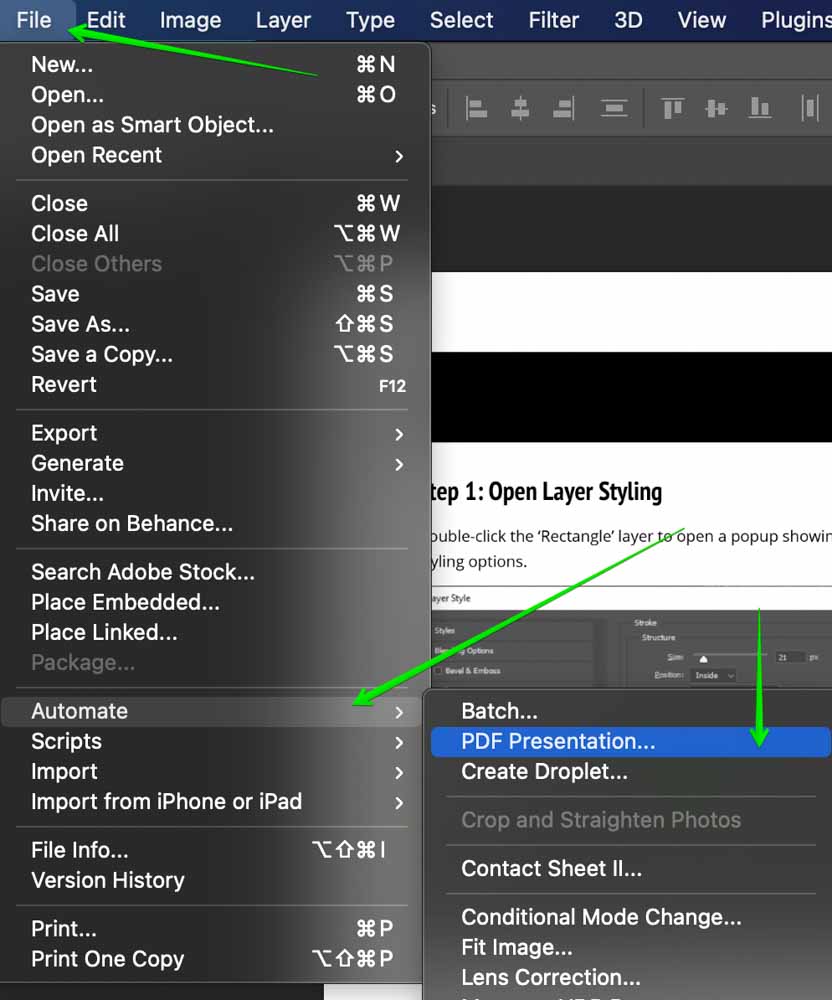 Now you'll be greeted by a dialogue box where you can configure some export settings.
Step 2: Click "Add Open Files"
If you were editing a multi-page PDF, then you need to select all your pages to be exported. With all the pages you want to include in the export already opened in Photoshop, select the checkbox which says "Add Open Files".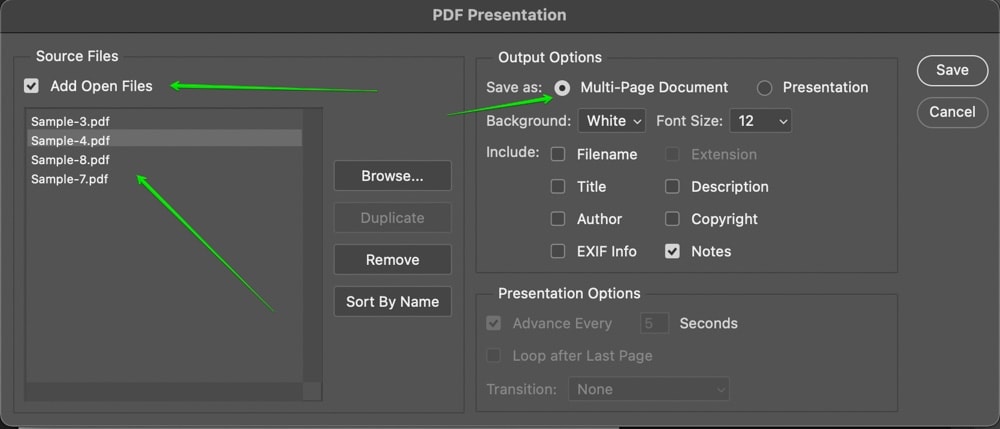 Step 3: Organize PDF Pages In Desired Order
Before exporting, you'll want all your PDF pages to be in the correct order. You can reorder your pages by just clicking on them in the file list and dragging them up or down.
The topmost file in your list will be the first page and the bottom-most will be the last.
Step 4: Confirm The PDF Page Settings
Once page reordering is done, you can edit some other options too. Here's what each of them means:
Save As: Select Multi-Page document to make sure that your PDF gets exported with all the pages you want.
Background and Font Size: Select a PDF background color. White is the best and for font size, 12 is what I would recommend.
Include: You can select the various elements you want to include at the bottom of your PDF. It can be Author, Copyright, Notes, EXIF Info, etc…
Once you're happy with these settings, click 'Save' to export your edited PDF.
Step 5: Finalize The PDF Export Settings
Once you click on 'Save', you'll be greeted with yet another box where you can configure additional settings.
Here's what options are available in this dialogue box:
Adobe Acrobat Preset: Specifies some preset Adobe Acrobat export settings. Choose 'High Quality (Modified)' here
Standard: Select the PDF standard to be compatible with. 'None' is best.
Compatibility: Select the version of the PDF you want to export. Choose something in the middle so that your PDF remains compatible with older services too.
Last, you will have a description box if you wish to have an embedded description with your PDF export.
As for the other options, they can be left as default.
In the sidebar, you will have other options where you can compress your PDF for a smaller file size. You can also configure some output color settings in the 'Output' tab.
In the 'Security' tab, you can set a password for opening the file and a password for even limiting actions like printing a PDF. This is a great way to protect your PDF presentation from being wrongly used without permission.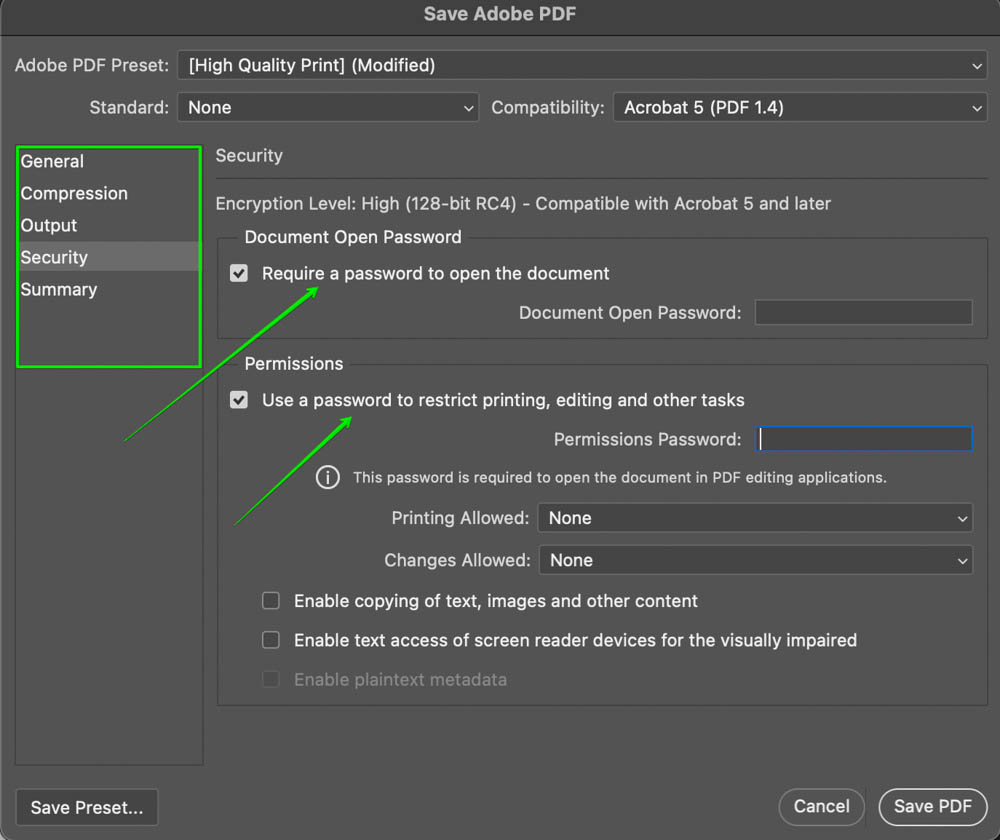 Finally, the 'Summary' page contains, a summary of your whole page if you wish to view the settings.
Once you're done, click on the 'Save PDF' button.
That's it! Now check your File Explorer/Finder and you'll see the PDF file saved to your computer directly from Photoshop. How easy is that?
Although it doesn't have the most advanced features, Adobe Photoshop can easily edit PDF files and export them with ease. Since the information on your PDF pages is baked into one file, none of the elements are directly editable. Luckily there is an endless pile of tools to help you customize these PDF pages and make them look exactly as you need.
To help you better understand how to make edits to your PDF pages, check out these other helpful tutorials:
Happy PDF'ing!