Whether you're an entrepreneur, digital artist, web developer, or videographer, I'm sure you've heard about Envato Elements at one time or another; but is it worth it? With a monthly or annual subscription, it might appear as just another expense to your creative budget. However, once you learn the true capabilities of Envato Elements, you may be surprised by how valuable it can be across all your creative endeavors.
Envato Elements is a subscription service for designers that offers a wide array of design assets. Things such as graphics, fonts, stock photos, stock videos, product mock-ups, and more. The subscription also includes educational resources and business management tools to streamline your skills.
Despite knowing the general purpose of Envato Elements, you are probably left wondering if it's worth it. More specifically, is it worth it for YOUR designs and creative projects? Well, in this post, I'm going to help you with exactly that, sharing everything you need to know about Envato Elements. Better yet, I'll share some of my personal experiences using Envato Elements across dozens of projects.
What Is Envato Elements?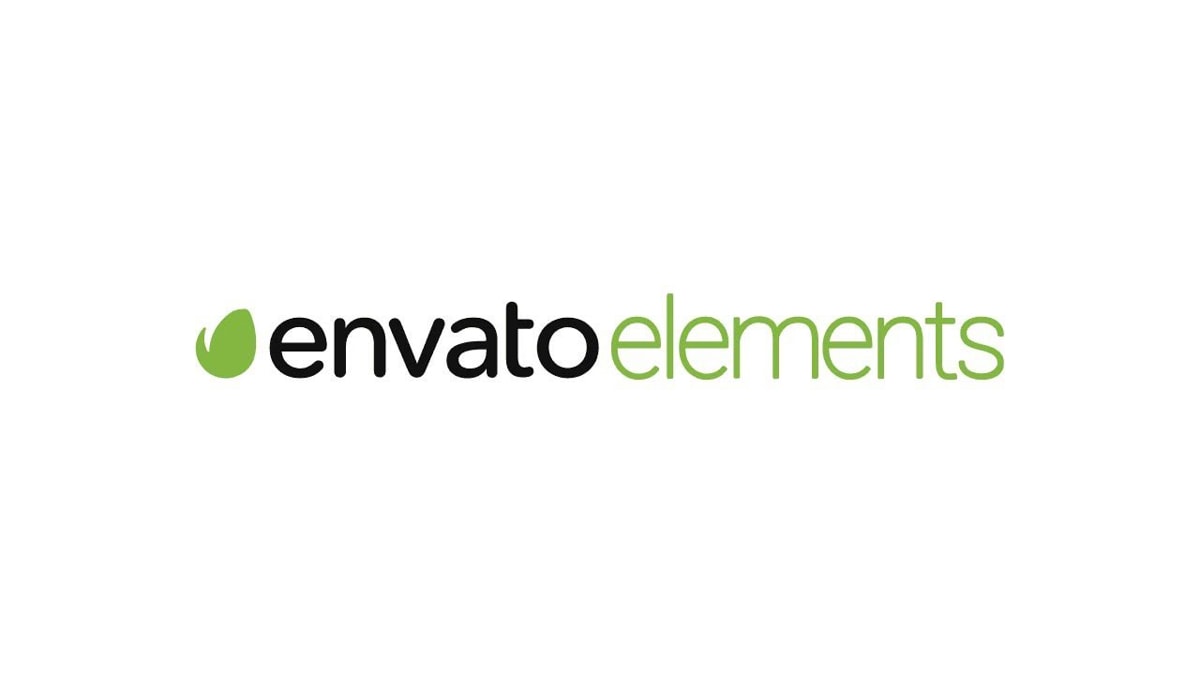 Envato Elements is a design service that offers you every type of digital asset under the sun. From fonts, stock-video, stock photos, motion graphics, mock-ups, overlays, brushes, and more. If you are looking for an asset of some type, Envato (more than likely) has it.
Although most of the assets in Envato Elements are part of the paid subscription ($16.50/month, when paid annually) you can still take advantage of some free assets. Just by creating an Envato Elements account, you get access to 12 free asset downloads per month without paying a dime. This is a great way to get a feel for what Envato Elements offers and if it's right for you.
How Does Envato Elements Work?
Envato Elements works by offering subscribers access to over 54 million designs created for Envato. Each design is developed and published by an individual designer, who gets a commission from your download. What that means for you is an incredible amount of design options all in one place.
When you're ready to use Envato Elements, you can begin to narrow your search using any of the category options available.

Alternatively, you can search for what you need in the search bar. From there, Envato will list any relevant assets it has available. Clicking on an asset, you can browse through the images and learn more about it in the brief description.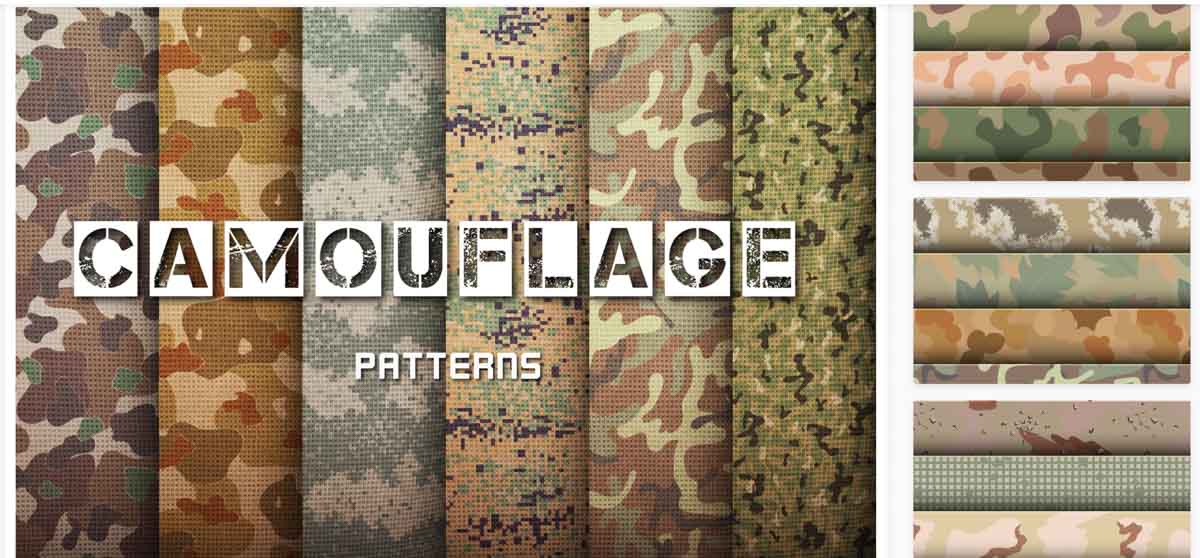 Then click download to start using it!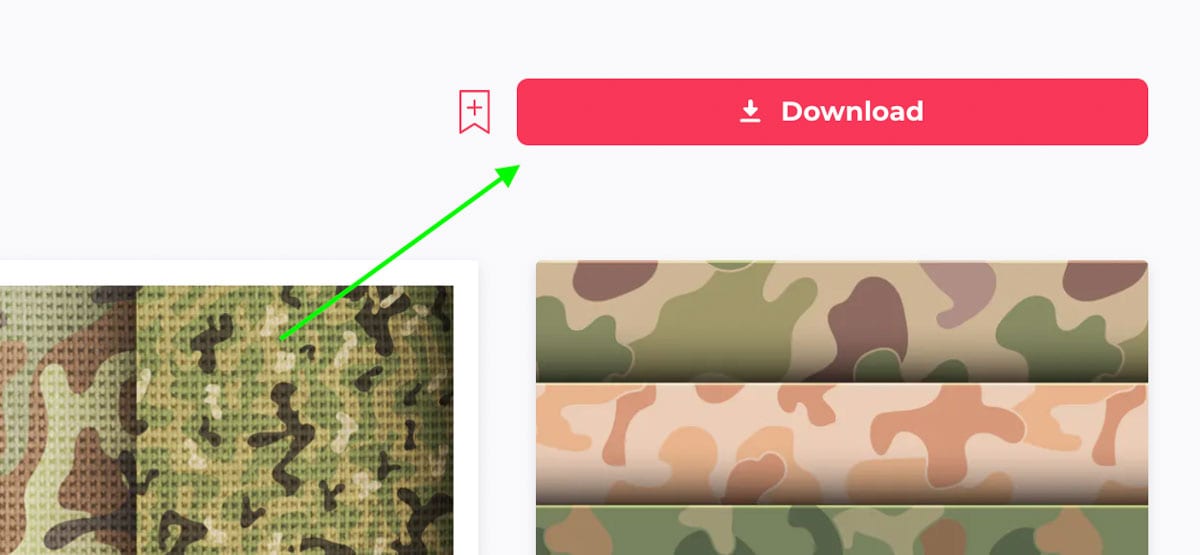 For each download, you will need to add it to a project. This works to keep downloaded assets organized on your profile and allows Envato to license your download to specific projects. More on that later.
Now you can instantly begin using your downloaded asset or find it later if need be. Under "My Downloads," you will see all of your previously downloaded assets within their respective projects. You can also view and download the license for each asset from this same area.
What Can You Use Envato Elements For?
You can use Envato Elements for literally any creative endeavor you have. Need to design a logo? Create a product mock-up? Make a business presentation? Get motion graphics and stock video for a youtube video? Envato Elements can help you with all of that and more. To better understand how you can use it, let's break down what types of assets the platform offers.
– Fonts (8,200+)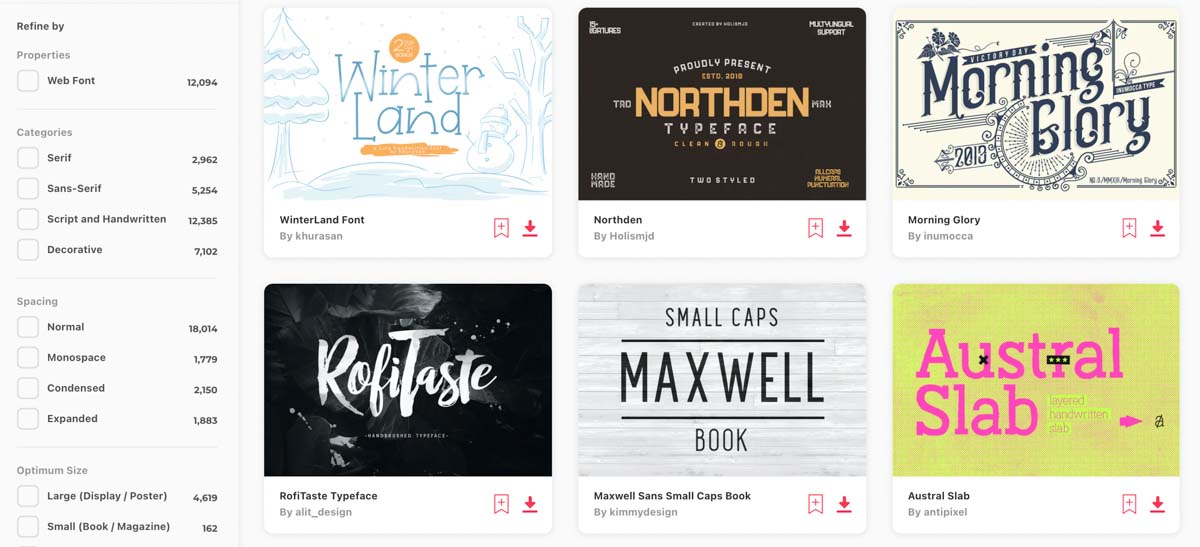 Envato Elements includes a surprisingly broad font library perfect for any of your font needs. There are plenty of styles to choose from Serif, San-Serif, Handwritten & Script, and Decorative. In addition, most fonts can be downloaded as OTF, TTF, WOFF, and WOFF2 files, so they are highly compatible.
If you need photos for your website, online store, advertisements, and more, there is a massive pile of stock images to choose from in Envato Elements. These stock images all have model releases included (where models are shown), making the hassle of getting proper licensing a breeze. For only $16.50/month (when paid annually), these stock images may save you a lot of time and money hiring someone to take the images for you.
Although this collection of stock images is smaller than regular stock photo sites, it's a great library considering the other assets available with Envato Elements.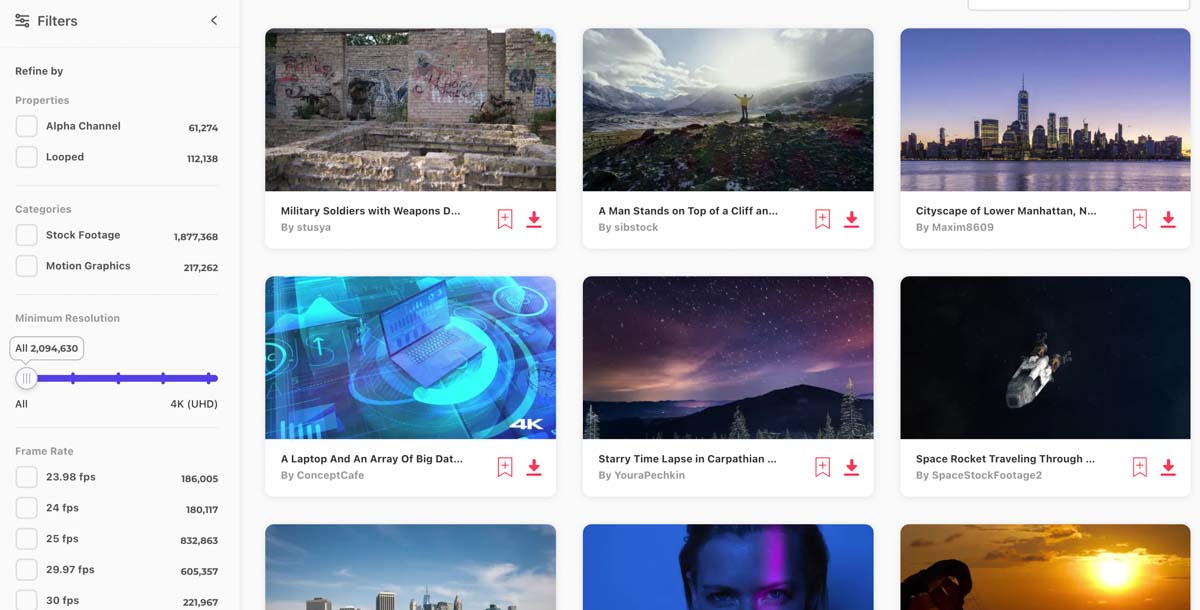 To move your story along or enhance your dialogue with visuals, Envato Elements has a broad library of high-quality stock videos. These stock clips come in 1080p and 4K resolutions with a variety of framerates. If you have yet to subscribe to Envato Elements, you can download video previews to see how the real clip would fit in your projects.
Besides stock videos, there are also motion graphics available within this category.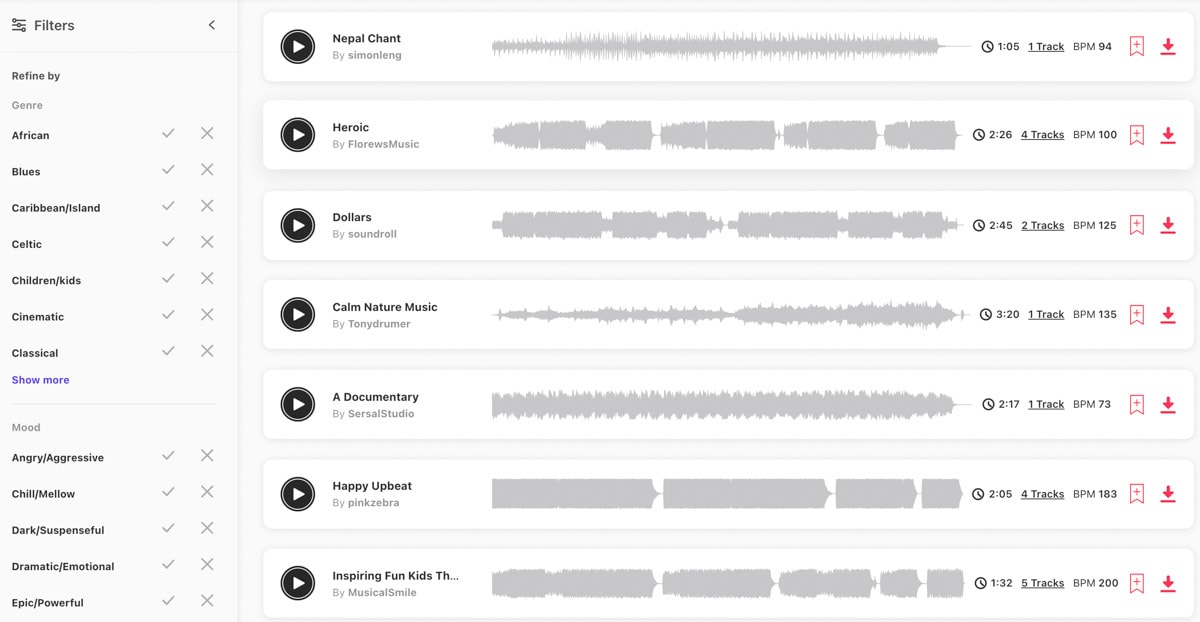 For any video or presentation you need music for, Envato Elements has you covered. Better yet, you can create youtube videos with any of these songs without the fear of getting demonetized! You can quickly sort the music library via a variety of genres, moods, and instrument filters. This way, you can narrow down the perfect song despite there being thousands upon thousands of options.
Alongside music, there are also sound effects available. These are great to enhance the visuals in your video projects or even use in a podcast to keep your listeners more engaged. Similar to the music, these sound effects are easy to filter and download!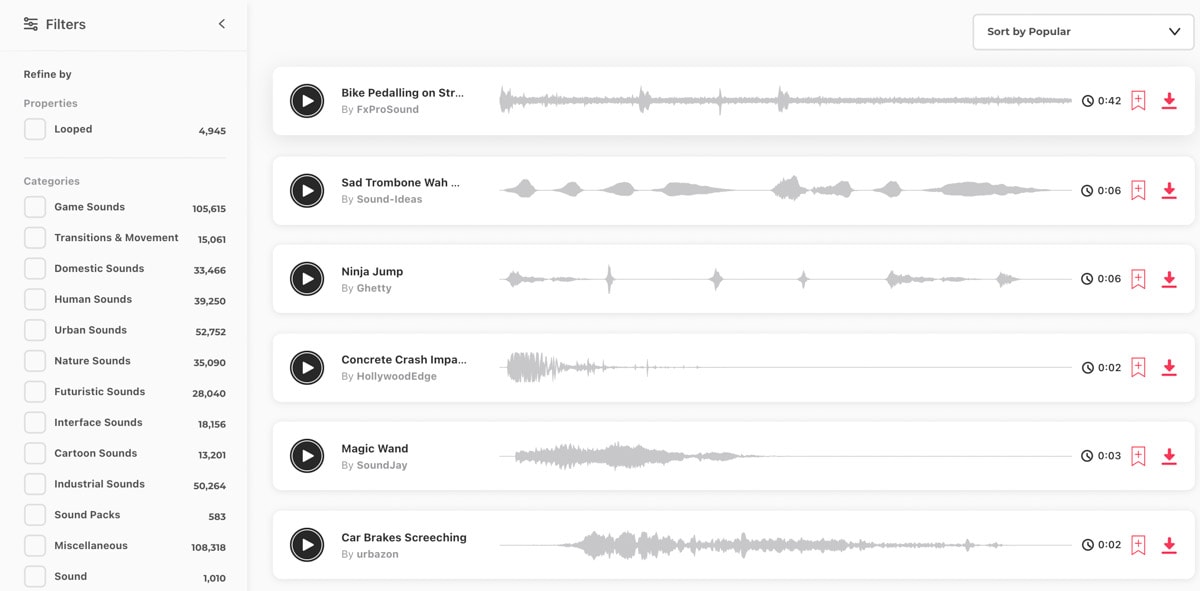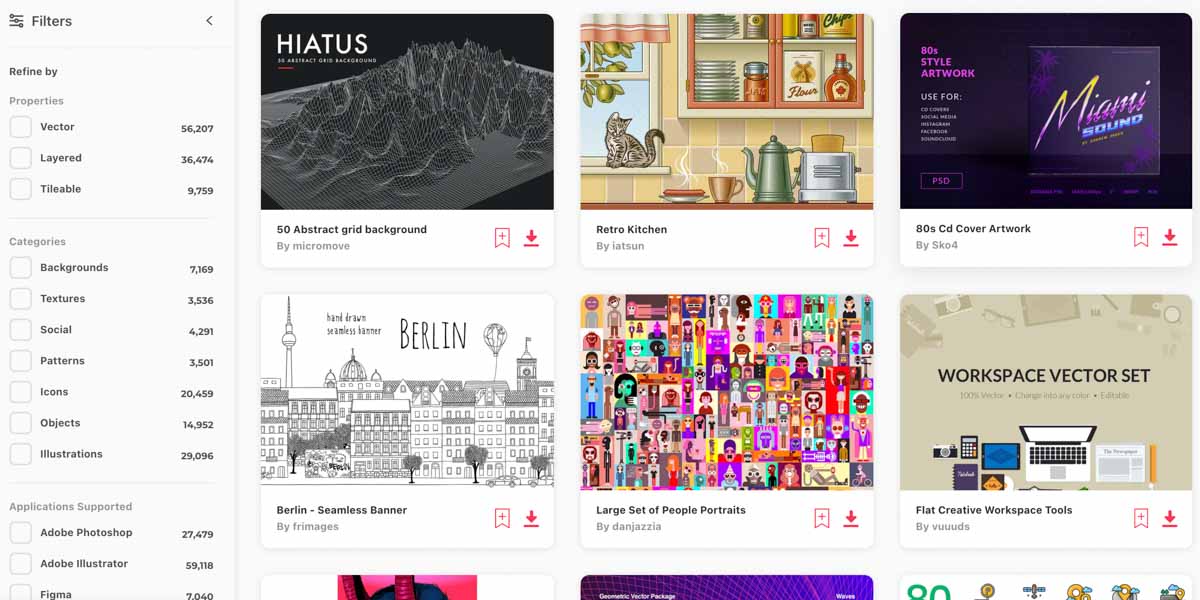 This category has a ton of items available, including:
18,000+ vector illustrations
65,000+ graphic templates, e.g. logos, product mockups, print templates, etc.
30,000+ 3D objects
2,000+ add-ons, such as Photoshop actions, Lightroom Presets, brushes, and layer styles
Plus thousands of backgrounds, textures, icons, patterns, and more!
For just about any graphic design need you have, you'll find it here. I use graphic templates all the time in photo manipulations and my website design. In fact, you may see some of the assets found in the Envato Elements graphic library on this website you're reading right now!
Whether you use PowerPoint, Keynote, or Google Slides, Envato Elements has a variety of templates to help you nail your presentation. From straight-laced corporate designs to fun and casual, there are template styles suited for any presentation.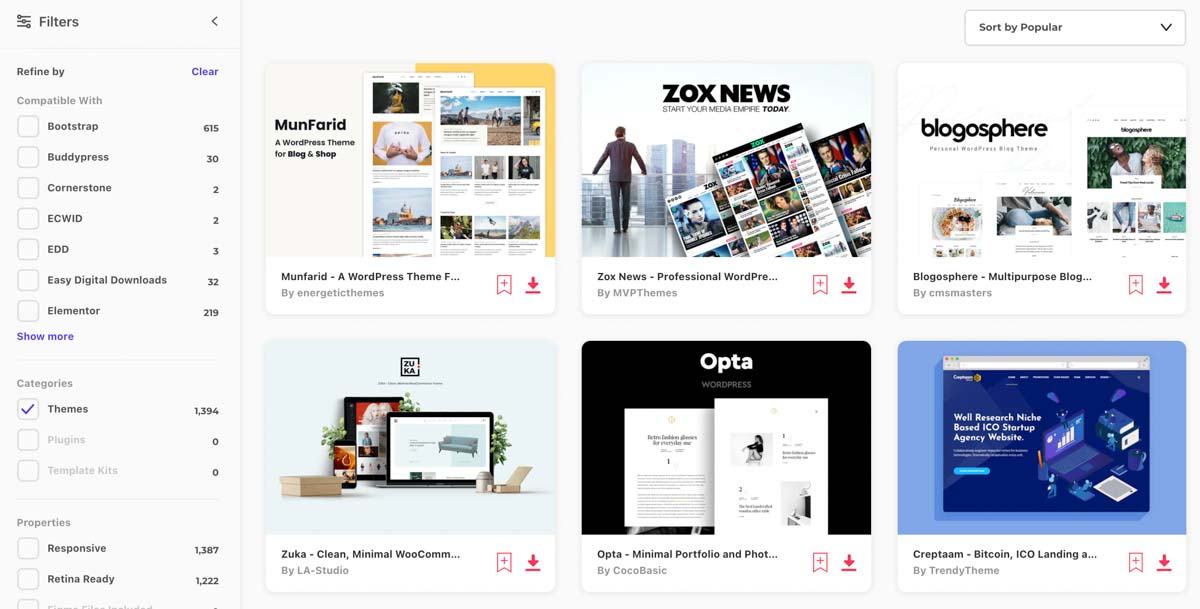 If you're running a website or blog, there's a good chance you're using WordPress. To make a website truly yours, website design is crucial. Envato Elements makes it easy by providing thousands of plug-and-play themes that will quickly transform your site. Once your design is dialed in, you can find a variety of unique plugins to enhance your user experience!
The Envato Elements User Experience
Let's say I am looking for a stock video clip to put into a youtube video. More specifically, I'm looking for someone playing pond hockey on a snowy lake. So I'll filter my search to stock video in the search bar, then type in the video I am looking for. Of course, the same thing applies to any other asset you're looking for in Envato Elements.

A results page will come up with all the closest related items to your search. When there are a lot of items to display, you can further refine your search with the filter bar on the left-hand side. Otherwise, scroll through the assets available and see which one suits your needs. For example, the very first stock video is exactly what I was looking for!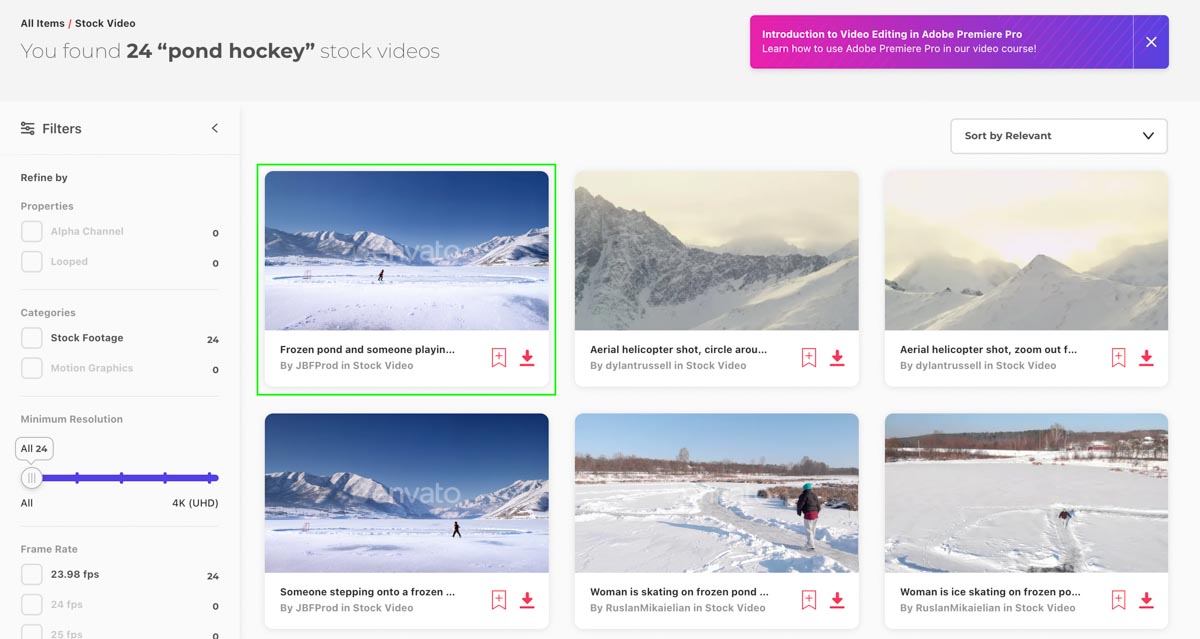 Clicking on the asset, you can get more information about it as well as preview the file. For stock video, that means watching the clip, but for other assets like a brush pack, there will be example images where the brushes were used. You can also learn more about the file information before you download it on this page. Then to download your file, click the download button!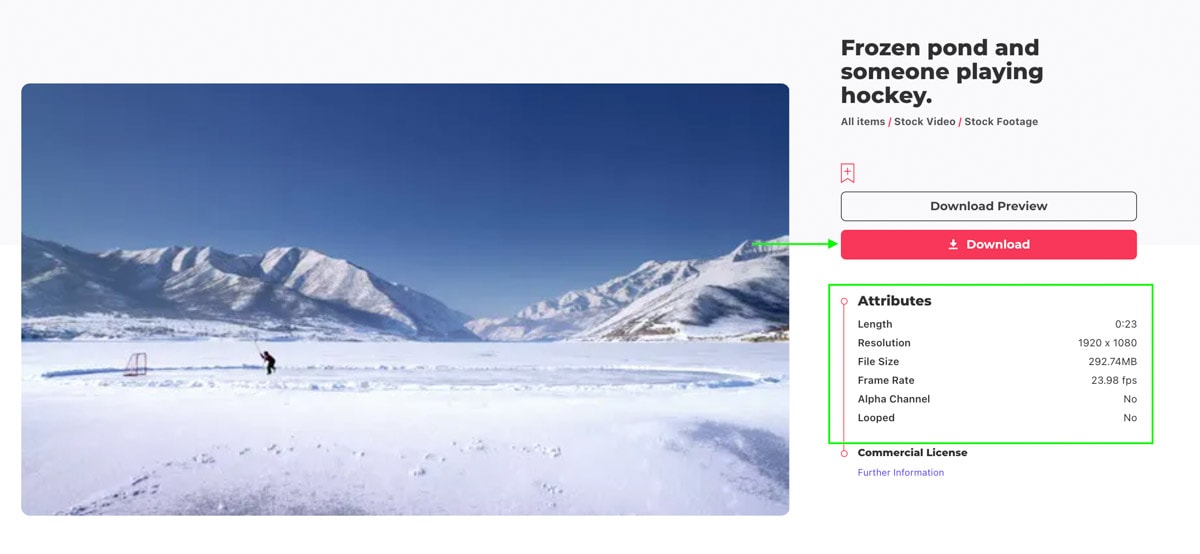 A window will appear asking you to license your download to a specific project. For example, since I am using this for a youtube video, I'll license it under my youtube project. From there, the download will automatically begin.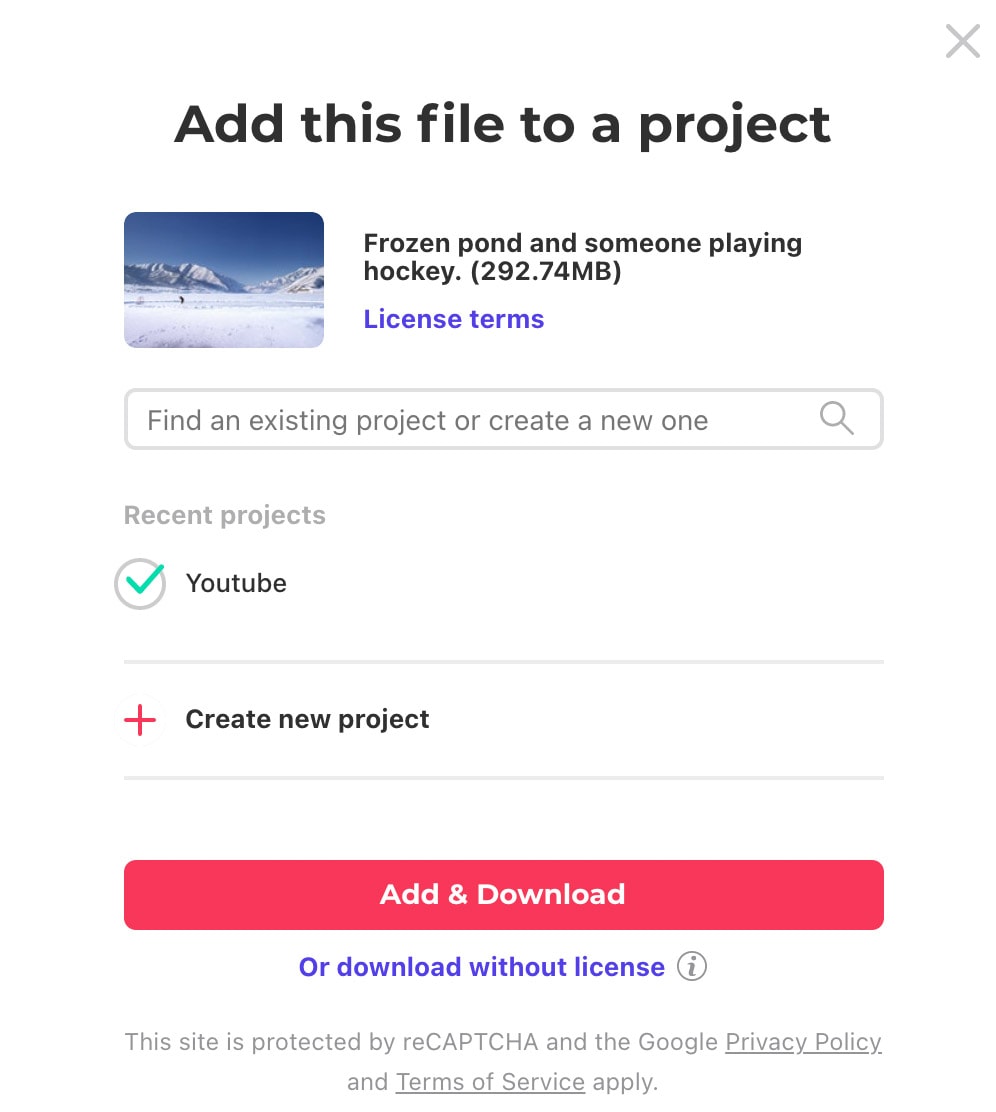 If I need to find my downloads, I can access them by clicking on the profile icon and going to My Downloads.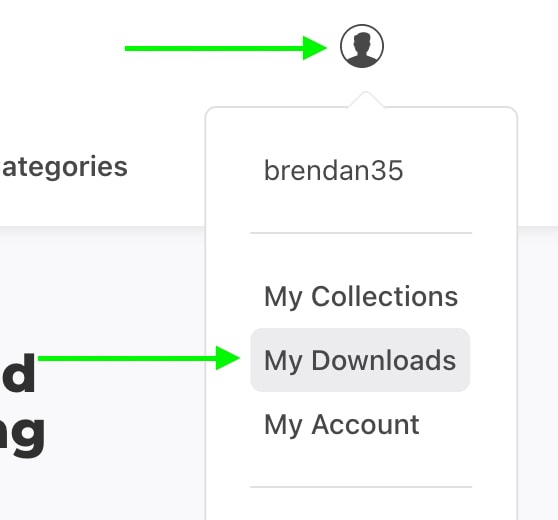 Here you will find all your downloaded assets along with the license for each one. If you need to redownload an asset, you can easily do so from this page.
As you can see, the user experience of Envato Elements is very simple. You can filter your search results to find exactly what you need and quickly locate your downloads and licenses later.
What's Included In The Envato Elements Subscription
The Envato Elements subscription includes unlimited downloads from their library of over 53 million assets, easy licensing for all downloads, and premium tutorials to help improve your skills.
With Envato Elements, there aren't any tiers to the subscription. Instead, one price unlocks everything available on the website. This is a nice perk, considering how many other online subscriptions seem to cost more and more if you want "all" the features.
Is Envato Elements Royalty Free?
Yes, Envato Elements is royalty-free. All item licenses you download are on a non-exclusive, commercial, worldwide, and revocable basis, for one single use per registration.
What this means in layman's terms is that you can use your assets for any personal or commercial reasons. You can even use your downloads in products you sell as long as there's value is added to the original work. However, you cannot take an exact download and begin to resell it or merchandise it without significantly changing the original.
Let's break down what you can and can't do with Envato Element assets to make the license clear. You can also read their full licensing terms here.
How Envato Elements Liscencing Works
Here are some things you can do with the Envato Elements License:
Use any asset for personal and commercial use.
Have the same lisence for the lifetime of your asset.
Usage rights can be granted to clients under the Limited Sublisence mentioned in clause 6.
Keep your lisences for exisiting assets even after your subscription ends.
Now here are some things you can't do under the license:
Use existing assets for new projects that they aren't registered to. This is more applicable to after your subscription ends.
You cannot redistribute items as stock, in a tool or template, or the original source file.
You cannot use the assets in applications where clients can use drag and drop templates to create something (ie. a website builder)
You cannot merchendise the assets if the original asset is the core design of the merchandise. Significant value must be added to alter it.
You cannot claim trademark or service mark rights over any items.
Their licensing agreement is pretty straightforward and can be figured out with some common sense. It may be worth taking a read-through if you plan to use the assets for merchandising purposes. However, for just about any other application of the items, you are free to do what you want, as long as value is added to the original asset. That means you don't just use the asset in its original state. It is altered to suit the needs of your specific project.
The Cost Of Envato Elements
The monthly subscription contract to Envato Elements is $33 per month. However, you can save 50% of that by purchasing the annual subscription for $198/year which works out to $16.50/month for an individual user.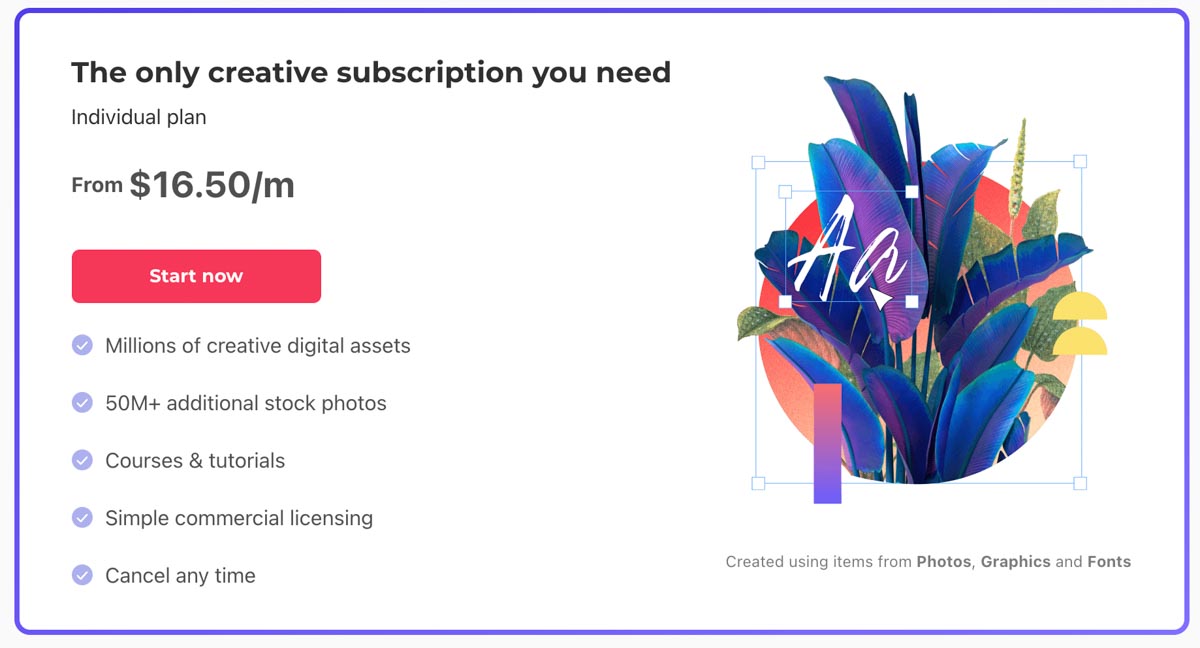 All of the subscription fees are in US Dollars which is worth noting if you're from somewhere else in the world. With both the monthly and yearly subscriptions, you get access to all of the same files. The difference is simply that your contract can end after a single month rather than a whole year. For one-off projects, the monthly subscription can prove to be a better option to use.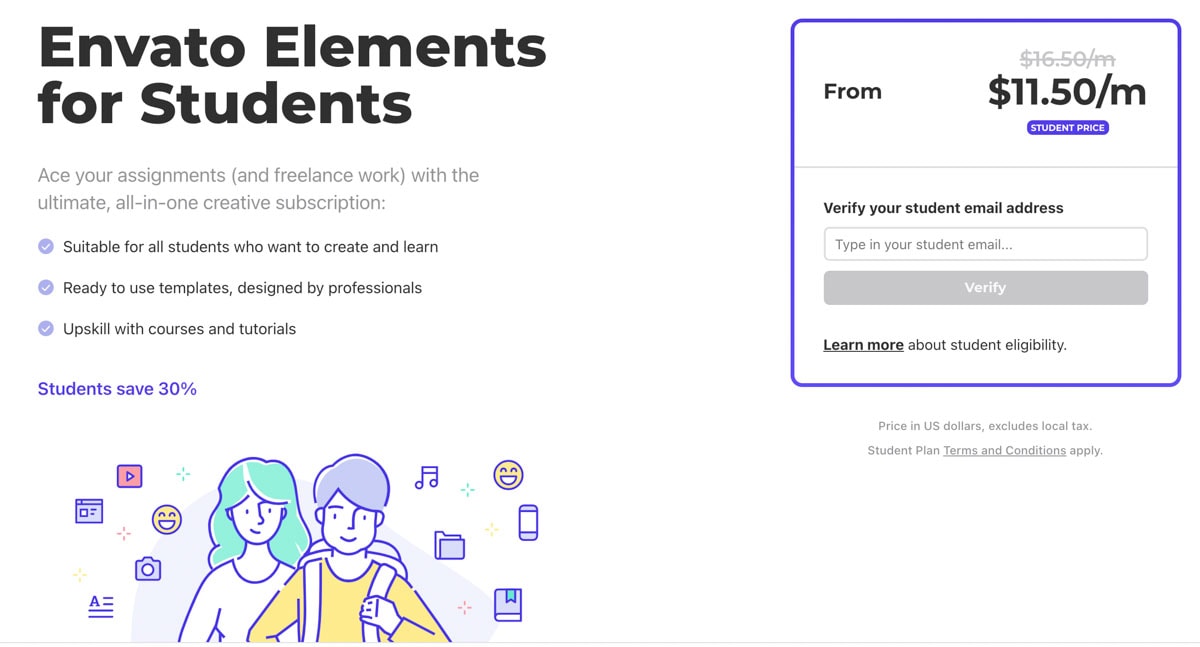 If you are a student, you can save 30% off the annual subscription, which works out to $11.50 per month. For students to be eligible, you must be enrolled in an accredited educational institution and have a student email. Your student email will be what's used to verify your eligibility to unlock this discount.
Another great way to save on the price of Envato Elements is with a Teams Subscription. This subscription saves 35% off the annual subscription for two or more members. The best part about this is that you can have multiple people working under the same subscription while having all downloaded located in a single place. No more confusion trying to figure out which account you downloaded your asset with.
Does Envato Elements Have A Free Trial?
No, there isn't a free trial of Envato Elements. However, you can create an account for free and download up to 12 free assets per month with this account. Of course, this doesn't give you download access to the whole library, but it does give you a starting point without paying a cent!
What Happens If I Cancel My Envato Elements Subscription?
After canceling your Envato Elements subscription, you will still have the single-use license for the items you downloaded for a specific project. You may continue to use these assets for your existing projects, but you cannot use them in new ones.
If you have a bunch of assets already used throughout your projects, you don't need to worry. These can still be used, and your licenses can be found under your Envato profile even after your subscription is canceled.
The caveat is that you can no longer use all of the assets you previously downloaded in future projects. So, for example, if you had a font from Envato Elements, you would need to uninstall it to prevent future unlicensed use on another project.
In a nutshell, any previously registered project while your subscription was active can still use your downloaded assets. However, any project that you create after your subscription has ended is not allowed.
The Pros VS Cons
Now to fully understand if Envato Elements is worth it to you, let's compare some of the pros and cons.
Pros:
Massive library with every creative digital asset under the sun.
Simple licensing for all downloads.
Very reasonably priced compared to competitors.
Unlimited downloads for all asset types.
Cons:
Each item needs to be relisenced for each download or project.
Every subscriber has access to the same files making similar projects possible.
Overall Envato Elements doesn't really have any downsides that give it red flags. The pros far outweigh the cons. Comparing Envato Elements to other competitors like Storyblocks or Motion Array, you can't beat its price. Storyblocks starts at $39.99/month, while Motion Array begins at $29.99/month. The Envato Elements annual subscription comes in at half the price of these other options while providing a more diverse media library.
Is Envato Elements Worth It?
For web designers, digital artists, entrepreneurs, and videographers, Envato Elements is absolutely worth it. With so many assets under a single subscription, it's difficult to find anything else that compares at a $16.50/month price point.
I have been using Envato Elements a ton for my youtube channel and throughout my website. Everything can be found in one place rather than scouring the internet to find certain assets across multiple site subscriptions. The convenience factor Envato Elements offers to creators of all kinds is unparalleled.
Although other options offer more stock video, stock photos, and animated graphics, the Envato Elements library is still nothing to scoff at. There are over 1 million stock photos to choose from, along with over 800,00 stock videos. Alongside these vast numbers, you still have access to millions of other assets as well. This is something the main competitors do not offer.
I love using Envato Elements since it offers an endless stream of assets for any project I need. From social media to youtube to my website, it all plays a huge part in my design and marketing process. If you're unsure about Envato Elements, you can browse their entire library for free to see if it's right for you. Once you feel ready, you can sign up for a monthly or annual subscription by clicking here.
Happy Creating!
Brendan 🙂